A 5-Star Happening
Sorenstam hits the mark at CoBank PEAK Performers event at The Broadmoor, site of her '95 U.S. Women's Open win
by Gary Baines - 8/23/2018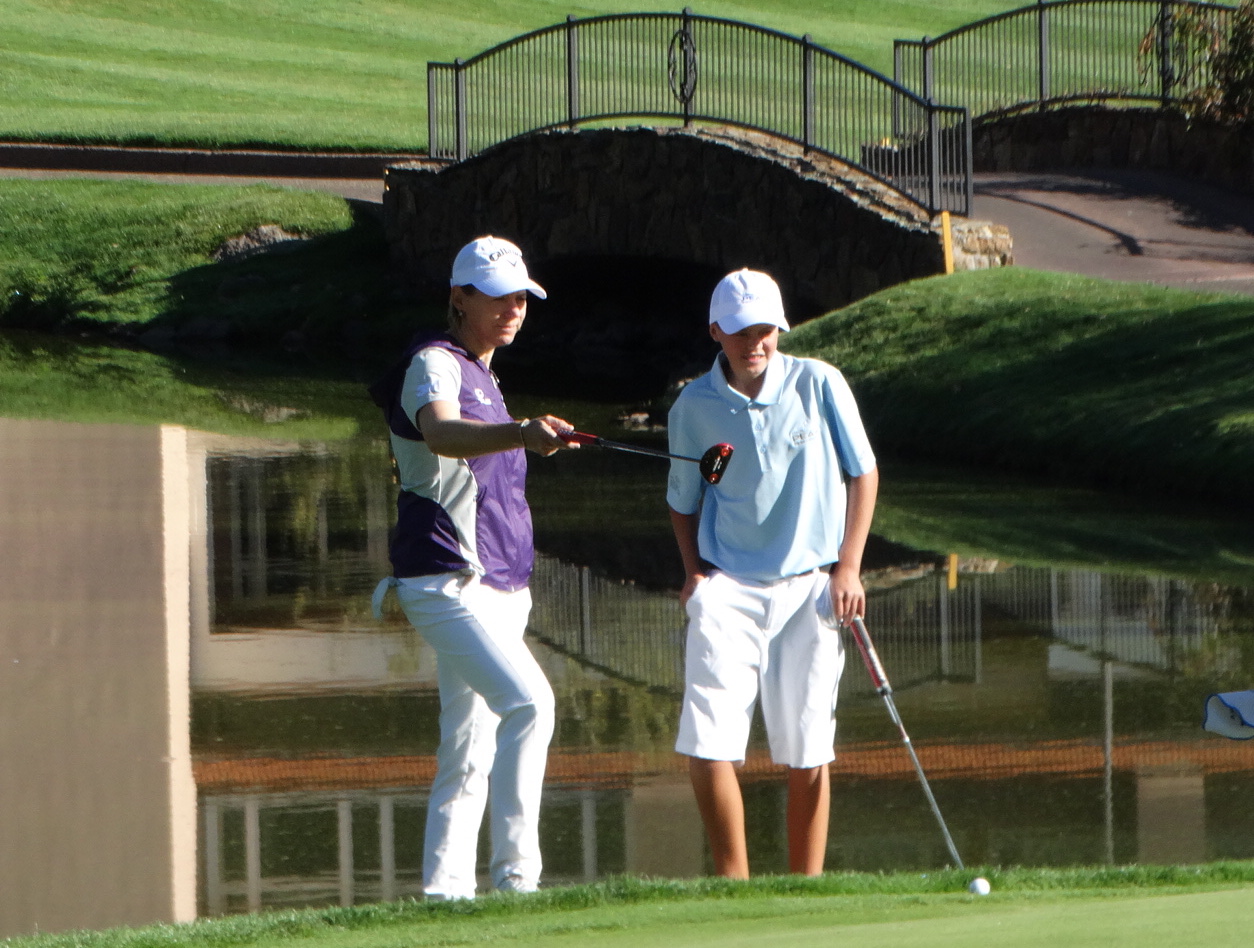 During a Thursday morning chat over an outdoor breakfast at The Broadmoor Resort in Colorado Springs, Annika Sorenstam, surrounded by nine kids from First Tee programs around the country, confided that she was "extremely shy growing up."

How shy?

Knowing that junior tournament winners had to give a speech, Sorenstam intentionally missed putts coming down the stretch so that other kids would win and have to do the public speaking.

It's hard to believe that the Annika Sorenstam at The Broadmoor on Thursday for the inaugural CoBank PEAK Performers event is that same person. For half a day at the site of her 1995 U.S. Women's Open triumph, she regaled the teenagers with all sorts of stories with valuable life lessons, shared laughs with the kids, made sure to personally connect with every one of them and chatted it up with media folks and with her caddie, a guy familiar to folks at The Broadmoor -- aside from the caddie bib -- longtime director of golf Russ Miller (below).

"She's a talker. That's pretty cool," said 14-year-old Hunter Swanson from The First Tee of Green Valley Ranch, one of two Coloradans who had the chance to play six holes with Sorenstam, who switched off among three threesomes of kids. (Swanson is pictured above with Sorenstam.)

Sorenstam is one of the greatest players in the history of women's golf, with the '95 U.S. Women's Open win at The Broadmoor being the first of her 72 LPGA Tour victories as well as the first of her 10 wins in major championships. She was inducted into the World
Golf Hall of Fame 15 years ago.

But it's been almost a full decade since the Swede ended her competitive career, even though she's still only 47. But a year before exiting the LPGA Tour, Sorenstam founded the ANNIKA Foundation "with the goal of developing women's golf around the world and encouraging children to lead healthy, active lifestyles." Sorenstam has long worked with The First Tee to help accomplish that goal.

"The thing I do with my foundation is I tell people there's no other sport like golf where you have great ambassadors like these young kids," Sorenstam said during a brief Q&A with ColoradoGolf.org prior to her round. "These are the next generation of leaders or influencers -- or whatever you want to call them. It's so cool that they play golf. I think we really need to take advantage of these opportunities. I love being part of it -- to see how focused these young kids are.

"I think they inspire me as much as hopefully I inspire them."

If the reaction of the Colorado kids who took part in the CoBank PEAK Performers event is any indication, Sorenstam certainly hit the mark.

"It was kind of surreal. She's so nice," said 15-year-old Colorado Springs resident Sarah Abercrombie, who's been part of The First Tee of Pikes Peak since it was founded. "When I opened up the email (saying she'd been selected to participate in Thursday's event), I just freaked out."

Added Swanson, a First Tee GVR regular for nine years and a varsity golfer at Northfield
High School: "Once I figured it out at the beginning -- that we're actually going to meet her and play with her -- the best women's golfer ever ... It was COOL. It's way different seeing her in real life. You see how good she is in real life and see how far she hits it. It's crazy."

Sorenstam spoke with the kids as a group for about 20 minutes during breakfast (left), hitting on all sorts of topics through personal stories -- from her childhood, from her playing career ... you name it.

So what is her primary message to the kids?, she was asked later.

"You have nine kids from different parts of the country, different ages, different walks of life so to speak," she said. "I don't know what would stick in (a given) kid's head. But a lot of it is just follow your dreams, do what you like, work hard, no shortcuts to success and learn from your mistakes. That's some of the things that I have done. It's kind of finding your own journey. There's no set journey. Create your own and make it worthwhile."

For instance, that same Sorenstam who was "extremely shy" growing up, she not only learned to talk in front of a group after winning tournaments. Later, she accepted an invitation to speak to an audience of 10,000.

She wasn't thrilled with the exercise, "but that's how you get better -- not by running away," she told the kids on Thursday.


All this -- the planting of little seeds if the minds of kids such as these -- is part of a plan "to inspire the next generation to be on the right path. But these kids, they're extremely mature and very determined and very accomplished already."

Sorenstam (pictured directing Abercrombie) seemed to leave competitive golf while she was still in the prime of her career. She was asked if the decade since has been what she imagined it would be.

"I don't compete, but I've been a lot busier than I thought," she said. "I've been lucky. I'm still able to do fun stuff and be relevant after 10 years. A lot of people just kind of fall off the earth. I'm glad my phone is still ringing."

And, of course, she still manages to fit in some relaxation. That was part of plan in coming to The Broadmoor, in addition to inspiring The First Tee kids.

"I've been back here a few times (since her 1995 victory), but not that many. This is my third time (back)," she said. "This brings back some great memories for sure. This is kind of where my career started. It's a beautiful spot and it's neat to be out here. This time I've got my family with me, which makes it even more special to be able to share with them kind of where I started."

Thursday was a culmination of a four-day, all-expenses-paid golf event for the nine First Tee kids, who visited some of the spectacular sites around the Colorado Springs area, in addition to staying at the five-star Broadmoor Resort. The event was sponsored by
Denver-based CoBank, The Broadmoor and The First Tee of GVR.

The teenagers were selected after submitting applications that were judged based on the kids' academic and leadership records, playing resumes and essays about their experience at The First Tee and the impact the program has had on their lives.
The CoBank PEAK Performers winners that played with Sorenstam on Thursday were , in addition to Abercrombie and Swanson, Jackson Boldt and Luke Boldt, both 16 and from The First Tee of Coastal Carolinas; Andrew Santiago Caldwell, 16, from The First Tee of Pine Mountain in Kentucky; Nina Goodrich; 16, from The First Tee of Greater St. Louis; Joshua Lim, 17, from The First Tee of Greater San Antonio; Victoria Slawinski, 17, from The First Tee of Pittsburgh; and Borina Sutikto, 14, from The First Tee of Silicon Valley.

The PEAK Performers event was the brainchild of the folks who conduct and sponsor the CoBank Colorado Open Championships each year at GVR and who run The First Tee of GVR.