Joint Effort
Guy and Nick Mertz finish strong to earn long-awaited title in CGA Parent/Child
by Gary Baines - 6/3/2018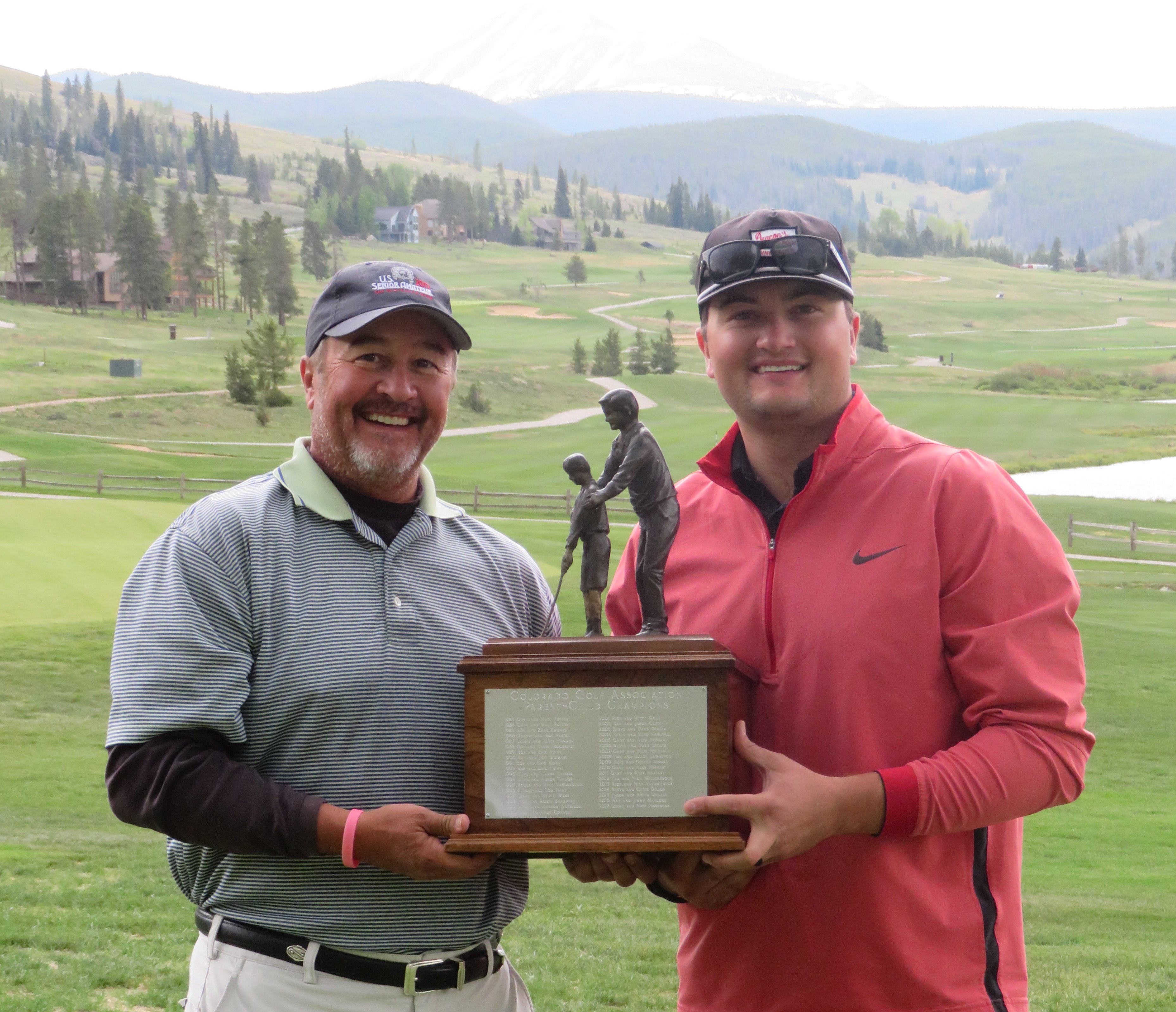 The way Guy and Nick Mertz started Sunday's final round, it didn't look particularly promising for the duo from The Fox Hill Club to win the 36th CGA Parent/Child Championship.

But after being 3 over par through their first four holes at Keystone Ranch Golf Course, the Mertzes righted the ship in a hurry, and a stellar finishing stretch in the alternate-shot format used on Sunday netted them the title by a wide margin.

The Mertzes (left) played their final eight holes in 3 under par to shoot an even-par 72, making them one of just two teams to post a score under 76 in foursomes stroke play on Sunday. They finished with a 2-under-par 141 total, good for a four-stroke victory.

"We've been trying to win this one so it's pretty special," said Guy Mertz, who now owns four CGA titles, including the 1988 Public Links and the 2010 Senior Match Play. "We've come close a couple of times a while back when Nick was playing more golf (finishing third in 2009 and fifth in 2006). So this was pretty unexpected. Nick hasn't been playing as much, being a working man now. But I'd put this up there with any of the wins I've ever had, maybe above them all. When you win with your son it means more than just winning by yourself."
The Mertzes went into the final day three strokes out of the top spot, but outscored Matt Porter of Pueblo Country Club and Grant Porter of CommonGround Golf Course, who led after the Day 1 modified Chapman format for the second consecutive year.

This time, the Porters carded a second-round 79 to tie for second place at 2-over 145. Also at that figure were Garrett and Scot Mortimer of Colorado National Golf Club, who had the best round on Sunday, a 71.

Four-time champions Gary and Alex Kephart finished fourth as a 78 on Sunday left them at 146.
In the net division, Bill and Steele Luoma, who led by six after round 1, held on to earn a three-stroke victory. They posted a 1-over 73 on Sunday to check in at 130. Tying for second at 133 were the Mortimers, and Russell Roehrkasse of Colorado Springs Country Club and Christopher Roehrkasse of Meridian Golf Club. The Mortimers netted a 65 on Sunday and the Roehrkasses a 70.


Another Luoma team -- former University of Colorado golfer John and son Chase -- landed the Loel & Caleb Lierman Award, which is given to to the team that includes a player 18 or younger with the lowest 36-hole gross score. John and Chase Luoma (left) had a total of 161 (77-84), placing 24th overall.

Meanwhile, Nick (short for Nicklaus) and Guy Mertz finished Sunday with five birdies and five bogeys.

While Guy Mertz still plays a lot of golf -- the 59-year-old from Longmont finished 41st Friday in the CoBank Colorado Senior Open and he and Tony Workman were runners-up in a playoff in the CGA Senior Four-Ball last month -- son Nick doesn't get on the course much anymore. That's especially the case since the birth of his first child, daughter Remington, four months ago.

"Whenever Nick was getting worried about a shot or whatever, I'd tell him, 'You know, Remington is not going to care if you hit a bad shot. Don't worry about it,'" Guy said.

And the result was the biggest win of Nick's career. And it came after he and his dad had teamed up a dozen times or more for this event, but never before for a victory.

"This is definitely my biggest accomplishment in golf," the 28-year-old from Broomfield said. "I was a good golfer growing up in high school and into college and I'd play all the time. I had a couple of CJGA wins growing up.

"Back then (in this event), we probably put too much pressure on ourselves, thinking that we were going to go out and win it. I play golf maybe once or twice a month at most now. We were able to go out there and try to have a good time and not even think we were going to win. I think that helped us play better than we've done in the past."

Indeed, even with their strong finish, Nick Mertz didn't believe his team was going to win on Sunday. And though Guy felt they had a chance after Nick pitched to 1 foot for a birdie Guy converted on their 18th hole Sunday, dad thought that the odds were against them.

"Our expectations were really lowered the last couple of years because Nick hasn't been playing as much," Guy Mertz said. "And there are some pretty good players -- the Nosewiczes (Nick and Lenny) and the Porters and the Kepharts are always tough to beat and they seem to win most of the time."

But starting on hole 12 -- the Mertzes began on No. 2 -- things started to go their way. Nick made an 8-foot birdie on 12, Guy sank an 18-foot birdie on 13, and Guy holed a 20-footer for par on 16, in addition to their final-hole birdie on No. 1.

And shortly thereafter, after all the scores had been posted, the Mertzes had that trophy that had long eluded them.

"It's a great tournament because they have it at such cool sites," Guy Mertz said. "We look forward to it every year because it gives us a chance to get together, especially now that he's a dad and has less time. This is always penciled into the schedule."
For scores from the Parent/Child: GROSS, NET.