Improbable Finish
Fowler's 60-foot birdie in playoff gives he and Polk their 2nd CGA Senior Four-Ball title in 3 years; Forey/Radcliffe claim super-senior win
by Gary Baines - 5/2/2018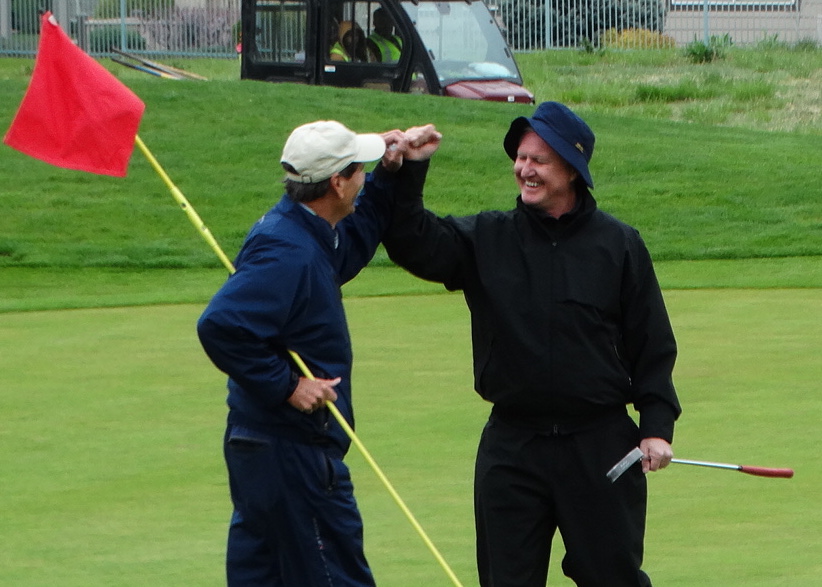 If the way the first CGA championship of 2018 ended is any indication, it could be one memorable season.

The 37th CGA Senior Four-Ball culminated in spectacular fashion on Wednesday at West Woods Golf Club in Arvada.

With his partner out of the hole and his two opponents less than half the distance from the cup, former CGA president Bill Fowler drained a 60-foot-plus birdie putt on the second hole of sudden death to give he and Robert Polk of Colorado Golf Club their second Senior Four-Ball title in the last three years.

"It was probably one of the most exciting finishes of golf I've had in a long time," Fowler said at the trophy presentation. "I'll be celebrating that for a while."

Fowler, from The Club at Rolling Hills, and Polk handed Guy Mertz and Tony Workman of The Fox Hill Club their second similar playoff loss in the CGA Senior Four-Ball. In 2012, Jerry Kidney and Daniel Dymerski defeated Mertz and Workman on the fifth hole of a playoff when Dymerski sank a 15-foot birdie putt.

"Did you see it bounce up when it hit the hole?" Mertz said of Fowler's putt. "If he misses that (and it goes by quite a bit), we probably win with a 4. At worst we go on. That was twice as long as any putt I saw go in the whole tournament. It's one of those turnarounds that you just ... But that's golf. It happens. But it's happened to us twice now."

Said Workman: "It was a hell of a putt."

On a cold and sometimes rainy final day, Polk and Fowler shot the best score on Wednesday -- a 4-under-par 68 -- to rally from three strokes down going into the final round. With Polk getting up and down for birdie on the final hole of regulation, they finished with a winning total of 12-under-par 204. (The winners are pictured, with Fowler at right above and at left below.)


It was the fourth CGA Senior Four-Ball title for Polk, who won with different partners in 2005 and '07 before earning the trophy with Fowler in 2016. Only Bert Welz, with five, has won this tournament more, while Kidney has also captured four titles. Polk and Fowler also qualified for the first U.S. Amateur Four-Ball, played in 2015, and were one of the older twosomes in the field.

In the CGA Senior Four-Ball, Polk and Fowler have finished in the top three five of the last six years.

"I hope he has me back next year," Fowler said with a smile. "I didn't have my A game for the whole three days. He's always looking on the free-agent market for somebody better."

Said Polk, a three-time CGA Senior Player of the Year: "We are a good team. Bill is real steady. I tend to make some birdies, but I tend to knock it off the golf course every now and then. Bill covers me when I take leave."

That includes the second hole of the playoff, the par-4 11th. There, teeing off before Fowler as usual, Polk put two tee shots out of bounds right leaving his partner on his own for the hole. Fowler, who turns 55 on Thursday, responded with a nice drive, but pulled his 8-iron approach a little, leaving his ball on the far left side of the green while the pin was on the right side. Mertz and Workman both had makeable birdie putts in the 25-foot range.

"I was tending the flag because I couldn't do anything else," said Polk, 62. "I had a real peaceful feeling. The greens were slow and they were hard to putt. We had so many that we thought we made that didn't go in. But I'm sitting there holding the flag and going, 'I think he's going to make this.' Halfway, I go, 'Oh my!' That sucker was right in the middle for a long time. It was a great putt.

"They had two (good looks) with putts, but after something like that the hole looks like a thimble."

Both Workman and Mertz ended up two-putting for par.

As for Fowler's thinking on his birdie putt:

"I was back there and I thought, 'I've got nothing to lose. I really don't,'" he said. "They're up there for a two-putt par. I've got to just not three-putt. I wanted to get up there in the 3- or 4-foot range for a two-putt par. I just kept my head still, hit a really solid putt and hit my line. About halfway there, I said, 'That's on line, it's not going to be very far away, it looks like it's the right speed.' As it got closer and closer and closer, I thought, 'Man, that has a chance.' Then all of a sudden, it was not on the green anymore. I just had this overwhelming feeling. I could not believe that I just did what I did.

"If you look at the scorecard, Robert played really well for three days and I played OK. It was really, really fun for me to contribute in that big way at the very end."


In falling for the second time in a playoff in this event, Mertz and Workman (left, with Mertz in gray) carded scores of 66-68-70 and didn't make a better-ball bogey in the tournament.

Tying for third place, one out of the playoff, were second-round leaders Mark Hirsch of Lone Tree Golf Club and Michael Davis of Meadow Hills Golf Course, and Sean Forey and Scott Radcliffe of The Club at Rolling Hills. Forey and Radcliffe closed with a 70 and Davis and Hirsch with a 72.

Forey and Radcliffe, who won the CGA Senior Four-Ball together in 2003 -- Forey also won with a different partner in 2008 -- on Wednesday earned the super-senior division title, which is limited to partners who are both 62 or older. The two 65-year-olds lapped the field in that division, winning by six strokes.

"I've been out of action (on the state scene competitively) for quite a while, so it feels really good to me," said Radcliffe, the president of the Colorado Golf Hall of Fame. "Winning never gets old -- anything -- so I'm happy as heck. It's renewed my interest in playing more golf."

Said Forey: "We've won or tied for the super-seniors a few times. It's always fun to win. But it's always hard to come up one short (of the playoff for the overall title). Today was tough conditions and we just didn't get it done."

Finishing second among the super seniors were Dave Merritt and Bill Stevens of Meridian Golf Club, who shot a final-round 73.

For scores, click on the following: SENIORS, SUPER-SENIORS.