CGA Super-Senior Stroke Play
Albrecht fends off Colorado Golf Hall of Famer Moore to win his first CGA championship; Alley repeats as champ in older division
by Gary Baines - 8/23/2017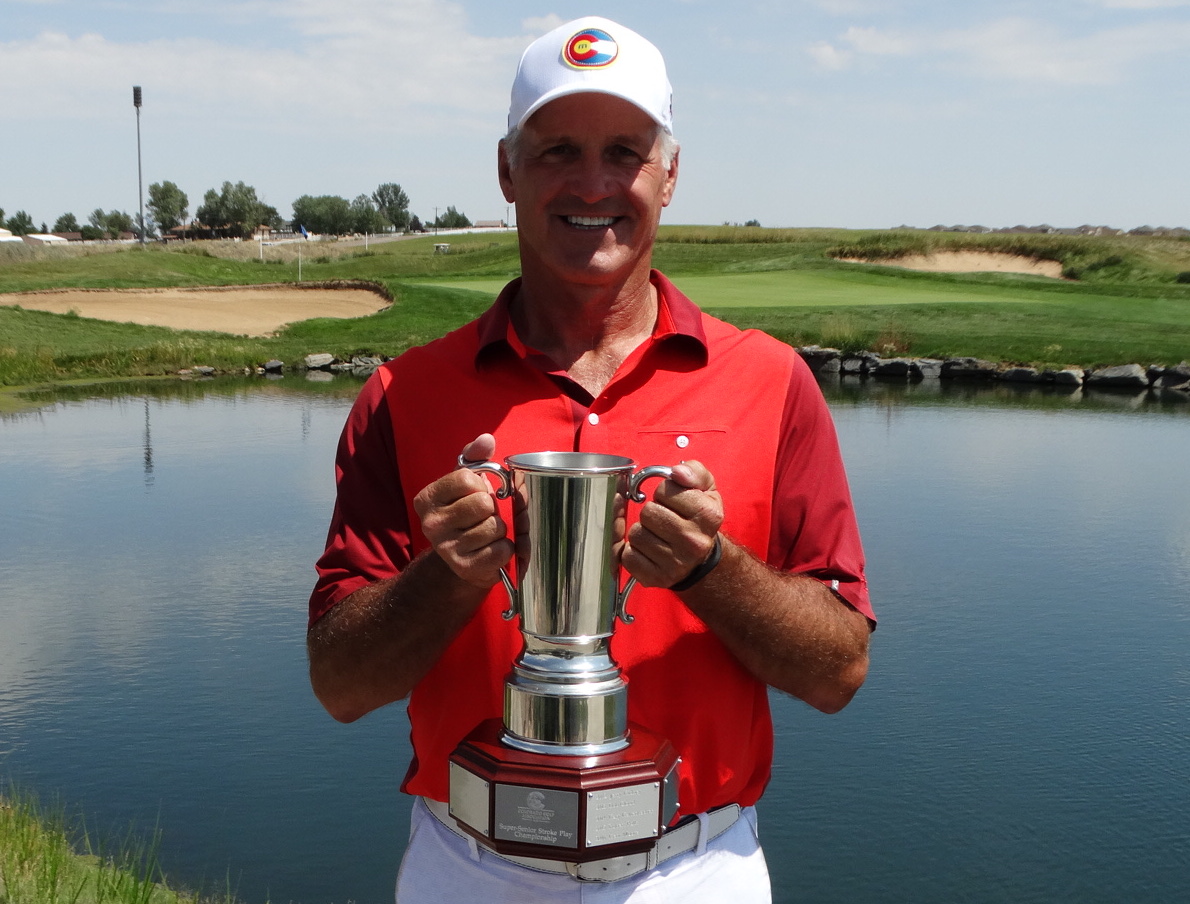 On Wednesday, Gary Albrecht capped off a 72-hour stretch of golf that he won't soon forget.

On Sunday, the Denver resident won the open-division club championship at CommonGround Golf Course, which is no small feat for a 61-year-old.

Three days later, Albrecht fended off a stiff challenge by Colorado Golf Hall of Famer -- and defending champion -- Kent Moore of Cherry Hills Country Club to earn a title in a CGA championship for the first time.

Albrecht (left and below), who's a member at Ballyneal as well as CommonGround, shot a 3-under-par 33 on his final nine holes -- and a 3-under 69 for the day -- to edge Moore in the CGA Super-Senior Stroke Play at Buffalo Run Golf Course in Commerce City.

"It feels awesome," said Albrecht, a private-practice attorney. "It feels great. It's a very competitive group of super-senior players. I'm proud to come out in first. It's been amazing."

Albrecht, who qualified for the U.S. Senior Amateur last year, sank a 25-foot birdie putt on No. 17 to go ahead by two, then made a knee-knocker for par -- and the win -- on the 18th after Moore had drained a 10-foot birdie.


In the cases of both of his wins in recent days, Albrecht had in mind the memory of a longtime friend, Tom Collins, who died early this year. They met as members at Hiwan Golf Club in Evergreen in the late 1990s. Two months ago, Albrecht also participated in the Hundred Hole Hike at Ballyneal, playing 128 holes in a single day -- all walking, covering about 38 miles in the process. In Albrecht's case, the effort raised funds for the New York-based Double H Ranch, where Collins' sons had attended Cindy's Comfort Camp for kids with terminally ill parents.

"I played today with a golf ball with a logo on it in (Collins') honor," Albrecht noted. "I had (also) done it at CommonGround for the club championship. He's been with me."

At Buffalo Run, Albrecht finished with a 5-under-par 139 total, one ahead of Moore, who likewise closed with a 69 after birdies on Nos. 16 and 18 on Wednesday.

"He played great," Moore said of Albrecht. "He almost never missed a shot. He missed one drive on the front and it cost him a bogey. Other than that, he was putting for birdie on every hole. He just played so steady and putted good. That was a delightful round to watch.

"(For me), it was a really good score for the way I hit it on the back. I'm disappointed to lose, but not disappointed in the scoring. Normally (Moore's total) would win by two or three."

In the three CGA super-senior individual championships in which Moore (below) has participated, he's now finished first and second in the Super-Senior Stroke Play and first in the 2017 Super-Senior Match Play.


Although Albrecht was ahead most of the way on Wednesday, the long birdie putt he sank on 17 proved pivotal. Playing partner Sean Forey was on a similar line and putted first, just missing. Then Albrecht was dead-on.

"I know how great a player Kent is and he was right there," Albrecht said. I hit a lot of good shots. I was a little disappointed in some of the putts I hit because I didn't really have the pace. But the birdie putt on 17 was a huge one. I knew I needed to make it. I just saw the line and knocked it in.

"Yesterday I was trying to find break in putts and most of them were straight. That putt really was straight. I said, 'You just have to trust that.' I did, and it went right in the middle."

This was the first time Albrecht had played in a CGA super-senior championship, but probably not the last.

"Maybe I just didn't want to enter a super-senior event," he said. "Maybe I was in denial a little bit. But these guys can golf. There's a lot of really good golfers. Beating guys like Kent Moore and Robert Polk, that's tough to do. They've won a lot of these events and they're tournament-tested-tough players."

Polk a three-time CGA Senior Player of the Year from Colorado Golf Club, placed third on Wednesday at 142 after finishing with a 68, the low round of the 61-plus championship. That means that members of the CGA's volunteer Board of Governors went 1-2-3 in the association's Super-Senior Stroke Play.

"We have a strong (board)," Albrecht noted. "We should have a Board of Governors golf event."

Dave Runberg of CommonGround placed fourth in the 61-and-older division at 144 after a 71 on Wednesday.
In the 71-plus division, Don Alley (left) of Antler Creek Golf Course won for the second consecutive year. Alley, a former Colorado PGA professional who has had his amateur status reinstated, put together a stellar finish, playing his final eight holes in 6 under par. The 72-year-old from Colorado Springs made an eagle and four birdies during that stretch to shoot a 68, giving him a 3-under-par 141 total and a two-stroke victory.

"It feels wonderful, very surprising," Alley said. "I came in here not playing well. I had a real rough winter. I got sick. I lost a lot of weight and a lot of stength, so I just haven't been playing very well. I came in here with very low expectations. I didn't play really well until the last nine. I got things going on the last nine and made some putts. I'm happy."

As for the final-nine 31, Alley said, "It's been a while since I've done that in a competitive event."

It was the second CGA title for Alley, who served as a Colorado PGA professional for about two decades -- including as general manager at the now-defunct Gleneagle Golf Club -- and was president of the Section in the mid-1980s. He left the golf business and didn't play the game for about a dozen years. But he received his amateur status back in the 1990s and now is going strong again.

Bob Sims of Clubcorp Colorado, who took a three-stroke lead into the final round, tied for second at 143 with Roger Gunderson of Aurora Hills Golf Course, a past winner of both the CGA Senior Amateur and Senior Match Play. Gunderson closed with a 69 and Sims with a 73.

(FYI: Starting in 2017, the age requirement for each CGA super-senior championship will go up by one year each year through 2021, when no one younger than 65 will be allowed to compete. Similarly, the minimum age for the older division will rise annually, with 75 and older being the criteria in 2021 and beyond.)
For Super-Senior Stroke Play scores, CLICK HERE.