16 Years Later ...
2001 CGA Amateur champion Jertson hitting a perfect note as director of product development at Ping
by Gary Baines - 7/27/2017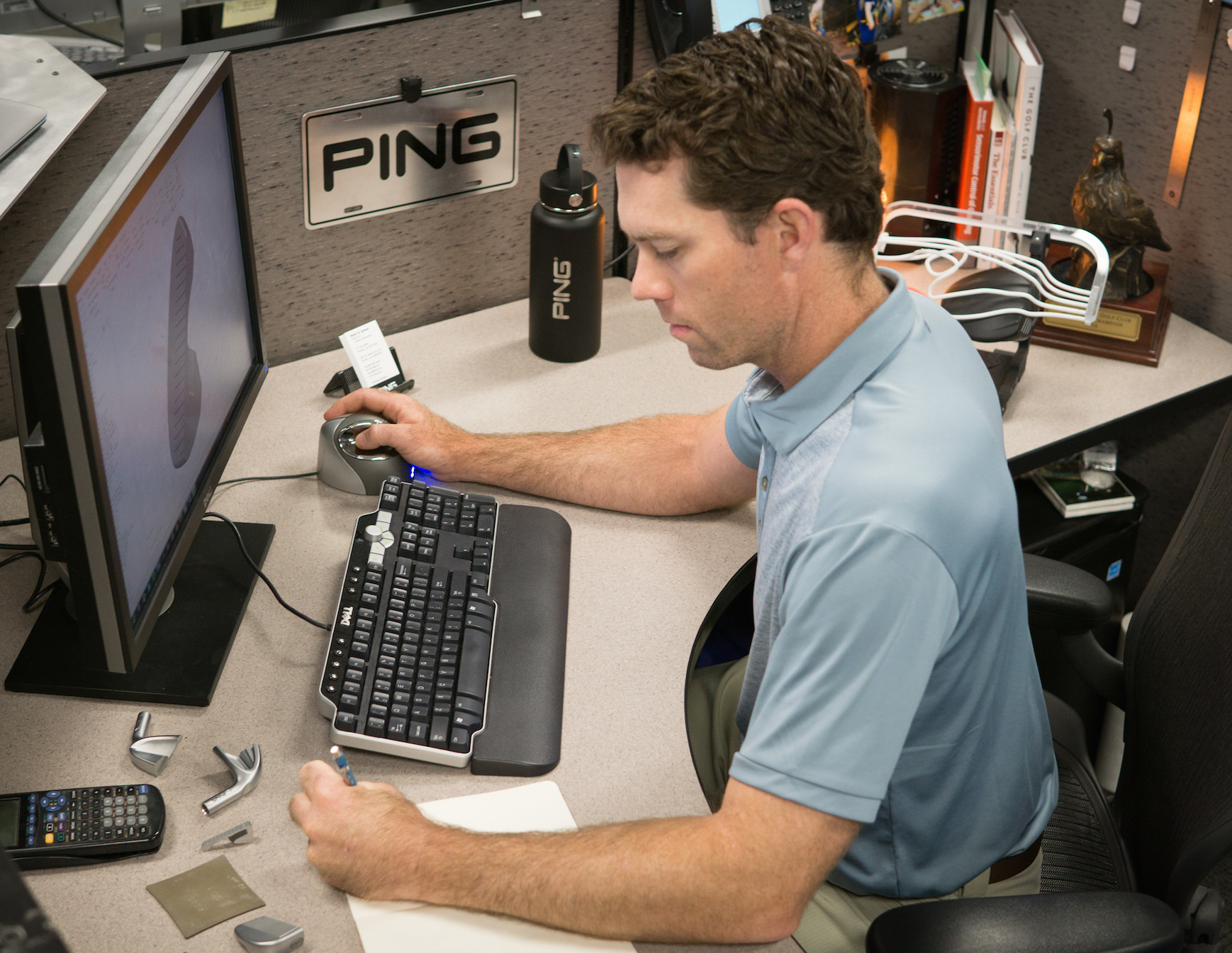 Marty Jertson doesn't readily remember many of the details of his win in the CGA Amateur. But that's understandable considering it occurred 16 years ago, and a lot of water has gone under the bridge since.

"That was a long time ago," Jertson noted in a recent phone interview. "Kevin Stadler was in the field (and finished seventh). That was always a fun thing. He went on to win the Phoenix Open and all that stuff."

With the 2017 CGA Amateur coming up next week -- Aug. 3-6 at the Sonnenalp Club in Edwards, where Stadler won the 2002 Colorado Open -- we thought we'd catch up with Jertson, who is still a fine golfer but has made quite a name for himself in a related realm.

Jertson only lived in Colorado for four years of his life (1998-2002), but it was in the Centennial State that the seeds were planted for what he's become -- the director of product development at one of the top golf equipment companies in the world, Ping. In other words, he heads up the design of new clubs for the brand that is currently used by Bubba Watson, Lee Westwood, Miguel Angel Jimenez, Louis Oosthuizen, Aaron Baddeley, Hunter Mahan and Harris English, among others.

Golf equipment product development and design is nice mixture of what Jertson learned and cultivated in his college years as a mechanical engineering student and golfer at Colorado School of Mines, where he was both an NCAA All-American and an NCAA Academic All-American as a senior in 2002.

"That same summer I won the Colorado state am (at Saddle Rock Golf Course), I think I qualified for the USGA Public Links," Jertson remembers. "I won a handful of college tournaments. I graduated and decided to turn pro, go to Q-school and do that whole deal. I did that for about a year and a half after college. I quickly wised up that it was an uphill battle and that the odds were kind of against you no matter how good you are.

"I had a mini-tour friend, and one of his friends he grew up with went to CU and worked at Ping and he kind of got me an 'in' as an intern. When I decided to quit playing full-time, the company hired me full-time as a designer, and I've been doing product design ever since. I gradually got a little more experience and (four years ago) got the role I'm in now, where I kind of lead all the design efforts."

When Jertson was at the School of Mines, he certainly didn't envision this career path, even though it's turned out to be a near-ideal occuption for him.

"Ironically, I didn't," the 36-year-old Phoenix resident said. "I just thought, 'How would you even get into that?' There's no schooling for golf club design so it was never even seriously on my radar. I figured I'd do what a lot of the students at the School of Mines do and go into the oil and gas industry or petroleum or automotive or aerospace or something like that.

"I didn't have my mind set on that or ever even really consider it. But in hindsight it's obviously been an amazing fit for me."
Jertson has worked on many Ping projects over the last 14 years, but ask him to name one club with which he played a major design role and that he takes particular pride in, and he gives a direct answer.

"I would say the G30 driver (left)," he said. "That was one of the projects I worked on (in 2013) and we just brought a lot of new technology to market, including some aerodynamic technology -- the things on the crown called turbulators -- and that driver caught fire on the market and was the No. 1-selling driver for a good chunk of time in the marketplace."

Some people might look at the task of Jertson and people like him and see it as a bit frustrating: always trying to out-do yourself and design something better than what you've done before. But there's obviously another way of looking at that issue, and that's how Jertson views it.

"Sometimes it is hard, but at the same time that's the fun part," he said. "We kind of thrive on that exact challenge. I think what makes the job unique for both me and my co-workers here at Ping that do the same thing is that we're all very passionate golfers so we get to experience the joys but also the pains of something that we can improve. If we have a club that goes too far left or right or springs too much, we personally experience that and get to work on it and try to improve it."

In fact, that's the thing he likes most about golf equipment design.

"That there's no end in sight," he said. "It's a never-ending challenge. I think that a lot of the golf community thinks that manufacturers are highly regulated and they can't advance anymore, but nothing could be further from the truth. On some design and research aspects, we're just barely scratching the surface. So I like that I can do it literally my whole career and never reach an end, because there will always been advancement and challenges to design and manufacturing that we can overcome."
Even though Jertson has long since given up playing full-time for a living -- though he's a longtime PGA professional -- that certainly doesn't mean that he doesn't still have game.


Most notably, since 2010 he's competed in six PGA Tour events, including the PGA Championship in 2011 and '12. But he's still seeking his first made cut in The Big Show. Elsewhere, he finished fifth in the national PGA Professional Championship in 2011 and seventh in 2012. And in 2011, he represented the U.S. in the PGA Cup, a Ryder Cup-like competition for club professionals.
Jertson said his ability to play at a high level is highly beneficial when it comes to his design work.

"It helps a lot, but at the same time we kind of challenge and train ourselves to be sympathetic and observational of the 15-18 handicapper, the club golfer, and how they play the game and the sport," Jertson said. "Club design is kind of a renaissance thing. It's art and science combined. The engineering background gives me the science and the playing background gives me the eye for designing and what looks good and feels good."

So how does a designer appease both a PGA Tour player and an 18-handicapper?

"It all boils down to the age-old question of what do golfers want and need -- longer and straighter," Jertson said. "Longer, straighter, feels good, looks good. Within those categories, there's different priorities for tour players and everyday golfers. But we always try to boil it down to the very simple problem we're trying to solve. There's a lot of overlap because a tour player wants longer and straighter and so does the beginning golfer."
As for his own game, Jertson relishes the time he does get to play and compete.

"I love it," he said. "I play in a lot of the Southwest Section PGA events now. It's usually just constraints of the summer. I think if I played any more than I do, I'd maybe get burned out and fatigued by the game and the effort it requires to put in. But I like kind of playing as a hobby and still having the competitive aspect of competing against myself and the golf course and the field obviously. It's fun to still be able to do that. Being a member of the PGA of America is a great opportunity to still compete against a lot of really good competitors -- and occasionally get in a tour event or do something fun like that.

"Playing in six Tour events and working a pretty busy, high-responsibility job at the same time is something I take pride in -- just being able to balance both of those things."