DU Golfers Finish Strong to Overtake Coach
Ramsnes/Burgess win CGA Four-Ball; Crone/Netherton take Senior title
by Gary Baines - 5/5/2013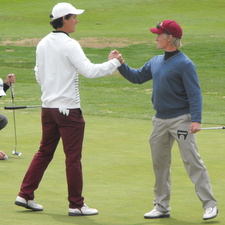 Eric Hoos has played in a U.S. Open and he won a tournament on what is now known as the Web.com Tour. And even though he's a couple of decades older now, being in contention still gets his competitive juices flowing.

He even felt some of that on Sunday in the final round of the CGA Four-Ball Championship at Legacy Ridge Golf Course in Westminster. But as a practical matter, he had a couple of dogs in the fight.

Hoos didn't end up winning the tournament, but the University of Denver men's golf coach finished second to two of his players, senior Jordan Burgess and junior Ole Ramsnes. So even though Hoos might catch a little friendly grief about that, it was kind of a win-win situation for him.

"Being pretty competitive, I really don't ever like to lose, but I'd rather lose to them than anybody else," Hoos said with a little chuckle. "My job now is to make them better. It gives me great pride to do that."

Ramsnes and Burgess, who just completed their college season, overcome their head coach -- and his partner, Tom Krystyn of Meridian Golf Club -- on Sunday thanks to the round of the tournament, a 10-under-par 61 in the scratch two-man best-ball format. That gave the Pioneers teammates a two-stroke victory over Hoos and Krystyn.

(In the photo above, Burgess, left, congratulates Ramsnes after the latter made a birdie on the 18th hole Sunday.)


Meanwhile, 60-year-olds Kelly Crone and Larry Netherton -- who like Burgess and Ramsnes play out of Highlands Ranch Golf Club -- claimed the CGA Senior Four-Ball title for the second time in five years, this time at Todd Creek Golf Club in Thornton. (Netherton is pictured at left in the accompanying photo.)

The two four-ball tournaments, held concurrently, marked the first championships of the 2013 season for the CGA.

At the Four-Ball at Legacy Ridge, Ramsnes and Burgess each captured his first CGA championship after posting a 15-under-par 127 total. But just as important was beating Hoos.

"It was a tournament within the tournament for all of us," said Burgess, the runner-up in the CGA Stroke Play Championship last year.

"They knew it was a big competition between us," said Hoos, the low amateur in the HealthOne Colorado Senior Open two years ago. "It was fun to get out there and battle. But I'm very proud of them. Both Jordan and Ole worked so hard during the year and they haven't had the success they probably would have liked. I'm so happy for them that (the win) showed the work ethic is paying off and they're going in the right direction."

Ramsnes, a Norwegian who just completed his junior season at DU, made an eagle and seven birdies on his own ball Sunday. Playing his first CGA championship, he didn't putt out everything in the team format, but if he had he probably would have shot a 62 individually. Meanwhile, Burgess, a resident of Windsor, birdied their final hole to give the teammates the two-stroke victory.

"That was my best round (ever)," said Ramsnes, who eagled the par-5 third hole by hitting driver-4 iron to 12 feet and draining the putt. "I just had one of those days where putts were dropping and I felt really good. We had a great time, and that just made us play good. (Hoos and Krystyn) played really well. It was kind of fun to see that it actually mattered that we shot 10 under to beat them by two."


The "just have fun attitude" obviously paid off in the end for Burgess and Ramsnes (pictured at left with their trophies).

"It feels good to win," said Burgess, who tentatively plans to turn professional sometime next year. "It's nice just to come out here and have fun the last couple of days after just finishing up our college season. Obviously we definitely wanted to win too, so it worked out."

Hoos, of Bear Creek Golf Club, and Krystyn were the only team closer than five shots to Ramsnes and Burgess. The elder twosome carded a 7-under-par 64 on Sunday and likewise went bogey-free for 36 holes, finishing at 129.

First-round leaders Eric Hallberg and Connor Klein closed with a 68 to be one of four teams tied for third place at 132.

At the Senior Four Ball, 2009 champions Crone and Netherton won by two at Todd Creek after consecutive rounds of 4-under-par 68. They made five birdies and one bogey each day en route to their 8-under 136 total.

Besides previously winning the Senior Four-Ball, Crone and Netherton paired up to claim the CGA Senior Two-Man Team Championship in 2007.

"We're both super-seniors (over 60) now, so it's fun beating 'the kids'," Netherton said.

The key this time, said Crone, was ham-and-egging it.

"When one of us was in trouble, the other stepped up," said Crone, a past champion in both the CGA Senior Stroke Play and Senior Match Play. "That really helps. You've got to have a good partner when you need it."

Robert Polk of Colorado Golf Club, a two-time winner of the Senior Four-Ball, teamed with Bill Fowler of Bear Creek to finish second as a closing 67 left them at 138.

Both the Four-Ball and Senior Four-Ball were originally scheduled to be 54-hole events, but the snowstorm earlier in the week led to them being shortened to two rounds each.

CGA Four-Ball Championship
At Par-71 Legacy Ridge GC in Westminster
View Leaderboard and Scorecards
Jordan Burgess, Highland Hills GC / Ole Ramsnes, Highlands Ranch GC 66-61--127
Tom Krystyn, Meridian GC / Eric Hoos, Bear Creek GC 65-64--129
Gary Driber, Golfweek Amateur Tour / Dallas Massey, South Suburban GC 66-66--132
Mark Zbrzeznj, Eagle-Vail GC / David Harris, Eagle Vail GC 68-64--132
Connor Klein, Lone Tree GC / Eric Hallberg, Colorado GC 64-68--132
Rocky Ariano, Dalton Ranch GC / Ben Hayes, CommonGround GC 67-65--132
Steve Irwin, Lakewood CC / Pat Diaz, Meridian GC 68-65--133
Danny Hahn, CommonGround GC / Matthew Neam, City Park GC 67-66--133
Derek Fribbs, Colorado National GC / Steve Kass, CommonGround GC 65-68--133
Michael Harrington, Garden of the Gods Club / Jim Doidge, Pueblo CC 68-66--134
Brian Richmeier, Meadow Hills GC / Andy Dannewitz, Meadow Hills GC 67-67--134
Alex Buecking, Columbine CC / Paul Robinson, Columbine CC 67-67--134
Alex Kephart, Eisenhower GC / Nick Tarasiewicz, Patty Jewett GC 65-69--134
Jared Bickling, Glenwood Springs GC / Keith Humerickhouse, Gypsum Creek GC 72-62--134
Paul Erdman, Colorado National GC / Charles Santaularia, CommonGround GC 68-67--135
Curt Jenkins, Lakewood CC / Richard Bradsby, Lakewood CC 68-68--136
Christopher Good, Lone Tree GC / Jim Reynolds, Bear Creek GC 67-70--137
Cameron Brown, Sonnenalp GC / Dillon McDonald, Red Sky GC 73-64--137
Dean Siskowski, CommonGround GC / Eric Tabanico, CommonGround GC 67-70--137
Wes Martin, The Courses at Hyland Hills / Shane Unfred, Highland Meadows GC 69-69--138
Tim Fitzgerald, Meridian GC / James Kurtenbach, South Suburban GC 70-68--138
Tim Kratz, CommonGround GC / Tristan Sanders, CommonGround GC 71-67--138
Jeremy Thibault, Heritage at Westmoor / Alan Boyko, Heritage at Westmoor 67-71--138
Perry Rickel, Colorado GC / Chris Egan, Colorado GC 69-69--138
Danny Riskam, Columbine CC / Pete Mangold, Cherry Creek CC 70-69--139
Shawn Mccaskey, South Suburban GC / Stu Allen, Fox Hollow GC 71-68--139
Kyle Danford, Fort Collins CC / Chris Schwartz, Harmony Club 69-70--139
Doug Moore, Lone Tree GC / James Tatro, Lone Tree GC 70-71--141
Don Stoner, Indian Tree GC / Patrick Wethington, Indian Tree GC 72-69--141
Jon Lindstrom, Heritage at Westmoor / Dean Clapp, Meadow Hills GC 69-72--141
Henry Bissell, Meadows GC / Kevin Burke, CommonGround GC 72-69--141
Timothy Nowak, Ute Creek GC / Daniel Price, Murphy Creek GC 70-72--142
Bob Athey, CC of Colorado / Chris Pratz, Springs Ranch GC 75-67--142
Roger Chivukula, Omni Interlocken GC / Owen Ellis, Flatirons GC 72-70--142
Levi Fladebo, CommonGround GC / Brian Edelman, Raccoon Creek GC 68-74--142
Sam Solomon, Broadlands GC / Mitchel Solomon, Broadlands GC 72-71--143
Alex Leonida, Inverness GC / Brian McCloy, Saddle Rock GC 72-72--144
John Perry, Highland Meadows GC / Richard Brown, Raccoon Creek GC 72-72--144
Erich Weiss, The Ranch CC / Patrick Mansfield, The Ranch CC 72-73--145
Chris Carlson, Highlands Ranch GC / Michael Love, The Club at Pradera 72-73--145
Andy Brooks, CommonGround GC / Eric Butler, CommonGround GC 74-72--146
Stephen King, Green Valley Ranch GC / Faraj Elmagbari, Canongate Colorado 76-71--147
Mark Brown, Highlands Ranch GC / Adam Benshoof, CommonGround GC 76-72--148
Wyck Brown, Lakewood CC / Brian Ohara, Lakewood CC 73-76--149
Adam Thoutt, Legacy Ridge Golf Course / Brock Voss, Riverdale GC 79-71--150
Matt Reinick, Todd Creek GC / Mike Cordell, Buffalo Run GC 73-77--150
Tom Gysin, Lakewood CC / Tom Mesch, Lakewood CC 77-74--151
Garrett Farnsworth, Lone Tree GC / Dale Chavez, CommonGround GC 76-77--153
Chuck Scheinost, Boomerang GL / Jim Turk, Boomerang GL 78-77--155
Billy Ramsey, Lone Tree GC / David Ramsey, Lakewood CC 79-76--155
Taylor Osieczanek, Broadlands GC / Ed Connors, Legacy Ridge GC 81-79--160
Matt Keeler, Broadlands GC / Mark Ury, Heritage at Westmoor 78-83--161
CGA Senior Four-Ball Championship
At Par-72 Todd Creek GC in Thornton
View Leaderboard and Scorecards
Larry Netherton, Highlands Ranch GC / Kelly Crone, Highlands Ranch GC 68-68--136
Bill Fowler, Bear Creek GC / Robert Polk, Colorado GC 71-67--138
Mr Harry Johnson, Eagle Ranch GC / Ken Sady, Eagle Ranch GC 71-69--140
Kary Kaltenbacher, Glenmoor CC / Rod Walters, Heritage at Westmoor 70-70--140
Chuck Delich, Eisenhower GC / Rick George, Castle Pines GC 70-70 140
Pat Bowe, CommonGround GC / Dave Brown, Rmgcsa GL 73-67--140
Bob Dameron, The Courses at Hyland Hills / Bobby Ortega, The Courses at Hyland Hills 73-67--140
Randal Gaddis, Lone Tree GC / Jerry Beren, Coal Creek GC 72-69--141
Guy Mertz, The Fox Hill Club / Mike Larson, Boulder CC 72-69--141
Dennis Fields, CommonGround GC / Thomas Roos, Spring Valley GC 74-67--141
Bob Chandler, Heritage at Westmoor / Gary Albrecht, CommonGround GC 71-70--141
Jeffrey English, AvidGolfer Passport Club / Bill Bolgar, The Ridge at Castle Pines North 70-72--142
Mike Lohse, West Woods GC / Len Mize, West Woods GC 71-71--142
Bob Kubiak, South Suburban GC / Allen Phelon, South Suburban GC 71-71--142
Bob Cloud, Bear Creek GC / Hal Marshall, Bear Creek GC 68-75--143
Jeff Sweet, Saddle Rock GC / Daryl Fengler, Murphy Creek GC 69-74--143
Frank Wilkinson, Lincoln Park GC / Carter Mathies, The GC at Redlands Mesa 69-74--143
Phil Herrera, Lincoln Park GC / Dennis Lucero, Lincoln Park GC 71-73--144
Mark Hirsch, Lone Tree GC / Michael Davis, Meadow Hills GC 75-70--145
Grant Porter, CommonGround GC / Jim LeMar, Meadows GC 72-73--145
Sean Forey, Bear Creek GC / Terry Kunz, Applewood Golf Club 72-73--145
Mark Franz, Saddle Rock GC / Charlie Post, Colorado GC 73-72--145
Robert Blayney, Highlands Ranch GC / Thomas McGeary, Highlands Ranch GC 75-70--145
Art Cudworth, Raccoon Creek GC / Scott Crone, Pinehurst CC 69-76--145
Keith Masters, Meadow Hills GC / John Applegate, Meadow Hills GC 72-74--146
Gary Fox, CC at Castle Pines / Steve Stultz, CC at Castle Pines 76-70--146
Tom Coates, South Suburban GC / Pete Perry, South Suburban GC 75-72--147
Mark Runyan, Blackstone CC / Mark Barkley, Blackstone CC 72-75--147
Robert Sherrill, Columbine CC / Gary Keogh, Columbine CC 71-76--147
Bradley Smith, Ptarmigan CC / Richard Sabo, Ptarmigan CC 72-75--147
Jerry Kidney, Overland GC / Daniel Dymerski, Columbine CC 75-74--149
Glenn Hyde, Riverdale GC / Chuck Fisher, Riverdale GC 74-75--149
John Sostmann, Raccoon Creek GC / Robert Burke, Twin Peaks GC 73-76--149
Bruce Hogg, Patty Jewett GC / David Delich, Broadmoor GC 78-72--150
Joe Morrill, Eagle Ranch GC / Rick Pirog, The Club at Cordillera 77-73--150
Darin O'Shea, Raccoon Creek GC / Bob Rognmoe, Raccoon Creek GC 76-74--150
Tom Warren, Fossil Trace GC / Bartley Corfee, Fossil Trace GC 74-76--150
Mike Campbell, Aurora Hills GC / Steve Kosarek, CommonGround GC 74-76--150
Frank Carson, Meridian GC / Scott Anderson, Harmony GC 74-77--151
Joe Distefano, Telluride GC / Ken Bailey, Telluride GC 77-74--151
Bill Stevens, Raccoon Creek GC / Jerry Molitor, Colorado Springs CC 76-76--152
Bradley Becker, Plum Creek GC / Perry Umlauf, CommonGround GC 76-76--152
Robin Bradbury, Heritage at Westmoor / Scott Sullivan, Bookcliff CC 75-77--152
Jim Brown, The Fox Hill Club / Bob Bauers, Boulder CC 76-77--153
Richard Harrison, Ptarmigan CC / Mark Hailey, The Olde Course at Loveland 79-75--154
Paul Yoon, Pueblo CC / Roger Larsen, Pueblo CC 77-78--155
Mark Davidson, Hiwan GC / Dave Bell, Hiwan GC 81-74--155
Tim Kromer, Inverness GC / Tony Tormey, Inverness GC 75-81--156
Bill Boyd, Highland Hills GC / Bob Heiny, Highland Hills GC 78-82--160
Bill Lundquist, The Club at Pradera / Mike Gilbert, The Club at Pradera 83-77--160
John Leamon, Littleton GC / Don Gaines, Littleton GC 87-78--165
Art Pitman, Golfweek Amateur Tour / Rick Newberg, Hiwan GC 80-86--166
John Chahbandour, Denver CC / Steve Bell, Denver CC 76-NS
Reed Myer, Denver CC / Craig Gardiner, Denver CC 76-WD

Go to CGA Four-Ball Results Archive