Professionals Sweep Open and Senior Colorado Cup Matches
June 5-6, 2007, Glenmoor Country Club
by Colorado Golf Association - 6/6/2007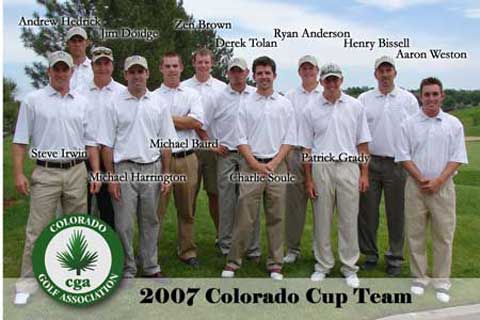 The 37th Colorado Cup Matches, in which the best CGA amateurs battle the top Colorado Section PGA professionals, concluded Wednesday at Glenmoor Country Club with the singles matches in both the Open and Senior Divisions.
In the Open Division, the amateurs overcame the 5-point deficit they faced following the previous day's four-ball matches by winning six of the first seven matches, and tying the seventh. However, the pros held their ground winning four of the last five matches to secure a 10-8 total victory and reclaim the Colorado Cup. The esteemed trophy will reside at the Colorado PGA for the rest of the year, and with the professionals now lead the series 26-9, with two ties.
In the Senior Division, the amateurs began the day to with a 4-2 lead from the four-ball matches, but the professionals dominated the singles winning nine of the twelve matches to retain the Senior Colorado Cup with a 11-7 victory. The amateurs still lead the series 14-9, with two ties since the division was added in 1983.
The last time the professionals held both Colorado Cups was in 1998.
The 36-hole format for the 12-player teams was six four-ball matches in the first round, and twelve singles matches in the final round. Each win earned a point for the team, and matches that end in a tie earned each team one half a point.

RESULTS ('a' denotes amateur)
OPEN FOUR-BALL RESULTS
Caine Fitzgerald/Barry Milstead def. (a) Aaron Weston/(a) Zen Brown, 7 and 5
Tad Holloway/Chris Johnson def. (a) Derek Tolan/(a) Michael Baird, 2 up
(a) Andrew Hedrick/(a) Henry Bissell tied Gregg Jones/Mike Northern, AS
Matt Call/Erik Billinger def. (a) Steve Irwin/(a) Charlie Soule, 6 and 4
Tray Shehee/Zane Zwemke def. (a) Patrick Grady/(a) Ryan Anderson, Default
Matt Schalk/Paul Lobato def. (a) Michael Harrington/(a) Jim Doidge, 3 and 2
Open Four-Ball Total: Pros 5 ½ - Amateurs ½
OPEN SINGLES RESULTS
(a) Patrick Grady def. Paul Lobato, 4 and 3
(a) Jim Doidge def. Matt Schalk, 4 and 3
(a) Steve Irwin tied Tray Shehee, All-Square
(a) Michael Harrington def. Zane Zwemke, 4 and 3
(a) Aaron Weston def. Erik Billinger, 7 and 6
(a) Ryan Anderson def. Barry Milstead, 5 and 4
(a) Zen Brown def. Caine Fitzgerald, 4 and 2
Matt Call def. (a) Charlie Soule, 4 and 3
Gregg Jones def. (a) Henry Bissell, 3 and 2
Mike Northern def. (a) Andrew Hedrick, 2 and 1
(a) Michael Baird def. Chris Johnson, 2 and 1
Tad Holloway def. (a) Derek Tolan, 5 and 3
Open Singles Total: Amateurs 7 ½ - Pros 4 ½
OPEN TOTAL: Pros 10 – Amateurs 8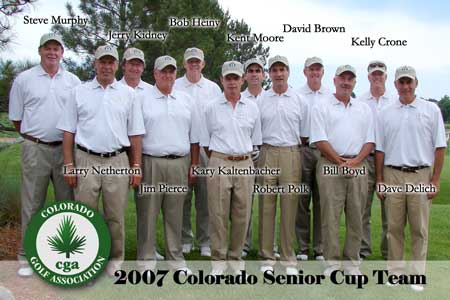 SENIOR FOUR-BALL RESULTS
(a) Bill Boyd/(a) Bob Heiny def. Randy Jewell/Gary Woodside, 5 and 4
Dave Arbuckle/Tom Woodard def. (a) Kelly Crone/(a) Larry Netherton, 5 and 3
(a) Kent Moore/(a) Dave Delich def. Jim Johnson/Russ Clark, 3 and 2
(a) Robert Polk/(a) Jim Pierce def. Craig Palmer/Gary Lee, 5 and 4
(a) Jerry Kidney/(a) Kary Kaltenbacher def. Craig Stephens/Scott Walter, 1 up
Scott Hart/Ken Krieger def. (a) Steve Murphy/(a) Dave Brown, 5 and 4
Senior Four-Ball Total: Amateurs 4 - Pros 2
SENIOR SINGLES RESULTS
(a) Dave Delich def. Jim Johnson, 6 and 5
Gary Woodside def. (a) Larry Netherton, 6 and 5
(a) Jerry Kidney def. Craig Palmer, 4 and 3
Randy Jewell def. (a) Kelly Crone, 2 and 1
Craig Stephens def. (a) Bob Heiny, 3 and 2
Scott Hart def. (a) Dave Brown, 1-up
Dave Arbuckle def. (a) Bill Boyd, 1-up
Scott Walter def. (a) Kent Moore, 4 and 2
Ken Krieger def. (a) Robert Polk, 4 and 2
Gary Lee def. (a) Steve Murphy, 2 and 1
(a) Kary Kaltenbacher def. Russ Clark, 4 and 3
Tom Woodard def. (a) Jim Pierce, 3 and 2
Senior Singles Total: Pros 9 - Amateurs 3
SENIOR TOTAL: Pros 11 - Amateurs 7

Go to the Colorado Cup Matches Archive