Symons Leads Buffalo Stampede at the CGA Western Chapter
July 21-22, 2007, The Links at Cobble Creek
by Colorado Golf Association - 7/22/2007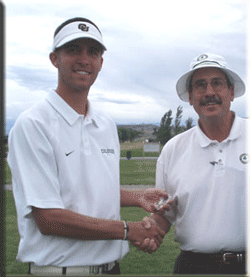 Luke Symons of Valley Country Club (pictured left with CGA Western Chapter President Mike Knode) won the 2007 CGA West Chapter Championship which was held at the Links at Cobble Creek in Montrose, Colorado. Symons, a member of the University of Colorado Golf Team earned his first individual state title in impressive fashion finishing four strokes ahead of the nearest competitor Devin Schriener of Hillcrest Golf Course. Defending champion Pat Grady who is a teammate of Symons at CU fell short of his defense by finishing in third place, five strokes out. Rounding out the top five in a three way tie for fourth place at 143 (1-under) are CU teammates Riley Andrews, Jim Grady, and Michael Baird.
In the senior division Harry Johnson of Eagle Springs Golf Club put together an impressive weekend to finish at even par (144) and edge out 2007 Senior Match Play Champion David Delich of the Broadmoor by two strokes
The 2008 Championship has been announced and will be held at Hillcrest Golf Course in Durango, Colorado.
Championship Flight
1. Luke Symons – 136
2. Devin Schreiner – 140
3. Patrick Grady – 141
T4. Riley Andrews – 143
T4. Michael Baird – 143
T4. Jim Grady – 143
T7. Harry Johnson - 144
T7. Sey Johnson – 144
9. David Delich – 146
10. Adam Joiner – 147
T11. Keenan Holt – 148
T11. Jim Knous – 148
T13. Michael Harrington – 149
T13. Sean Hedden – 149
T15. Dean Clapp – 150
T15. Derek Hofmeister – 150
17. Joe Distefano – 151
18. Doug Manske – 152
T19. Bill Boyd – 153
T19. Jim Doidge – 153
T19. Doug Jones – 153
T22. Matthew Brunk – 154
T22. Collin Covault – 154
T24. Ken Kirby – 155
T24. Derek Tolan – 155
T25. Michael Hannigan – 156
T26. Matthew Hall – 157
T26. Stacy Millard – 157
28. Michael Glaesel – 158
T29. Connor Rakowski – 159
T29. Scott Sullivan – 159
T31. Gary Driber – 160
T31. Tom Gempel – 160
T33. Frank Wilkinson – 161
T33. Dave Woodruff – 161
35. Todd Novak – 162
36. John Ray – 164
Senior Championship Flight
1. Harry Johnson – 144
2. David Delich – 146
3. David Brown – 147
4. Bruce Hogg – 150
5. Reed Myer – 151
T6. Bill Boyd – 153
T6. Doug Jones - 153
T6. Joe Riordan – 153
T9. Chuck Fisher – 154
T9. Rick Pirog – 154
T11. Carter Mathies – 157
T11. Joe Morrill – 157
T11. Gary Snyder – 157
14. Terry Hunt- 158
T15. Barry Blanchard – 159
T15. Randy Rouse – 159
17. Frank Wilkinson – 161
18. Larry Lewnard – 166
19. Jack McKenna – 167
T20. Mark Runyan – 168
T20. Bert Welz – 168
22. Bob Campiglia – 170
23. Bob Becker – 172
24. Earl McKerrihan – 173
T25. Hugh Jeffries – NC
T25. Kronin Kelly – NC
T25. Steve Murphy – NC
First Flight
1. Chace Nathe – 151
T2. John Halvorson – 152
T2. Erik Lundberg – 152
4. Dennis Lucero – 155
5. Eric Scannello - 157
T6. Barry Blanchard – 159
T6. Cary Dizell – 159
T8. Anthony Depalma – 160
T8. Bobby Detray – 160
10. Paul Snyder - 161
11. Gregg Mueller – 163
12. Chris Smith – 164
13. Shawn Cruse – 166
14. Ken Bailey – 168
15. Bart Barnett – 169
16. Bob Campiglia – 170
17. Shane Richard – 171
18. Duke Wortmann – 174
19. Spencer Stern – NC
Senior First Flight
1. Randy Lozier – 153
2. David Williams – 158
3. Joseph Davis – 162
4. Jay Hoefling – 166
5. Carl Ethal – 175
Second Flight
1. Jeffery Straight - 153
T2. Matthew Parham – 157
T2. Matthew Stern – 157
T4. Tim Holfschuh – 158
T4. David Williams – 158
6. Joseph Davis – 162
7. Michael Ross – 163
T8. Jay Hoefling – 166
T8. Stephen Kinkead – 166
10. Mark Scanniello – 173
11. Mike Beery – 178
12. Don Rubish – 195
Senior Second Flight
1. Stephen Kinkead – 166
2. Tom McCleary – 171
T3. Butch Fry - 178
T3. Michael Montano – 178
5. Jack Buford – 181
6. Josh Holmes – 184
7. Howard Beardsley – 191
8. Larry Clark – 194
9. Don Rubish – 195
Third Flight
1. Tom McCleary – 171
2. Rich Hornbeck – 173
T3. Theron Chepko – 176
T3. Mark Stern – 176
T5. Butch Fry – 178
T5. Ron Reed – 178
7. Jack Buford – 181
8. Wayne Smith – 182
9. Roy Jones – 183
10. Josh Holmes – 184
11. Gim Lucki – 188
12. David Briggs – 189
13. Brett Livingston – 190
14. Larry Clark - 194

Go to CGA Western Chapter Results Archive