Harrell Takes CGA Junior Stroke Play Title on Final Hole
June 16-18, 2008, Raccoon Creek Golf Course
by Colorado Golf Association - 6/18/2008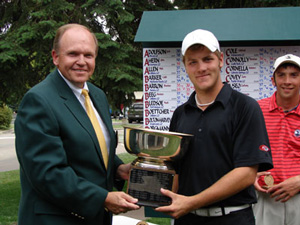 Kory Harrell of Colorado Springs shot 70 in the final round to finish at seven-under par 209 to earn a one-stroke victory in the CGA Junior Stroke Play Championship at Raccoon Creek Golf Course. For Harrell, a recent Air Academy graduate who will play for the University of Northern Colorado this fall, this was his first CGA individual title.
Harrell won the event with a par on the 18th hole to overtake Branden Barron of Aurora in an incredible finish. Harrell had caught the second round leader Barron on the front nine and held a one stroke advantage entering the final four holes. Harrell made birdie on the par-5 15th with Barron looking at an eight-foot putt for eagle. Barron had to settle for birdie however to remain one back, then hit his drive to the fringe of the green on the par-4 16th. Barron missed his second straight eagle attempt and tapped in for birdie only to have Harrell match it again to stay one stroke ahead. On the challenging par-3 17th, Barron holed his second shot from a greenside bunker for his third consecutive birdie, and Harrell made bogey giving Barron a one-stroke lead going into the final hole. Barron hit his tee shot out of bounds on 18 and was forced to play his provisional. Harrell's tee shot was dead center of the fairway, and he able to make par – two strokes better than Barron's double bogey – to overtake Barron and win the title.
Barron earned the CGA Silver Medal at 210. Brian Dorfman of Greenwood Village, who held the lead at one point during the final round, finished in third place at five-under 211. John Ahern of Morrison took fourth at 213, and Cody Kent of Castle Rock shot 215 to finish in fifth place.
RESULTS
Kory Harrell, Colorado Springs, Colo. - 67-72-70--209
Branden Barron, Aurora, Colo. - 70-65-75--210
Brian Dorfman, Greenwood Village, Colo. - 74-67-70--211
John Ahern, Morrison, Colo. - 75-68-70--213
Cody Kent, Castle Rock, Colo. - 72-71-72--215
Brenden Beeg, Littleton, Colo. - 74-72-70--216
Brendan Connolly, Castle Rock, Colo. - 71-71-76--218
Derek Fribbs, Castle Rock, Colo. - 72-72-74--218
Cameron Freeman, Fort Collins CO., Colo. - 70-72-77--219
Parker Edens, Greeley, Colo. - 74-72-73--219
David Holtgrewe, Cherry Hills Village, Colo. - 74-75-71--220
Chad Novak, Pueblo, Colo. - 75-73-73--221
Andrew Cornella, Colorado Springs, Colo. - 74-73-75--222
Blake Mitchell, Loveland, Colo. - 76-72-74--222
David Oraee, Greeley, Colo. - 74-75-73--222
Jackson Giro, Fort Collins, Colo. - 70-77-75--222
Jim Knous, Basalt, Colo. - 73-74-75--222
Kyle Fanning, Cheyenne, Wyo. - 69-76-77--222
Michael Schoolcraft, Englewood, Colo. - 79-67-76--222
Zahkai Brown, Arvada, Colo. - 73-73-76--222
Ben Lyons, Centennial, Colo. - 75-73-75--223
Brennan Dolan, Boulder, Colo. - 74-75-74--223
Michael Lee, Greeley, Colo. - 76-73-74--223
Michael Tilghman, Greenwood Village, Colo. - 72-75-76--223
Chris Dillon, Littleton, Colo. - 77-71-76--224
Chris Shaw, Fort Collins, Colo. - 71-77-76--224
Michael Vogelsong, Colorado Springs, Colo. - 76-73-75--224
Joseph Schwark, Broomfield, Colo. - 71-80-75--226
Oliver Grabb, Boulder, Colo. - 76-75-75--226
Clay LaBrec, Denver, Colo. - 76-76-75--227
Cody Vance, Lakewood, Colo. - 78-72-77--227
Jay Tymkovich, Broomfield, Colo. - 75-76-76--227
Brandon Schroeder, Thornton, Colo. - 73-79-76--228
Kaleb Mahanes, Erie, Colo. - 76-74-78--228
William Skinner, Boulder, Colo. - 77-70-81--228
Nick Allen, Littleton, Colo. - 74-75-81--230
Tyler Lovato, Westminster, Colo. - 74-78-81--233
Michael Mayo, Westminster, Colo. - 78-74-82--234
Taylor Hulbert, Arvada, Colo. - 76-73-86--235
Colin Hendrickson, Loveland, Colo. - 76-77-84--237

MISSED CUT
Chris Hyten, Colorado Springs, Colo. - 79-75--154
Justin Russell, Montrose, Colo. - 77-77--154
Nash Bledsoe, Fort Morgan, Colo. - 78-76--154
Zachary Cuseo, Littleton, Colo. - 74-80--154
Benjamin Krueger, Co. Springs, Colo. - 78-77--155
Brandon Rikkers, Littleton, Colo. - 74-81--155
Bryan Fickle, Sedalia, Colo. - 77-78--155
Sam Rock, Superior, Colo. - 80-75--155
T. Bolton-Harvey, Englewood, Colo. - 77-78--155
Wyndham Clark, Greenwood Village, Colo. - 73-82--155
Jack Adolfson, Niwot, Colo. - 76-80--156
Nick Umholtz, Greeley, Colo. - 79-77--156
Robert Quick, Littleton, Colo. - 76-80--156
Tyler Maydew, Longmont, Colo. - 79-77--156
Clark Shafer, Castle Rock, Colo. - 79-78--157
Russell Einspahr, Arvada, Colo. - 83-74--157
Tim McQuaid, Englewood, Colo. - 78-79--157
Cameron Brown, Edwards, Colo. - 82-76--158
Eric Parish, Laramie, Wyo. - 79-79--158
Gregg Davis, Parker, Colo. - 77-81--158
Jack Farrow, Greenwood Village, Colo. - 77-81--158
Kyle Thurman, Broomfield, Colo. - 81-77--158
Steven Moore, Greenwood Village, Colo. - 85-73--158
Ian Heath, Ft Collins, Colo. - 77-82--159
Drew Boettcher, Littleton, Colo. - 81-79--160
Sean Miller, Breckenridge, Colo. - 78-82--160
Ben Davis, Lakewood, Colo. - 83-78--161
Dario Ortega, Fort Collins, Colo. - 88-73--161
Loren Glen, Thornton, Colo. - 83-78--161
Aaron Palinckx, Westminster, Colo. - 85-77--162
Caleb Barker, Highlands Ranch, Colo. - 81-81--162
Ryan B. Burke, Longmont, Colo. - 88-76--164
Alex Hiser, Monument, Colo. - 83-82--165
Charlie Lukasiewicz, Centennial, Colo. - 84-81--165
Michael Olson, Thornton, Colo. - 80-85--165
Nicklaus Mertz, Longmont, Colo. - 80-85--165
Zane Covey, Pueblo West, Colo. - 80-86--166
Joshua Borgmann, Highlands Ranch, Colo. - 87-81--168
Michael Cole, Monument, Colo. - 84-88--172
Matt Linville-Engler, Golden, Colo. - 90-85--175
Ricky Urso, Aurora, Colo. - 90-87--177
Nick Trumbo, Loveland, Colo. - 88-92--180
William Scherman, Englewood, Colo. - 92-NS--NS
VIEW COMPLETE LEADERBOARD
VIEW PHOTO GALLERY

Go to CGA Junior Stroke Play Results Archive