Undefeated Season
Todd Creek GC Beats Defending Champs to Win CGA Team Interclub
by Gary Baines - 10/18/2015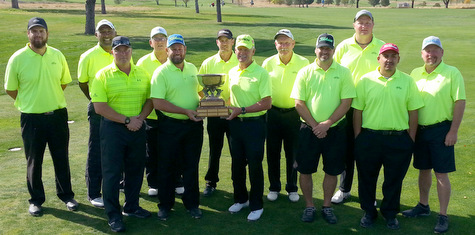 For Ed Strain, the CGA Team Interclub is a family affair, both literally and figuratively.

After all, his dad, Homer, and his son, Kyle, both join him in competing in the season-long championship as representatives of Todd Creek Golf Club. And in a more general sense, Strain looks at the Todd Creek team as kind of one big happy family.

And a successful family at that.

On Sunday, two years after losing in the finals of the Team Interclub, Todd Creek claimed the title by defeating the defending champs from The Broadmoor Golf Club 23-13 in the championship match at CommonGround Golf Course.

"It feels fantastic to come out on top," said Ed Strain, Todd Creek's captain. "It's a good group of guys. We've been fighting for four years since we've been playing in (the Team Interclub). It really feels good to win as a team. That's the most important thing."

As for three Strains being part of the dozen team members that won Sunday's finals, Strain said, "You've got three generations of Strains (competing). It's pretty fun to be able to play that way. It's pretty rare."


Todd Creek, based in Thornton, completed a season in which it won all seven of its matches in the season-long net match play competition that involves golf clubs from throughout the state. In those seven matches, Todd Creek outscored its opponents by a combined 180-72.

Jeff Stewart, who owns a 1.1 handicap, and Homer Strain went 2-0 on Sunday for Todd Creek, winning both their singles and four-ball matches in the final CGA championship of 2015.

"Just being out here with your golf buddies playing is always great," said Stewart, a semi-regular with Todd Creek over the last four years. "And having some competition -- you're playing with buddies and your buddies are depending on you -- that's always fun. I always play better golf in competition."

Todd Creek's 2015 finals team included seven players who competed on the club's squad that finished second to the Golf Club at Bear Dance in the 2013 finals.

Overall, Todd Creek, all wearing neon shirts on Sunday, outscored The Broadmoor 16-8 in singles and 7-5 in four-ball.


A year after going undefeated in claiming the 2014 Team Interclub title, The Broadmoor finished 5-2 on the season and had its moments on Sunday (left).

"It was an honor to be in the finals two years in a row, especially with the whole (CGA) tournament season being dedicated to Joe Salvo (a highly respected rules official and longtime Broadmoor member who passed away in April)," said Mark Sutherland, a non-playing team captain and PGA membership golf professional at The Broadmoor for the last three years. "We thought we had our lucky 13th player on our side, but (Todd Creek) played a great game and deservedly won."
Though the final margin Sunday was a healthy 10 points, 11 of the 18 overall matches went to the final hole, resulting in either halves or 1-up results.
Ed Strain pointed to the camaraderie among the Todd Creek players as being one of the keys to their recent success in the Team Interclub.

"We play every Sunday, and our single digits play easily with our high digits and everybody gets along good," he said. "One of the best things we do when we have a small bunch of guys is we just throw tees in a hat, we pull them out, and that's who plays together. Having that camaraderie probably pushed us over the edge. It's a bunch of guys that just want to win."


(And some of that camaraderie extended to Todd Creek's opponents, left.)
This year marks the sixth season of the CGA Team Interclub. The competition started in May with 51 teams.

The regular season lasted from May through mid-summer, with geographically-linked groups of four teams playing round-robins against one another. The team from each group with the highest point total advanced to the playoffs -- along with three runners-up, including The Broadmoor -- with the postseason matches running from August through October. This year, the finals marked the 77th match of the year, not counting walkovers.


Both in the regular season and the playoffs, teams of a dozen men each -- of widely varying abilities -- square off, with singles and four-ball matches held concurrently. Each individual match is worth two points -- two for a win and one for a tie.

As part of the Team Interclub, the CGA will donate $500 to the junior golf program at Todd Creek.


CGA Team Interclub Championship Finals
At CommonGround GC in Aurora
FINAL SCORE: Todd Creek GC 23, The Broadmoor GC 13
Singles (Todd Creek 16, The Broadmoor 8)
Jeff Stewart (TC) def. Mike Allred (B), 4 and 3
Brad Grogg (B) halved with Kyle Strain (TC)
Bill Kemp (B) def. Delfido Rodrigeuez (TC), 1 up
Dustin Snell (TC) def. Don Sall (B), 4 and 2
John Lundien (TC) def. Greg Flaks (B), 2 and 1
Ed Strain (TC) def. Ed Hayden (B), 1 up
Roger Utley (TC) def. Doug Wasson (B), 2 and 1
John McPherson (B) def. Tom Rowell (TC), 1 up
Roger Perry (B) def. Mike Adams (TC), 1 up
Joe Rizzi (TC) def. Scott Meagher (B), 4 and 3
Homer Strain (TC) def. Duke Mitchell (B), 5 and 4
Bill Carder (B) halved with Kevin Nicks (TC)
Four-Ball (Todd Creek 7, The Broadmoor 5)
Jeff Stewart-Kyle Strain (TC) def. Mike Allred-Brad Grogg (B), 3 and 2
Dustin Snell-Delfido Rodriguez (TC) halved with Don Sall-Bill Kemp (B)
Ed Hayden-Greg Flaks (B) def. Ed Strain-John Lundien (TC), 1 up
Tom Rowell-Roger Utley (TC) halved with John McPherson-Doug Wasson (B)
Joe Rizzi-Mike Adams (TC) halved with Scott Meagher-Roger Perry (B)
Kevin Nicks-Homer Strain (TC) def. Bill Carder-Duke Mitchell (B), 1 up