Team Effort
Jason, Kyler Dunkle Run Away with Title at CGA Father/Son
by Gary Baines - 6/7/2015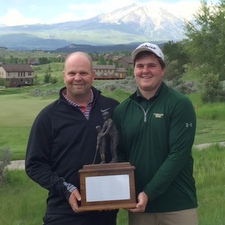 The only previous time Jason and Kyler Dunkle competed in the CGA Father/Son Championship, Kyler was just 13 years old and the Dunkles finished 28th overall in 2010.

Now with Kyler, 18, being a golfer at Colorado State University, and a former 5A state high school champion, suffice it to say things were considerably different in the Dunkles' return appearance at the Father/Son this weekend.

"He's a much different golfer now than he was then," Jason said of Kyler.

The team from the Club at Pradera cruised to the title Sunday at Ironbridge Golf Club in Glenwood Springs, tying for the largest victory margin in the event since 2005: five strokes.

The Dunkles backed up their first-round 63 -- in a Chapman Scotch format -- with a 4-over-par 76 in foursomes stroke play, also known as alternate shot. That gave them a 5-under 139 total, making them the only team to finish under par at Ironbridge.

For each of the Dunkles, it was CGA championship No. 1. So the emotions were much different than they were back in 2010 for their Father/Son debut.

"I remember on the second day that year, I played some of the worst golf I could have possibly played," Kyler said Sunday. "It was kind of disappointing. But it's good to come back and almost get some revenge.

"It's fun for me because my dad is a great golfer and he always has been. It's always been a competition between the two of us. This was kind of one time where we'd let the competition go and play together and compete against other guys. We were able to have a lot of fun up here. It was a weekend where we could relax and hang out and play some really solid golf."

The Dunkles weren't at their best at their end -- they played their final 14 holes in 6 over par on Sunday -- but considering they were 11 under for their first 22 holes, it didn't matter in the least. They finished the second round with two birdies, two bogeys and two double bogeys.

The last bigger margin of victory in the Father/Son came in 2005, when Gary and Alex Kephart prevailed by eight. Rick and Nick Tarasiewicz also won by five, two years ago.

"There was certainly pressure today, but I didn't feel like, 'Wow, I hope we don't screw this up,'" Jason Dunkle said. "When you're 43 years old and you can hang out with your son for two days, there's nothing better. Win, lose, draw, it was awesome."

Kyler Dunkle claimed the 2012 5A state high school championship and redshirted this past season for CSU, leaving him four years of eligibility remaining. Jason played college golf for the University of Northern Colorado in the 1990s, and is a former head coach for the boys golf team at Rock Canyon High School, where he teaches.

"I've been a high school golf coach, so I've seen a lot of kids develop and it's fun to see your son develop so you can go out and have a great time playing golf with him," Jason said. Winning the title with him "is very meaningful."

Ray and Jimmy Makloski of Pueblo Country Club, each a winner of a CGA individual championship in 2012, tied for second place on Sunday at even-par 144 with Chris and Russell Roehrkasse of Colorado Springs Country Club. The Makloskis closed with a 73 and the Roehrkasses with a 75.

The Kepharts, winner of this event a record four times, checked in at 146, in fourth place, after a 76 on Sunday.

Both the Dunkles point to their stellar 63 on Saturday -- which gave them a six-stroke lead -- as the key to their victory. In fact, Jason Dunkle said at one point in the round they entertained thoughts of shooting 59.

"I don't want to say it was a fluke because we were both playing really well, but it really helps when you can start off strong and feed off each other's energy," Kyler said. "That's exactly what we did. And if one of us hit a poor shot, we were able to pick each other up."

Prevailing in the net division Sunday were Roehrkasses, who shot 66-72 for a 138 total. That was two better than the three team runners-up net-wise: Ben and Ryan Hettich (68-72) of Patty Jewett and Garden of the Gods Club, respectively; Joe and Peter Morrill of Eagle Ranch Golf Course (61-79); and Dennis and Andrew Weber of Hyland Hills (66-74).

The Loel and Caleb Lierman Award, given to the team with a player 18 or younger which has the lowest gross score, went to Dunkles.


CGA Father/Son Championship
At Par-72 Ironbridge GC in Glenwood Springs
Jason Dunkle / Kyler Dunkle 63-76--139
Chris Roehrkasse / Russell L Roehrkasse 69-75--144
Ray Makloski / Jimmy Makloski 71-73--144
Gary Kephart / Alex Kephart 70-76--146
Kent Moore / Steven Moore 73-74--147
Robert Barnhardt / Cameron Barnhardt 71-76--147
Scott Sullivan / Kyle Sullivan 72-77--149
Ben Hettich / Ryan Hettich 73-77--150
Bruce Hogg / Tyler Hogg 74-78--152
Bill Fowler / Will Fowler 72-80--152
Jim Chaldekas / Chase Chaldekas 74-81--155
Rick Tarasiewicz / Nick Tarasiewicz 74-82--156
Brian Jeffrey Smith / Kirk Smith 79-77--156
Mike Kuzava / Blake Kuzava 73-83--156
Kyle Peterson / Chris Peterson 73-85--158
Pierce Trumper / Rocci Trumper 72-86--158
Bob Cloud / Aaron Cloud 75-84--159
Steve Dillon / Chris Dillon 76-84--160
Chuck Delich / Philip Delich 78-83--161
David Livingston / Thomas Livingston 75-86--161
Rick Rosendahl / Mitch Rosendahl 78-84--162
Robert Ernst Clever / Rob Clever 75-87--162
Jeff Eitel / Danny Eitel 81-82--163
James Steigerwald / Tyler Steigerwald 78-86--164
Michael Davis / Jenkins Davis 79-85--164
Joe Morrill / Peter Morrill 73-91--164
Mark Strubel / Chris Strubel 76-88--164
Ken Harris / David Harris 79-86--165
Geoffrey Howe / Andrew Howe 80-86--166
Steve Windom / David Windom 76-90--166
Dennis Weber / Andrew Weber 79-87--166
Tyson Shinaut / Jim Shinaut 81-85--166
John Luoma / Bill Luoma 82-87--169
Scott Walter / Cody Walter 84-85--169
Erik Patterson / Zach Patterson 79-90--169
Bradley Becker / Daniel Becker 81-89--170
Carl Merkel / Nicholas Merkel 81-90--171
Jess Whittlef / Scott Whittlef 77-95--172
Kyle Anderson / Drew Anderson 77-97--174
Kelly McLendon / Kelly McLendon 82-94--176
John Marasco / Mackenzie Marasco 86-90--176
Jocko Kaliszewski / Lukas Kaliszewski 92-94--186
Warren Androus / Lyle Androus 87-103--190
Wade T Pinkerton / Matthew Pinkerton 95-98--193
Jeff Coleman / Bill Coleman 92-102--194
Warren Seese / Alex Seese 92-103--195
Mike Ballard / Mr. Jack Ballard 88-122--210
David R Williams / Chris Williams 80-NS