Finishing With Style
Lyons' 66 nets CGA Western Chapter title; Crone claims senior crown
by Gary Baines - 7/20/2014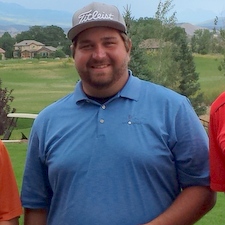 This weekend was filled with firsts for Gavin Lyons of Dalton Ranch Golf Club in Durango.

Lyons (left) competed in his first CGA championship. He played The Bridges in Montrose for the first time on Saturday. And he won a CGA title for the first time on Sunday, capturing the 32nd Western Chapter Championship.

"Ultimately, the goal is always to win," said the 25-year-old former Fort Lewis College golfer. "But I had never seen the course and this was my first CGA event. So I definitely exceeded my expectations. It feels great."

Lyons posted the best round of the tournament -- a 5-under-par 66 -- to complete a wire-to-wire victory Sunday. After leading by a stroke after round 1, he prevailed by four in being the only player to shoot subpar rounds for both days. Lyons finished with a 6-under 136 total at The Bridges.

Sunday's 66 was Lyons' second-lowest competitive round ever.

"I was leading by one going into the day, so I figured I'd have to go low," said Lyons, low amateur at the Navajo Trail Open each of the last four years. "I knew there was definitely a good number out there."

Lyons' closest challenger Sunday was Adam Griffith of Thorncreek Golf Club, who closed with a 67. Griffith started the day with three consecutive birdies, shot a 4-under 31 on the front nine, and made seven birdies on the day en route to a 140 total.

Michael Passananti of Desert Hawk at Pueblo West,placed third at 144 after a pair of 72s.

Defending champion Drew Trujillo, a University of Colorado golfer who plays out of The Bridges, finished sixth at 147 after closing with a 70.

But Lyons didn't give the opposition many openings on Sunday, when he carded six birdies and a bogey. Even when he'd show a little vulnerability, his short game bailed him out. After duffing a chip on No. 13, he holed his following chip for par, from about 15 yards. And on the next hole, he drained a 20-foot par-saver.

"Those two shots helped my confidence and got me through the round," he said.


Kelly Crone (left) of Highlands Ranch Golf Club led wire-to-wire to win the senior division.

Crone, who counts CGA Senior Stroke Play (2003) and Senior Match Play (2005) titles among his golf accomplishments, shot a 2-over-par 73 on Sunday, giving him a 1-under 141 total. Crone, the runner-up in this event last year, carded three birdies, three bogeys and a double bogey in the final round.

Tom Musselman of Telluride Ski & Golf Club placed second among the seniors, three back of Crone. Musselman, who has been a member at The Bridges, posted a 73 Sunday for a 144 total. He won the CGA Senior Match Play earlier this year.

Harry Johnson of Eagle Ranch Golf Course, the 2013 CGA Senior Player of the Year, tied for third place at 145 with Thomas Roos of Spring Valley Golf Club.


CGA Western Chapter Championship
At Par-71 The Bridges in Montrose
OPEN DIVISION
Gavin Lyons, Dalton Ranch GC - 70-66--136
Adam Griffith, Thorncreek GC - 73-67--140
Michael Passananti, Desert Hawk GC - 72-72--144
Clayton Crawford, Maroon Creek Club - 71-75--146
Richard Bradsby, Lakewood CC - 74-72--146
Drew Trujillo, The Bridges - 77-70--147
Riley Willis, Black Canyon Golf Club - 75-74--149
Justin Russell, Highland Hills GC - 74-77--151
Lamar Carlile, City Park GC - 74-77--151
Robert Barnhardt, Hillcrest GC - 78-73--151
Zane Sauer, Black Canyon Golf Club - 76-75--151
Chris Berg, Tiara Rado GC - 76-76--152
Kermitt Barrett, Hillcrest GC - 72-80--152
Cooper Gould, Eagle Ranch GC - 83-70--153
Gary Driber, Denver Amateur Golf Tour - 77-77--154
Tyler Steigerwald, Club at Flying Horse - 77-77--154
Robby Bowles, Eagle Ranch Golf Course - 78-77--155
Sean Griswold, Hillcrest GC - 80-77--157
Jacob Hebbel, The Bridges - 78-80--158
Michael Thomas, Hillcrest GC - 76-83--159
Chris Lundberg, Black Canyon GC - 78-84--162
Mike Rusk, Black Canyon GC - 84-78--162
Kelby Breidel, Black Canyon GC - 80-85--165
Tony Komatz, Eagle Ranch GC - 84-82--166
Ben Cockrill, Walking Stick GC - 83-84--167
Mark Miller, Dalton Ranch Golf Course - 88-79--167
Nick Edwards, Green Valley Ranch GC - 90-79--169
Cody Steigerwald, Club at Flying Horse - 88-82--170
Dennis Friedrich, Black Canyon GC - 89-81--170
Jeff Freeburg, Black Canyon GC @ Montrose - 88-86--174
Bob Cooling, Bridges - 85-92--177
Paul Sinner, Bridges - 87-96--183
Rick Ott, Lincoln Park GC - 91-93--184
Jordan Fehlman, Lincoln Park GC - 90-96--186
Logan Douglas, Black Canyon Golf Club - 102-92--194
Chris Curran, Haymaker GC - 118-103--221
Jeremy Lederer, Eagle Ranch GC - 73-WD
Jim Fahrenholtz, Eagle Ranch GC - 107-WD
Tony Clark, Eagle Ranch GC - 82-DQ
Mike Addison, Legacy Ridge GC - NS
Ryan Schmitz, Colorado GC - NS
SENIOR DIVISION
Kelly Crone, Highlands Ranch GC - 68-73--141
Tom Musselman, Telluride GC - 71-73--144
Harry Johnson, Eagle Ranch GC - 72-73--145
Thomas Roos, Spring Valley Golf Club - 74-71--145
David Delich, Broadmoor GC - 78-69--147
Owen Ellis, Flatirons Golf Course - 72-76--148
Bill Bolgar, The Ridge at Castle Pines North - 73-76--149
Dennis Lucero, Lincoln Park GC - 76-74--150
Grant Porter, CommonGround GC - 79-72--151
Scott Patterson, Eagle Ranch GC - 77-74--151
Larry Netherton, Highlands Ranch GC - 75-78--153
Matt Hall, Bookcliff CC - 77-76--153
Bruce Hogg, Patty Jewett GC - 78-77--155
Jim LeMar, Meadows GC - 78-77--155
Doug Jones, Tiara Rado GC - 81-75--156
David Draper, Green Valley Ranch GC - 78-80--158
Phil Herrera, Lincoln Park GC - 81-80--161
Mark Barkley, Canongate Colorado - 81-86--167
Frank Wilkinson, Lincoln Park GC - 81-87--168
Vern Goodwin, Bridges - 86-83--169
James Steigerwald, Club at Flying Horse - 88-88--176
Michael Wommack, Haymaker GC - 91-86--177
Ken Bailey, Telluride GC - 92-88--180
Dale Sauer, Black Canyon Golf Club - 91-90--181
Jeff Kadereit, Redlands Mesa GC - 89-92--181
Gary Holland, Lincoln Park GC - 92-90--182
James Kronus, Lincoln Park GC - 92-90--182
Scott Gardner, West Woods GC - 96-90--186
Stuart Jones, Redlands Mesa GC - 99-90--189
Ricky Houtris, Lincoln Park GC - 96-99--195
John Swanson, Eagle Ranch GC - 104-100--204
Mike Trujillo, Bridges G & CC - 80-WD
Scott Sullivan, Bookcliff CC - NS