Hard-Fought Victory
Marley fends off Glen to claim CGA Junior Match Play title
by Gary Baines - 7/18/2014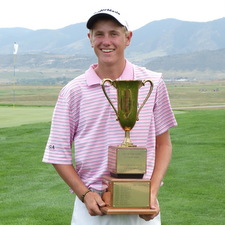 With the drag-racing action at the Mopar Mile High Nationals at nearby Bandimere Speedway making its presence known on Friday, it just seemed inevitable that the finalists in the title match of the 64th CGA Junior Match Play would eventually get revved up at Bear Creek Golf Club.

And Sam Marley of South Suburban Golf Course and Trevor Glen of the Riverdale Golf Courses didn't disappoint.

After making a combined total of just five birdies in the first 23 holes of the 36-hole final Friday, things cranked up in a big way, making for an interesting finish. Between them, the finalists racked up 10 birdies in the final dozen holes, and halving both the seventh and 11th holes of the afternoon round with birdies.

In the end, Marley had just enough in the tank during Friday's marathon to fend off the hard-charging Glen, scoring a 3-and-1 title-winning victory.


The way the match ended "made it a lot of fun," said Marley (above and left), an 18-year-old graduate of Arapahoe High School. "It was awesome. I actually like playing under pressure a lot. It makes it way more fun than when it just doesn't mean anything."

Marley, son of South Suburban head professional Todd Marley, played the last 12 holes in 3 under par. And he needed pretty much all of that to overcome Glen, who carded six birdies in the stretch from the 24th through 33rd holes after making just two birdies in the first 23 holes.

But after narrowing his deficit from what was once 4 down to 1 down following birdies on the 32nd and 33rd holes -- and making Marley admittedly "a little nervous" -- Glen faltered on the tough par-4 16th. There, he pulled both his tee shot and his approach into shrub-filled native areas, losing both balls and conceding a long birdie putt to Marley. Then Glen's hopes ended on the par-3 17th, where he three-putted for a bogey and conceded a short par putt to Marley, ending the match.


"I got on a roll there," said Glen (left), a 17-year-old senior-to-be at Legacy High School. "Once I got through 15, after I went birdie-birdie, I was only one back at that point. Right then I thought that if I kept on that roll I had a very good chance (at winning the match). The tee shot on 16, I kind of blew it. I think there was a little too much adrenaline running through my body. I couldn't quite handle it. I definitely got excited on those shots. I think I got too far ahead of myself.

"But you've got to tip your hat to (Marley) because he played amazing."

The match featured a little of everything. Besides all the birdies at the end -- and the two holes halved with birdies -- there was a whiff (pictured at bottom) by Glen on a tough left-handed shot from under a tree on the par-3 13th hole, which Marley won. Ironically, that whiff came during Glen's torrid stretch of six birdies in 10 holes.


Marley (left), who will play college golf at the University of Northern Colorado, won the tournament after being seeded 46th in the match play bracket. He emerged the champion from a field which included all three 2013 state high school champions, both Coloradans who qualified for the U.S. Junior Amateur, and a two-time CGA Junior Stroke Play champ.

And it all happened in one of Marley's final junior tournaments.

"It's awesome," he said, contemplating the feat. "I really can't believe it actually. I'm excited definitely."

Prior to Friday, Marley's top golf accomplishment was winning the Centennial League title in high school golf. He finished 10th at the 5A state tournament last fall, and he just recently qualified for the HealthOne Colorado Open for the first time.


Being a finalist was likewise a memorable accomplishment for Glen, who never before had even made the match-play portion of the Junior Match Play.

"This is the first taste I've had with match play against truly good players," the Thornton resident said. "To make it as far as I did, I'm quite impressed with myself. One thing that I take out of this more than anything is that I realize I actually belong with these kids and I know that I can play with them.

"It was a very big tournament and everybody in the state was playing in it. This was probably my top golf finish."

CGA Junior Match Play
At Bear Creek GC in Denver
(Seeds in Parentheses)
ROUND OF 64
Jake Staiano, Glenmoor CC (1) def. Austin Burgess, Pine Creek GC (64), 7 and 6
Behrod Keshtavar, CJGA Club (33) def. Alec Poorman, Flatirons GC (32), 1 up
Hayden Nicholaides, CJGA Club (16) def. Li Chen, Legacy Ridge GC (49), 2 and 1
Cameron Connor, Boulder CC (48) def. Bradley Scalia, Green Valley Ranch GC (17), 5 and 3
Coby Welch, The Links GC (8) def. Austin Hardman, Highlands Ranch GC (57), 3 and 2
Daniel Pearson, Fox Hill CC (40) def. Davis Bryant, Green Valley Ranch GC (25), 1 up
Ross Macdonald, CC at Castle Pines (9) def. Jack Lazzeri, Columbine CC (56), 1 up
Nick Leibold, Columbine CC (41) def. Subin Lee, CJGA Club (24), 4 and 3
Eric Hill, Harmony Club (4) def. Kyle Pearson, Meridian GC (61), 4 and 3
Trevor Glen, Riverdale GC (36) def. Riggs Winz, Raccoon Creek GC (29), 3 and 1
Garrett Jones, CJGA Club (13) def. Josh Caridi, CJGA Club (52), 6 and 5
Taylor Rodriguez, Walking Stick GC (20) def. Luke Travins, Broadmoor GC (45), 6 and 5
Kyler Dunkle, Club at Pradera (5) def. Justin Allenback, Elmwood GC (60), 3 and 2
Isaac Petersilie, Colorado Springs CC (28) def. David Leede, Cherry Hills CC (37), 5 and 4
Glenn Workman, Desert Hawk GC (12) def. Zach Gomez, Indian Tree GC (53), 2 and 1
Clayton Crawford, Maroon Creek Club (44) def. Mathew Yeager, Bear Creek GC (21), 3 and 2
Wilson Belk, CC of Colorado (2) def. Mitchell Nevin, Eagle Ranch GC (63), 3 and 2
Hunter Lee, Highlands Ranch GC (31) def. Josh Pusar, Inverness GC (34), 19 holes
Grant Dinkel, Flatirons GC (15) def. Philip Lee, Cherry Hills CC (50), 1 up
Tristan Rohrbaugh, Ironbridge GC (47) def. Coleson Krantz, Ptarmigan CC (18), 8 and 7
Austin Umland, Buffalo Run GC (58) def. Christopher Raap, Highlands Ranch GC (7), 4 and 3
Erik Young, CommonGround GC (26) def. Justin Markel, CC at Castle Pines (39), 7 and 5
Aj Ott, Ptarmigan CC (10) def. Cody Steigerwald, Club at Flying Horse (55), 7 and 6
Troy Dangler, Tiara Rado GC (23) def. Roy Carlsen, Heritage at Westmoor (42), 19 holes
Bridger Ryan, Broadlands GC (62) def. Cooper Gould, Eagle Ranch GC (3), 2 and 1
Andrew Howe, Fox Hill CC (30) def. Trey Lambrecht, Northeastern 18 (35), 21 holes
Pierce Aichinger, Bear Creek GC (14) def. Evan Buchalski, CJGA Club (51), 2 and 1
Sam Marley, South Suburban GC (46) def. Kyle Peterson, Hiwan GC (19), 4 and 3
Donny Kinnaman, Lincoln Park GC (59) def. Grant Rogers, Omni Interlocken GC (6), 1 up
Jack Cavanagh, Broadlands GC (38) def. Keegan Sheard, Applewood GC (27), 2 up
Spencer Painton, Green Valley Ranch GC (11) def. Ryan Zetwick, CC at Castle Pines (54), 2 and 1
Bretton Krantz, Ptarmigan CC (43) def. Andrew McCormick, Denver CC (22), 4 and 3

ROUND OF 32
Jake Staiano, Glenmoor CC def. Behrod Keshtavar, CJGA Club 2 and 1
Cameron Connor, Boulder CC def. Hayden Nicholaides, CJGA Club 6 and 4
Coby Welch, The Links GC def. Daniel Pearson, Fox Hill CC 7 and 6
Nick Leibold, Columbine CC def. Ross Macdonald, CC at Castle Pines 19 holes
Trevor Glen, Riverdale GC def. Eric Hill, Harmony Club 1 up
Taylor Rodriguez, Walking Stick GC def. Garrett Jones, CJGA Club 19 holes
Isaac Petersilie, Colorado Springs CC def. Kyler Dunkle, Club at Pradera 3 and 2
Glenn Workman, Desert Hawk GC def. Clayton Crawford, Maroon Creek Club 20 holes
Wilson Belk, CC of Colorado def. Hunter Lee, Highlands Ranch GC 7 and 5
Tristan Rohrbaugh, Ironbridge GC def. Grant Dinkel, Flatirons GC 5 and 4
Erik Young, CommonGround GC def. Austin Umland, Buffalo Run GC 7 and 6
Aj Ott, Ptarmigan CC def. Troy Dangler, Tiara Rado GC 3 and 2
Andrew Howe, Fox Hill CC def. Bridger Ryan, Broadlands GC 2 up
Sam Marley, South Suburban GC def. Pierce Aichinger, Bear Creek GC 7 and 6
Donny Kinnaman, Lincoln Park GC def. Jack Cavanagh, Broadlands GC 4 and 3
Spencer Painton, Green Valley Ranch GC def. Bretton Krantz, Ptarmigan CC 3 and 1
ROUND OF 16
Cameron Connor, Boulder CC def. Jake Staiano, Glenmoor CC 1 up
Coby Welch, The Links GC def. Nick Leibold, Columbine CC 4 and 3
Trevor Glen, Riverdale GC def. Taylor Rodriguez, Walking Stick GC 2 and 1
Isaac Petersilie, Colorado Springs CC def. Glenn Workman, Desert Hawk GC 2 and 1
Tristan Rohrbaugh, Ironbridge GC def. Wilson Belk, CC of Colorado 1 up
AJOtt, Ptarmigan CC def. Erik Young, CommonGround GC 5 and 4
Sam Marley, South Suburban GC def. Andrew Howe, Fox Hill CC 4 and 3
Donny Kinnaman, Lincoln Park GC def. Spencer Painton, Green Valley Ranch GC 2 and 1

QUARTERFINALS
Cameron Connor, Boulder CC def. Coby Welch, The Links GC 3 and 1
Trevor Glen, Riverdale GC def. Isaac Petersilie, Colorado Springs CC 1 up
AJ Ott, Ptarmigan CC def. Tristan Rohrbaugh, Ironbridge GC 20 holes
Sam Marley, South Suburban GC def. Donny Kinnaman, Lincoln Park GC 2 and 1
SEMIFINALS
Trevor Glen, Riverdale GC def. Cameron Connor, Boulder CC 2 and 1
Sam Marley, South Suburban GC def. AJ Ott, Ptarmigan CC 1 up

FINAL
Sam Marley, South Suburban GC def. Trevor Glen, Riverdale GC, 3 and 1