Making a Giant Leap Upward
Dillons not only finally crack top 10 in CGA Father/Son, but they win it
by Gary Baines - 6/8/2014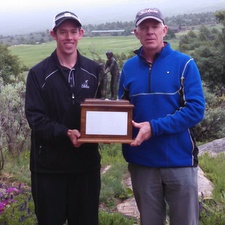 Steve and Chris Dillon are very familiar faces at the CGA Father/Son Championship. A quick look back at recent results reveals that they've played in the event each of the last eight years.

But while they've been consistent and determined, they hadn't experienced the joy of being in contention in the tournament.

At least not until Sunday.

After finishing anywhere from 13th to 47th in the Father/Son since 2007, the Dillons (pictured) not only broke into the top 10 but claimed the very top spot in a field that features some pretty impressive names.

"This is the first year we actually performed up to our ability," said Chris, who like his father is a product of Notre Dame. "We always thought we could win, but this time, we played solid golf -- up to our potential. We played well at the right time and had a good time."

Added Steve: "The neat thing is Chris can carry me around. In the past we've had some decent rounds in alternate shot (in the final round of the tournament), but we've been sloppy the last few years in Chapman (the first-day format)."

The Denver-area residents, who maintain their handicaps at CommonGround Golf Course, went wire-to-wire this year in winning the Father/Son Championship on Sunday.

A year after finishing 23rd in this event, the Dillons earned their first CGA championship victory. Not even a bogey-par-double bogey finish on Sunday at the Norman Course at Red Sky Golf Club in Wolcott could derail them on their path to victory.

With a 4-over-par 76 in deteriorating weather conditions -- cool and sometimes windy and rainy -- during Sunday's foursomes (alternate shot), the Dillons posted a two-day total of 2-over 144. That gave the duo a one-stroke win over Doug and Tristan Rohrbaugh of Ironbridge Golf Club, who closed with a 75. Doug Rohrbaugh won the 2013 HealthOne Colorado Senior Open, and Tristan claimed the 3A state high school title last year.

Four-time champions Gary and Alex Kephart of Eisenhower Golf Club tied for third place at 147 with Bill and Will Fowler of the Club at Rolling Hills. Both teams posted a 78 on Sunday.

"Everyone struggled today," said Steve Dillon, a Wasson High School graduate who played varsity golf for Notre Dame as a freshman. "It was wonderful being up here -- and it was awesome playing two terrific courses this weekend -- but it was challenging (weather) conditions today. The last three holes everyone was shivering."

The Father/Son, which featured a 58-team field, was played at two different courses on the Western Slope. Beaver Creek Golf Club hosted the action on Saturday, when the format was a Chapman Scotch.

As you might imagine, winning a championship as a father/son team makes victory all the sweeter.

"It's terrific," said Steve Dillon, 54, who lives at the site of the old Green Gables Country Club. "We've played together since he was 3 or 4 (Chris is now 22). "I've won tournaments and he has too, but to win with him is special."

Chris has won a CJGA tournament and he recorded a top-10 finish in the 2008 state high school meet while playing for Mullen, but teaming up with his dad for the victory on Sunday was an experience unlike any other.

"I've definitely always dreamed of winning this," said Chris, who works at Sanctuary in Salida. "It's something I'll always remember, a dream come true."
The Father/Son also featured a net division, which was won by Dallas and James Massey, who went 69-72 for a 141 total. (The Dillons had a 137 net total, but were limited to their gross division title.)
The Loel and Caleb Lierman Award, given to the team with a player 18 or younger which has the lowest gross score, went to Rohrbaughs.

CGA Father/Son Championship
Saturday Chapman Scotch at Par-70 Beaver Creek GC
Sunday Foursomes at Par-72 Norman Course at Red Sky GC in Wolcott
Steve Dillon / Chris Dillon 68-76--144
Doug Rohrbaugh / Tristan Rohrbaugh 70-75--145
Bill Fowler / Will Fowler 69-78--147
Gary Kephart / Alex Kephart 69-78--147
Dallas Massey / James Massey 74-76--150
Grant Porter / Matt Porter 73-80--153
Mac McDonald / Dillon McDonald 73-80--153
Kent Moore / Steven Moore 71-83--154
Guy Mertz / Nicklaus Mertz 73-83--156
Ben Zimmerman / Paul Zimmerman 72-85--157
Jeff Hanson / Collin Hanson 72-86--158
Mark Adolfson / Jack Adolfson 72-88--160
Matt Robinson / Ben Robinson 76-84--160
Robert Ernst Clever / Rob Clever 76-84--160
Bradley Becker / Daniel Becker 77-84--161
Tad Griffin / Patrick Griffin 80-82--162
Bruce Hogg / Tyler Hogg 79-84--163
Randy Rouse / Reid Rouse 74-89--163
John Luoma / Bill Luoma 78-86--164
Mark Strubel / Chris Strubel 78-86--164
Rick Tarasiewicz / Nick Tarasiewicz 74-90--164
Tad Willenbrock / Nick Willenbrock 73-91--164
Chuck Delich / Philip Delich 70-95--165
Greg Michaels / Larry Michaels 76-89--165
Ken Harris / David Harris 77-88--165
Andy Titterton / Kevin Titterton 75-91--166
Steve Windom / David Windom 84-85--169
Ryan Hettich / Ben Hettich 86-85--171
Bill Berger / Henry Haddon Berger 82-90--172
Mark Fowler / Brandon Fowler 77-96--173
James Steigerwald / Tyler Steigerwald 86-88--174
Robert Polk / Jason Polk 76-98--174
Eric Kurzweil / Sean Kurzweil 85-90--175
Jess Whittlef / Scott Whittlef 80-95--175
Joe Morrill / Peter Morrill 77-99--176
Tom Schouten / Derek Schouten 80-96--176
Norm Nuwash / Geoff Nuwash 79-98--177
Gary Thiret / Tyler Thiret 79-99--178
Colby Smith / Doug Skelton 78-101--179
Gary Driber / Brandon Driber 81-98--179
Thomas Scott Walter / Cody Walter 82-97--179
Brian Cramer / Arlo Cramer 84-96--180
Mark W Young / Erik Young 90-92--182
Bill Berech / Brock Berech 87-96--183
Jim Hollingsworth / Brian Hollingsworth 82-101--183
Kelly McLendon / Kelly McLendon 85-98--183
Jocko Kaliszewski / Lukas Kaliszewski 85-99--184
Mark Boscoe / Sam Ethan Boscoe 83-103--186
John Marasco / Mackenzie Marasco 83-108--191
Frank Erisman / Jacob Erisman 97-98--195
Paul Grant / Alex Grant 87-111--198
Matthew Pinkerton / Wade T Pinkerton 96-104--200
Steve J Bockenstedt / Scott Bockenstedt 97-105--202
Andrew Weber / Michael Weber 94-114--208
Bill Ramsey / Billy Ramsey 76-WD
Dave Usechek / Mr. Sean Usechek 84-WD
Jason Coffin / Dan Coffin 75-WD
Rick Rosendahl / Mitch Rosendahl 75-WD