Slow Start Doesn't Stop Delich/Hogg
Colo. Springs pair goes bogey-free over final 45 holes, wins Sr. 4-Ball
by Gary Baines - 5/4/2014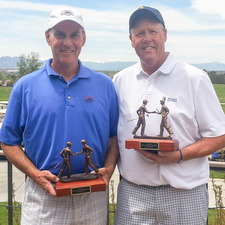 David Delich said he doesn't drink much alcohol -- and very rarely partakes while playing golf. But he was compelled to make an exception on Saturday during the CGA Senior Four-Ball Championship at Legacy Ridge Golf Course in Westminster.

When partner -- and fellow Colorado Springs resident -- Bruce Hogg birdied five times in a 10-hole stretch at the beginning of Saturday's second round, Delich was taken aback.

"He had me so pumped up yesterday I had to have a beer at the 9 just to settle down because my adrenaline was pumping so hard," said Delich, a former Colorado College hockey standout and the 2012 CGA Senior Player of the Year. "I needed something to quiet the adrenaline. I said, 'Hoggie, I can't even keep the ball on the green when I'm putting I'm so excited for you. Then I had the beer and I birdied three of the next four holes. I settled down. I needed some alcohol."

Said Hogg: "That's kind of a funny thing because I've never seen him act like that. He was jumping out of his skin. I said, 'Calm down.'"

The 9-under-par 62 the twosome shot on Saturday was the tournament's best score by three strokes. They followed it up on Sunday with a 66 to win the Senior Four-Ball title by three.

Delich, from the Broadmoor Golf Club, picked up his fifth CGA championship and first team title, while Hogg, from Patty Jewett Golf Course, won a CGA crown for the first time. They rallied from one down on Sunday to earn the win. (Delich, in blue shirt, is pictured with Hogg above.)

"This is my first team win anywhere," Delich said. "I bet I've been runner-up a dozen times in four-ball. I kept telling Bruce it's hard to win these things if both players don't really contribute. And he did such a great job the last three days covering me when I was down, making a birdie at a critical time when we needed a lift. We both ham-and-egged really well. He played outstanding and that's what it took. You can't win these things as an individual. You have to have two guys really doing a job."

After Bill Fowler of the Club at Rolling Hills birdied Nos. 10 and 11 to pull even on Sunday, Hogg chipped in from 60 feet for birdie on No. 13 to take the lead on Fowler and partner Jim Reynolds of Bear Creek Golf Club. Then Hogg holed a 6-foot birdie at No. 17 to provide some cushion.

He and Delich were bogey-free in playing their final 45 holes in 15 under par. The 57-year-old partners went 71-62-66 for a 14-under 199 total and a three-shot victory margin over Fowler and Reynolds, who had led after each of the first two days.

So what got Delich and Hogg going after playing the first nine holes of the tournament in 1 over par?

"I said to Bruce (early in Saturday's round), 'We can play this golf course with blinders on.' We just need to trust ourselves," Delich said.

Whatever the catalyst was, Hogg was very happy with the results.

"This is very special to me," Hogg said of his first CGA title. "I've played in a lot of CGA events since turning 50; I've tried not to miss any of them. I'm very appreciative of Dave and the way he plays golf. I'm just glad I was part of it and contributed in a big way on a few holes.

"It's a big deal for me to win a CGA championship. I look at the CGA as a one of the best organizations in the country when it comes to golf, and it's very nice to put my name on a trophy."
Three teams tied for third place at 203, including defending champions Kelly Crone and Larry Netherton of Highlands Ranch Golf Club. Those two closed with a 67 for a three-stroke win in the super-senior division for players 60 and older. Earning second place, following a final-round 66, was Kary Kaltenbacher of Glenmoor Country Club and Rod Walters of Heritage at Westmoor. (Netherton and Crone are pictured at left.)

For the CGA Four-Ball Championship story, CLICK HERE.
For CGA Senior Four-Ball score details, CLICK HERE.

CGA Senior Four-Ball Championship
At Par-71 Legacy Ridge GC in Westminster
David Delich,Broadmoor GC/Bruce Hogg,Patty Jewett GC--71-62-66--199
Bill Fowler,Club at Rolling Hills/Jim Reynolds,Bear Creek GC--66-66-70--202
Guy Mertz,Fox Hill CC/Tony Workman,Fox Hill CC--71-65-67--203
Larry Netherton,Highlands Ranch GC/Kelly Crone,Highlands Ranch GC--70-66-67--203
Tad Willenbrock,Glenmoor CC/Eric Hoos,Highlands Ranch GC--69-65-69--203
Owen Ellis,Flatirons GC/Robin Bradbury,Legacy Ridge GC--66-72-66--204
Mike Lohse,West Woods GC/Len Mize,West Woods GC--69-67-68--204
Robert Burke,Twin Peaks GC/John Sostmann,Raccoon Creek Men's Club--70-69-65--204
Grant Porter,CommonGround GC/Jim LeMar,The Meadows GC--70-67-69--206
Rod Walters,Indian Tree GC/Kary Kaltenbacher,Glenmoor CC--70-70-66--206
Randal Gaddis,Lone Tree GC/Jerry Beren,Lone Tree GC--67-70-70--207
Scott Radcliffe,Club at Rolling Hills/Sean Forey,Club at Rolling Hills--68-69-70--207
Lance Balthaser,Broken Tee Englewood/Rob McLelland,Blackstone CC--70-70-67--207
Carter Mathies,GC at Redlands Mesa/Frank Wilkinson,Lincoln Park GC--72-70-67--209
Pat Bowe,CommonGround GC/Dave Brown,RMGCSA GL--74-67-68--209
Tom Ritchie,Meridian GC/David Merritt,Meridian GC--66-71-72--209
Richard Kelly,Fox Hollow GC/Bob Beiersdorf,Ridge at Castle Pines North--69-68-72--209
Robert Sherrill,Columbine CC/Gary Keogh,Columbine CC--69-72-69--210
Brent Timm,Pinery CC/John Boyles,Pinery CC--68-72-70--210
Dennis Lucero,Lincoln Park GC/Phil Herrera,Lincoln Park GC--71-71-69--211
Jim Collins,CC at Castle Pines/Joe Morrill,Eagle Ranch GC--72-68-71--211
Rick George,Castle Pines GC/Chuck Delich,Eisenhower GC--71-71-70--212
John Applegate,Meadow Hills GC/Keith Masters,Meadow Hills GC--69-72-71--212
Mark Hirsch,Lone Tree GC/Michael Davis,Meadow Hills GC--70-72-70--212
Brian Harris,Denver CC/Reed Myer,Denver CC--70-72-70--212
Gary Albrecht,CommonGround GC/Bob Chandler,CommonGround GC--73-68-71--212
Thomas Roos,Spring Valley GC/Dennis Fields,CommonGround GC--73-69-70--212
Doug Moore,Lone Tree GC/Raymond Kelley,Lone Tree GC--71-71-71--213
Mark Franz,Saddle Rock GC/Charlie Post,Colorado GC--69-73-71--213
Thomas McGeary,Highlands Ranch GC/Mark Brown,Highlands Ranch GC--72-72-69--213
Ken Sady,Eagle Ranch GC/Harry Johnson,Eagle Ranch GC--74-70-70--214
Jerry Kidney,Overland Park MC/Daniel Dymerski,Columbine CC--69-71-74--214
Larry Wood,Perry Park CC/Ken Tai,Perry Park CC--72-71-72--215
Bradley Becker,Plum Creek G & CC/Steve Kass,Meadow Hills GC--71-71-73--215
Craig Gardiner,Denver CC/Steve Bell,Denver CC--69-71-75--215
Al Sellers,Pine Creek GC/Ken Schweitzer,Eisenhower GC--73-72-70--215
Jeffrey English,Avid Golfer Passport/Bill Bolgar,The Ridge at Castle Pines North--74-74-68--216
Bob Kubiak,South Suburban GC/Tom Coates,South Suburban GC--72-70-74--216
Tim Kromer,Inverness GC/Tony Tormey,Inverness GC--70-72-74--216
Art Cudworth,Raccoon Creek MC/Scott Crone,Pinehurst CC--73-70-73--216
John Ingram,Colorado GC/Daniel Scherman,Colorado GC--73-72-71--216
Steve Bailey,Legacy Ridge GC/David Dines,Highlands Ranch GC--72-72-74--218
Daryl Fengler,Murphy Creek GC/Jeff Sweet,Murphy Creek GC--74-72-73--219
Chuck Fisher,Riverdale GC/Glenn Hyde,Riverdale GC--70-73-76--219
Bob Sims,Canongate Colorado/Bruce Hayes,Heritage at Westmoor--76-71-72--219
Bob Cloud,Bear Creek GC/Lawrence Covell,CC at Castle Pines--71-78-70--219
Ed O'Gallagher,Silver Spruce GC/Tony Goodman,Silver Spruce GC--72-77-71--220
Jake Jacobson,Lakewood CC/Wyck Brown,Lakewood CC--74-71-75--220
Louie Lee,The CC at Castle Pines/Mike Giarratano,The CC at Castle Pines--78-72-71--221
Dave Bell,Hiwan GC/Jack Egender,Hiwan GC--71-75-75--221
Frank Carson,Meridian GC/Scott Anderson,Harmony GC--74-76-72--222
Andy Callahan,Lakewood CC/Tom Lawrence,Lakewood CC--76-73-74--223
Tom Warren,Fossil Trace GC/Bartley Corfee,Fossil Trace GC--74-75-74--223
Mark Barkley,Canongate Colorado/Mark Runyan,Canongate Colorado--76-74-74--224
John Wilkinson,CommonGround GC/Robert Mandeau,CommonGround GC--77-71-76--224
William Kinn,Colorado Springs CC/Paul Yoon,Colorado Springs CC--75-76-74--225
Bill Peterson,Highlands Ranch GC/Doug Lair,Highlands Ranch GC--75-76-77--228
Bob Harris,Lake Arbor GC/Don Berthiaume,Bear Creek GC--77-76-76--229