Humerickhouse Ties CGA Record
Lefty claims fourth consecutive title at CGA Mid-Amateur
by Gary Baines - 9/22/2013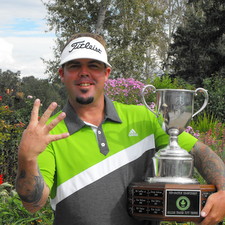 CGA championships have been played since 1901, and until this weekend a grand total of two golfers had ever won the same CGA tournament four consecutive years.

On Sunday, Keith Humerickhouse joined the party.

The golfer who lives in Eagle and plays out of Glenwood Springs Golf Club matched a record by winning his fourth consecutive CGA Mid-Amateur, which is limited to players 25 and older.

But the feat goes beyond that. Looking at all CGA championships, Humerickhouse became just the third to "four-peat". Now, only Humerickhouse, Walter Fairbanks (1902-05 CGA Match Play) and Rick DeWitt (1999-2002 Mid-Am) have won the same CGA championship four straight years.

Hale Irwin and Bob Byman -- both of whom would go on to win on the PGA Tour -- are among those who have earned three consecutive CGA championships, but only the aforementioned threesome have taken it to the next level.

On Sunday, the 37-year-old Humerickhouse had to fend off two other former CGA Mid-Am champs to earn the trophy at the Greg Mastriona Golf Courses at Hyland Hills in Westminster. Humerickhouse played the final seven holes of the Gold Course in 3 under par Sunday -- making an eagle and a birdie -- to card a 3-under-par 69, which gave him a two-stroke victory.


Since the former pro (pictured at left and above) regained his amateur status in 2009, his finishes in the CGA Mid-Amateur have gone third, first, first, first and first. Do you suppose Humerickhouse has this Mid-Am thing down pat?

"I feel like it's my niche," the left-hander said after winning his fifth CGA championship (including the 2011 Western Chapter). "I really like it. I feel comfortable out here. I feel like I can actually compete. The Publinks and the Stroke Play, it's not that I don't feel I can compete, but basically I'm playing a college golf tournament. These (college-age) kids are playing every day. You feel like you're going to have to shoot 10 to 15 under to even sniff the lead. That's how good they are."

On Sunday, Humerickhouse finished at 6-under-par 210, while 2009 champion Michael Harrington of Kissing Camels tied Barry Erwin of Murphy Creek Golf Course at 212. Both Harrington and Erwin likewise closed with 69s, Harrington despite bogeying two of his last three holes Sunday.

The only other player to break par for the tournament was two-time Mid-Am winner Steve Irwin of Lakewood Country Club, who placed fourth at 214 after an even-par 72.

Brian Richmeier of Meadow Hills Golf Course, who held the lead after the first two rounds, struggled on the final day, playing his first 10 holes in 7 over par en route to a 5-over 77 and a share of seventh place at 217.

So while DeWitt still owns the record for number of CGA Mid-Amateur titles with seven, Humerickhouse has matched the Colorado Golf Hall of Famer in consecutive championships.

"We all know what kind of amateur Rick was (DeWitt is a professional now)," Humerickhouse said. "His name in Colorado golf history will be there forever. To be mentioned in the same category as him is pretty special."


Unlike last year, when Humerickhouse won the Mid-Am by 12 shots, this one went right down to the wire. Harrington (pictured at left), playing a couple of groups ahead of Humerickhouse, led in the middle of the back nine, standing 6 under par overall through 15 holes.

But Harrington bogeyed 16 and 18 coming in.

"I bogeyed 18 (hitting his approach into the hazard fronting the green) because I was trying to fire at the pin," he said. "I felt like I needed to make birdie to have a chance -- which is exactly what it turned out I did need. I made bogey but it doesn't bother me because I'd rather make bogey playing aggressive than hit it to the back of the green, two putt and find out I lose by one."

The Colorado Springs resident also paid the price for a balky putter throughout his round.

"I hit it phenomenal, but putted terrible," Harrington said. "You're trying to charge, but I had 10-footers for birdie all day long and I left them short. I was shaping the ball the way I wanted to, I was 'puring it' all day long, hitting it long all day, but I just couldn't make any putts."


Unlike Harrington, Erwin (pictured at left) got about as much out of his round as he could on Sunday.

"I knew I was going to have to shoot about a 67 and that was exactly what I would have had to shoot to tie," he said. "I really didn't leave too many shots out there. I had one short birdie putt I missed coming in, but I'm really happy. This is my best finish in a CGA event."

Also in the hunt on the back nine were Irwin and Ryan Axlund of CommonGround Golf Course. Irwin turned at 4 under for the tournament, but bogeyed three of his first four holes on the back nine. And Axlund still had a chance before finishing double bogey-bogey.

Meanwhile, Humerickhouse came on strong after bogeying Nos. 9 and 11. He eagled the 532-yard 12th hole for the second consecutive day, this time hitting a wedge from 170 yards to 10 feet and draining the putt.

"That was a huge putt for that to go down," Humerickhouse said. "It turns out I really needed to make that. It got me back in charge of my round. I wouldn't say it was a must make, but it was a huge make."


Then on the 18th hole, after pushing his tee shot into the right rough, Humerickhouse was faced with a precarious 148-yard approach (pictured at left) to a pin tucked just over a canal that fronts the green. Again using a wedge, he cozied his second shot to 6 feet from the cup and finished with a birdie.

"I wasn't trying to aim right at the flag," he admitted. "It was a mistake, but it came off perfect. ... It was a scary shot, no doubt."

All in all, Humerickhouse was getting a big kick out of the competition -- especially since he emerged in the top spot.

"It was so fun out there," he said. "It's awesome to win this thing, no matter how many there are in a row."

CGA Mid-Amateur Championship
At Par-72 Greg Mastriona Golf Courses at Hyland Hills (Gold Course)
Keith Humerickhouse, Glenwood Springs GC, 73-68-69--210
Michael Harrington, Kissing Camel GC, 72-71-69--212
Barry Erwin, Murphy Creek GC, 75-68-69--212
Steven Irwin, Lakewood CC, 71-71-72--214
Jared Bickling, Glenwood Springs GC, 74-69-73--216
Ryan Axlund, CommonGround GC, 73-69-74--216
Brian Richmeier, Meadow Hills GC, 67-73-77--217
Jeffrey Gravina, Pinehurst CC, 78-70-69--217
Christopher Thayer, CommonGround GC, 72-72-74--218
Lamar Carlile, City Park GC, 75-71-73--219
Nicholas Nosewicz, Meadow Hills GC, 72-73-76--221
Richard Bradsby, Lakewood CC, 75-70-77--222
Sean Thomas, Indian Tree GC, 71-75-76--222
Steve Galko, Patty Jewett GC, 78-72-72--222
Robin Bradbury, Heritage at Westmoor, 73-77-73--223
Christopher Wilson, Eisenhower GC, 74-76-75--225
Adam Thoutt, Legacy Ridge GC, 70-76-79--225
Rick Kelly, CommonGround GC, 78-77-70--225
Jeff Chapman, Inverness GC, 78-73-74--225
Adam Gorjiyan, Wellshire GC, 74-76-76--226
Thomas Roos, Spring Valley GC, 70-79-78--227
Ken Cosper, Ptarmigan CC, 74-76-77--227
Wes Martin, Hyland Hills GC, 79-72-77--228
Chris Carlson, Highlands Ranch GC, 81-75-72--228
Alan Boyko, Heritage at Westmoor, 82-74-72--228
Tim Kratz, CommonGround GC, 78-75-76--229
Sean Forey, Bear Creek GC, 79-77-74--230
Chad Bell, Riverdale GC, 78-77-76--231
Robert Bedan, Wellshire GC, 78-77-76--231
Blair Matthews, CommonGround GC, 76-75-80--231
Justin Kruger, Inverness GC, 75-76-80--231
Alex Kephart, Eisenhower GC, 78-77-77--232
Grant Porter, CommonGround GC, 75-77-81--233
Bryan Cannon, Columbine CC, 76-74-84--234
Greg Michaels, Heritage at Westmoor, 80-72-83--235
Damon Dageenakis, Flatirons GC, 75-81-80--236
Michael Abrams, Lake Valley GC, 78-78-82--238
Brion After, River Valley Ranch GC, 77-78-84--239
Bryan Hawthorne, Lakewood CC, 81-75-86--242
Pat Bowe, CommonGround GC, 77-76-WD
FAILED TO QUALIFY FOR FINAL ROUND
Mark Zbrzeznj, Eagle Vail GC, 76-81--157
Robert Polk, Colorado GC, 81-77--158
Michael Knoll, The Club at Crested Butte, 77-81--158
Dan Deppen, Broadlands GC, 79-79--158
Aki Okamoto, Legacy Ridge GC, 82-76--158
Steven Fausset, Hyland Hills GC, 75-83--158
Andy Dannewitz, Meadow Hills GC, 77-82--159
Shane Unfred, Highland Meadows GC, 79-80--159
Pat Stanton, Breckenridge GC, 81-78--159
Steven Linnemeyer, Hillcrest GC, 84-76--160
Bob Cloud, Bear Creek GC, 83-77--160
Michael Love, The Club at Pradera, 79-81--160
Steve Sullivan, Bear Dance GC, 84-76--160
Chris Sellitto, Fox Hollow GC, 76-84--160
Jim Fucillo, Eisenhower GC, 82-78--160
Ryan Prew, Indian Tree GC, 83-77--160
Bob Chandler, Heritage at Westmoor, 82-79--161
Mike Chavez, Applewood GC, 81-80--161
Nick Simmons, CommonGround GC, 83-78--161
Tristan Sanders, CommonGround GC, 82-80--162
Corey Stanton, Breckenridge GC, 77-85--162
Jeffrey Johnson, Lone Tree GC, 81-81--162
Shane Houska, Collindale GC, 81-82--163
Mark Runyan, Canongate Colorado, 80-83--163
Michael Glaesel, Indian Tree GC, 79-84--163
Bert Sartori, Green Valley Ranch GC, 82-81--163
Chris Tenan, Harmony Club, 82-82--164
Nick Pederson, Coal Creek GC, 86-78--164
Steve Duran, Commonground Golf Course, 80-85--165
Scott Schoelzel, Cherry Hills CC, 85-81--166
Joel Perez, Broadlands GC, 85-81--166
Thomas Bacsanyi, Eagle Ranch GC, 84-83--167
Eric Scholl, Ironbridge GC, 84-83--167
Kelly Crone, Highlands Ranch GC, 85-83--168
David Ramsey, Lakewood CC, 83-87--170
Jake Firkins, Glenwood Springs GC, 88-83--171
Matt Mangold, Broadlands GC, 85-87--172
Paul Bersagel, Eagle Vail GC, 89-88--177
Joe Frey, Willis Case GC, 86-92--178
Gary Driber, Denver Amateur Golf Tour, 93-89--182
Arnold Hoy, CommonGround GC, 77-WD
Andy Brooks, CommonGround GC, 80-WD
Heath Andersen, Meadow Hills GC, 77-WD

VIEW COMPLETE LEADERBOARD AND SCORECARDS
Go to CGA Mid-Amateur Results Archive