Eventful Finish Gives Trujillo Title
CU golfer closes with chip-in to win CGA Western Chapter tourney
by Gary Baines - 7/21/2013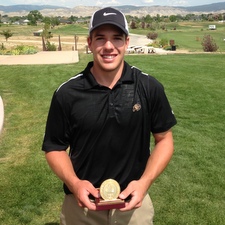 Drew Trujillo will celebrate his 20th birthday on Monday, but he received a nice gift on Sunday afternoon.

The University of Colorado golfer finished with a chip-in birdie and overcame a two-stroke deficit on the last hole Sunday to win the 31st CGA Western Chapter Championship at The Bridges.

Trujillo, who plays out of the Montrose-based course, holed a 15-foot chip on the final hole while first-round leader Branden Barron of South Suburban Family Sports hit his second shot into the water and took a double bogey. Barron missed a 10-foot bogey putt on No. 18 that would have forced a playoff.

Going into the final hole two down, "I was just thinking, 'make birdie'," said Trujillo (pictured above). "I just wanted to give myself a chance. I didn't expect it to happen the way it happened.

"It was just a surprise and a shock when I came into clubhouse (and ended up winning)."

Trujillo overcame a 17th-hole bogey following an out-of-bounds ball and shot a 1-under-par 70 on Sunday to finish at 3-under 139 at his home course. Barron, a former state high school runner-up, closed with a 73 after making two double bogeys on Sunday, leaving him at 140. He went into the final round two ahead.

Jack Adolfson of the Fox Hill Club, who placed second Friday in the CGA Junior Match Play, finished third on Sunday at 142 after firing a 73.


In the senior championship flight, Scott Sullivan (pictured at left) of Bookcliff Country Club in Grand Junction went wire-to-wire and claimed the title going away.

Sullivan, a former U.S. Senior Open contestant and the 2011 CGA Senior Match Play runner-up, shot a 4-under-par 67 Sunday to post a 7-under 135 total, which was good for a nine-stoke victory. Sullivan made five birdies and one bogey on Sunday.

Kelly Crone of Highlands Ranch Golf Club, a former CGA Senior Stroke and Senior Match champion, and Thomas Roos of Spring Valley Golf Club tied for second place at 144. Each runner-up closed with a 72.

As for the open championship, Trujillo was aiming for his first CGA title after finishing third in the Western Chapter last year and second in 2011. And earning the top spot was especially important given that the Western Chapter Championship was being held at his home course, and his parents were in attendance on Sunday.

"I've been in the last group on the final day in this event each of the last four years, and it was on my course, so I really wanted to get a win," Trujillo said. "And the way I won was spectacular.

"I felt like this was my turf, so that made my desire to win even greater, and I was also playing in front of my parents."

Trujillo initially tied Barron on Sunday after making consecutive birdies on holes 8, 9 and 10. But when Barron birdied 17 and Trujillo made bogey after hitting his tee shot out of bounds right, Barron was two ahead with one hole remaining. However, on 18 things took a big turn.

Barron hit his tee shot right into some long fescue. After Trujillo's tee shot went into the rough, his approach just missed the green left. Barron's second shot went into the water, then he hit his fourth to about 10 feet from the cup on the par-4. And when Trujillo chipped in and Barron missed his putt, the victory went to the junior-to-be from CU.

Trujillo, a 2011 U.S. Amateur qualifier, had quite the adventure on holes 17 and 18 both days. On Saturday, he went eagle-double bogey on those holes in the middle of his round, then Sunday it was bogey-birdie.

Though Trujillo is certainly no stranger to The Bridges, he doesn't believe his home-course edge amounted to much.

"I didn't think it was that great an advantage," he said. "The course is right in front of you. If you hit good shots, you'll be OK. I think it was pretty fair for everyone."


CGA Western Chapter Championship
At Par-71 The Bridges in Montrose
OPEN CHAMPIONSHIP FLIGHT
Drew Trujillo, Bridges G & CC 69-70--139
Branden Barron, South Suburban Family Sports 67-73--140
Jack Adolfson, Fox Hill Club 69-73--142
Jim Doidge, Pueblo CC 73-70--143
Michael Jones, Eagle Vail GC 73-72--145
Kyle Fanning, CommonGround GC 75-71--146
Robert Barnhardt, Hillcrest GC 72-74--146
Sean Griswold, Hillcrest GC 70-76--146
Barry Erwin, CommonGround GC 74-73--147
Billy Ramsey, Lone Tree GC 74-73--147
Tristan Rohrbaugh, Ironbridge GC 76-72--148
Lamar Carlile, City Park GC 69-80--149
Mark Zbrzeznj, Eagle Vail GC 74-75--149
Trevor Mckune, Pinehurst CC 71-78--149
Cory Olsen, Murphy Creek GC 74-76--150
Kelby Breidel, Black Canyon GC 71-79--150
Kermitt Barrett, Hillcrest GC 79-71--150
Chris Berg, Tiara Rado GC 72-79--151
Joey Haack, Aspen GC 70-82--152
Jared Bickling, Glenwood Springs GC 76-77--153
Joe Distefano, Telluride GC 78-77--155
Nicolas Karavites, Glenmoor CC 78-77--155
Dillon McDonald, Red Sky GC 80-76--156
Ryan Siggins, Dalton Ranch GC 81-76--157
Tony Komatz, Eagle Ranch GC 73-84--157
Corey M Stanton, Breckenridge GC 78-81--159
Sam Phillips, Flatirons GC 82-79--161
Jim Miller, Haymaker GC 82-80--162
Joey Saad, Bookcliff CC 79-83--162
Taylor Foust, CommonGround GC 79-85--164
Jacob Hebbel, The Links at Cobble Creek 82-83--165
William Berg, Tiara Rado GC 82-83--165
Brian Huston, Silver Spruce GC 86-83--169
Steven Buchanan, River Valley Ranch GC 88-81--169
Paul Bersagel, Eagle Vail GC 86-85--171
Triston Quigley, Rifle Creek GC 89-82--171
Sey Johnson, Tiara Rado GC 81-91--172
Steve W Womacks, Colorado Avidgolfer Passport C 87-88--175
Michael Wommack, Haymaker GC 96-81--177
Shane Unfred, Highland Meadows GC 88-90--178
David Lawien, Tiara Rado GC 87-NC
Jay Wilson, Eagle Ranch GC 81-WD
Jeremy Lederer, Bridges 76-WD
SENIOR CHAMPIONSHIP FLIGHT
Scott Sullivan, Bookcliff CC 68-67--135
Kelly Crone, Highlands Ranch GC 72-72--144
Thomas Roos, Spring Valley GC 72-72--144
David Delich, Broadmoor GC 70-76--146
Grant Porter, CommonGround GC 70-76--146
Joe Morrill, Eagle Ranch GC 77-70--147
Mr. Harry Johnson, Eagle Ranch GC 70-78--148
Sean Forey, Bear Creek GC 72-76--148
Bruce Hogg, Patty Jewett GC 77-72--149
Scott Patterson, Eagle Ranch GC 73-76--149
John Vanderbloemen, Haymaker GC 78-73--151
Phil Herrera, Lincoln Park GC 72-79--151
Robert Polk, Colorado GC 81-70--151
Chuck Delich, Eisenhower Golf Club 72-80--152
Dave Woodruff, Bridges G & CC 76-76--152
Jim LeMar, Meadows GC 77-76--153
Mark Runyan, Canongate Colorado 74-79--153
Matt Hall, Bookcliff CC 79-74--153
Frank Wilkinson, Lincoln Park GC 77-78--155
Cary Dilzell, The GC at Redlands Mesa 78-78--156
Mike Trujillo, Bridges G & CC 77-80--157
Scott Crone, Pinehurst CC 83-74--157
John Meredith, Pole Creek GC 75-84--159
John Sostmann, Raccoon Creek GC 83-78--161
David Draper, Green Valley Ranch GC 78-85--163
Dennis Truitt, Kennedy GC 84-87--171
SENIOR FIRST FLIGHT
Rick Pirog, Clubs at Cordillera 72-79--151
Stuart Jones, Redlands Mesa GC 84-81--165
Eric Pocius, Salida GC 85-82--167
Jeff Kadereit, Redlands Mesa GC 82-85--167
Mark Adolfson, Fox Hill Club 80-88--168
Ken Bailey, Telluride GC 92-85--177
Stan Cole, Eagle Ranch GC 93-87--180
Jeff Price, Redlands Mesa GC 89-95--184
Larry Phillips, Adobe Creek National GC 92-93--185
Ricky Houtris, Lincoln Park GC 93-92--185
Daniel Earl Boehm, Lincoln Park GC 108-95--203
Wayne L Klassen, Littleton GC 101-NS

Go to CGA Western Chapter Results Archive