Staiano Scrambles to Title
16-year-old gives Valor Christian sweep of CGA junior championships
by Gary Baines - 7/19/2013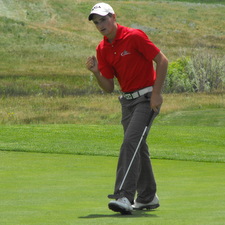 If Ross Macdonald couldn't complete a sweep of CGA junior championships in 2013, he wanted a teammate to share in the fun.

Macdonald, winner of the CGA Junior Stroke Play last month, lost in Thursday's quarterfinals of the CGA Junior Match Play, but he still had a rooting interest in the ultimate winner at King's Deer Golf Club in Monument.

"My buddy Ross won the (Junior) Stroke Play," Jake Staiano said. "I got a text from him last night saying, 'Let's have some Valor boys win the CGA championships this year.' That really meant a lot."

And Staiano -- like Macdonald a junior-to-be at Valor Christian High School -- was more than happy to comply with Macdonald's texted wishes. He gave Valor a 2013 CGA junior championship sweep by defeating Jack Adolfson of the Fox Hill Club 2 and 1 in Friday's 36-hole finals of the 63rd CGA Junior Match Play Championship.

(It's also worth noting that a third Valor golfer, Josh Seiple, recently qualified for his second straight U.S. Junior Amateur Championship.)


The 16-year-old Staiano (pictured above and at left) played the last 19 holes in 3 under par Friday to beat Adolfson, an 18-year-old graduate of Silver Creek High School in Longmont.

Fittingly, Staiano gave some of the credit for his title to his swing coach, PGA professional Jason Preeo, who also happens to be the boys golf coach for Valor Christian.

"Last week (in an AJGA tournament) I struggled and didn't hit the ball well at all," Staiano said. "I had a lesson from my coach, Jason Preeo, and he turned me around. And as the week progressed I started hitting the ball better and better."

In earning his first CGA championship, Staiano recorded two stellar pars in the afternoon round, both of which halved holes and kept him in the lead.


On the par-3 sixth hole, Staiano hit his tee shot into thick 10-inch-deep native grass short of the green (pictured at left), but he managed to punch his ball out to 10 feet from the pin and drain the putt to remain 1 up.

Then after Adolfson worked a little magic of his own at the par-5 10th by making a par after hitting his second shot into the water, Staiano was back at it at the par-4 11th. There, he hooked his tee shot into a hazard and had to take a penalty. But he kept his composure and hit his approach to 7 feet and sank the par putt to stay 1 up.

"Jake just had some amazing up and downs from the junk," said Adolfson, an incoming Claremont McKenna College golfer who was playing in his final junior event. "A few times I thought I had the hole won and he would just tie it up and make a par."

Staiano called the par saves on 6 and 11 "the turning points in the match.

"On 6 I hit that shot to perfection out of the hay. I knew I was going to have some top-spin on it coming out of that thick stuff and I hit it right where I wanted to and made the putt. On 11, in the past I've usually gotten down on myself if I hit a bad shot like that, but in match play you can't do that at all. So I brushed it off and hit a really good (approach) shot in there and made the putt."


Adolfson (pictured at left) then missed 5-foot par putts on each of the next two holes to go 3 down. He birdied No. 14 to cut the deficit to 2 down, but Staiano's string of eight straight pars to end the match gave him the title. The owner of six holes-in-one in his lifetime, Staiano closed out the match on the par-3 17th, where he two-putted for par from 30 feet for a halve.

"It was a really intense match throughout the course of the day," said Adolfson, the runner-up in the 2011 4A state high school championship. "I hit the ball really well. On the first 18 I was hitting it right at the pin and I had 5-7 birdie opportunities within 4-5 feet, but I couldn't capitalize. I couldn't make putts today. I missed almost all of them. That definitely hurt. It was definitely tough conditions with the greens being bumpy.

"If I made a few putts it probably would have been closer and I could have had a chance at winning."


Both finalists were enduring their third marathon day of golf while walking and carrying their own clubs. Staiano played 101 holes in three days, while Adolfson (pictured at left) "only" had to do 96.

"It was really tough," Staiano said. "Early this morning I was so tired. It's a long week. I was not ready for the front nine this morning. I had a little something to eat after that, so I was ready to go on the back and I got it back to even going into the second 18. That was my goal after going into the back nine 2 down."

In the 35 holes of the final, Staiano was even par, while Adolfson was 2 over.


CGA Junior Match Play Championship
At King's Deer GC in Monument
ROUND OF 64
Philip Lee, Cherry Hills CC (64) def. Andrew Romano, Colorado GC (1), 2 and 1
Jacob Allenback, Elmwood GC (33) def. Jeremiah Driggers, CC at Castle Pines (32), 2 and 1
Coleson Krantz, Ptarmigan CC (49) def. Timothy Amundson, Columbine CC (16), 4 and 3
Randy Urso, CommonGround GC (48) def. Pierce Aichinger, Bear Creek GC (17), 4 and 3
Evan Buchalski, Olde Course at Loveland (8) def. Ian Coberly, Riverview GC (57), 2 up
Jack Adolfson, Fox Hill CC (40) def. Spencer Roberts, Colorado National GC (25), 4 and 2
Alex Liss, The Olde Course at Loveland (56) def. Josh McLaughlin, Olde Course at Loveland (9), 1 up
Garrett Jones, West Woods GC (24) def. Maxwell Pederson, CC at Castle Pines (41), 5 and 4
Samuel Theil, Hiwan GC (61) def. Jack Pedersen, Omni Interlocken GC (4), 1 up
Justin Goldsberry, South Suburban GC (29) def. Cole Folwell, Boulder CC (36), 2 and 1
Andrew Howe, Fox Hill CC (52) def. Cameron Connor, Boulder CC (13), 3 and 2
Sam Marley, South Suburban GC (20) def. Benjamin Moore, Glenmoor CC (45), 2 and 1
Dylan Wonnacott, Fox Hill CC (5) def. Ben Robinson, Red Sky GC (60), 5 and 4
Alan Berry, Meadows GC (28) def. Daniel Pearson, Fox Hill CC (37), 1 up
Kobe Padilla, CommonGround GC (53) def. Ty Caron, Rifle Creek GC (12), 6 and 4
Tristan Rohrbaugh, Ironbridge GC (21) def. Matt Bell, Harmony Club (44), 23 holes
Kyler Dunkle, The Club at Pradera (2) def. Kevin Shafer, Meridian GC (63), 6 and 4
Bretton Krantz, Ptarmigan CC (34) def. Coby Welch, Links GC (31), 3 and 2
Mathew Yeager, Red Rocks CC (15) def. Christopher Raap, Highlands Ranch GC (50), 5 and 4
Ross Macdonald, CC at Castle Pines (18) def. Brandon Dvorak, Broadlands GC (47), 7 and 6
Aj Ott, Ptarmigan CC (7) def. Robert Morris Pettit, Ironbridge GC (58), 7 and 5
Blake Young, Trinidad GC (39) def. Li Chen, Legacy Ridge GC (26), 3 and 2
Hayden Nicholaides, South Suburban GC (10) def. Mitchell Nevin, Eagle Ranch GC (55), 7 and 5
Billy Ramsey, Lone Tree GC (23) def. Collin Tedesco, Plum Creek G & CC (42), 1 up
Jake Staiano, Glenmoor CC (3) def. Gary Schlatter Jr., Glenmoor CC (62), 4 and 2
Matthew Vacek, Indian Peaks GC (30) def. Grant Dinkel, Flatirons GC (35), 4 and 3
Hunter Lee, Highlands Ranch GC (14) def. Nick Leibold, Columbine CC (51), 5 and 3
Riggs Winz, Raccoon Creek GC (19) def. Donny Kinnaman, Lincoln Park GC (46), 19 holes
Chris Weinstein, Green Valley Ranch GC (6) def. Austin Hardman, Highlands Ranch GC (59), 6 and 5
Max Urman, Meridian GC (38) def. Taylor Rodriguez, Walking Stick GC (27), 19 holes
Chase Federico, Elmwood Golf Course (11) def. Jack Cavanagh, Broadlands GC (54), 5 and 4
Keegan Sheard, Applewood GC (43) def. Tyler Zhang, Lone Tree GC (22), 1 up

ROUND OF 32
Philip Lee, Cherry Hills CC def. Jacob Allenback, Elmwood GC 20 holes
Randy Urso, CommonGround GC def. Coleson Krantz, Ptarmigan CC 2 and 1
Jack Adolfson, Fox Hill Club def. Evan Buchalski, Olde Course at Loveland 4 and 2
Alex Liss, The Olde Course at Loveland def. Garrett Jones, West Woods GC 3 and 2
Justin Goldsberry, South Suburban GC def. Samuel Theil, Hiwan GC 1 up
Andrew Howe, Fox Hill Club def. Sam Marley, South Suburban GC 4 and 2
Alan Berry, Meadows GC def. Dylan Wonnacott, Fox Hill Club 2 up
Tristan Rohrbaugh, Ironbridge GC def. Kobe Padilla, CommonGround GC 4 and 3
Bretton Krantz, Ptarmigan CC def. Kyler Dunkle, The Club at Pradera 20 holes
Ross Macdonald, CC at Castle Pines def. Mathew Yeager, Red Rocks CC 7 and 5
Aj Ott, Ptarmigan CC def. Blake Young, Trinidad GC 4 and 3
Hayden Nicholaides, South Suburban GC def. Billy Ramsey, Lone Tree GC 2 and 1
Jake Staiano, Glenmoor CC def. Matthew Vacek, Indian Peaks GC 2 and 1
Riggs Winz, Raccoon Creek GC def. Hunter Lee, Highlands Ranch Golf Club 3 and 2
Chris Weinstein, Green Valley Ranch GC def. Max Urman, Meridian GC 2 up
Chase Federico, Elmwood Golf Course def. Keegan Sheard, Applewood GC 5 and 3

ROUND OF 16
Randy Urso, CommonGround GC def. Philip Lee, Cherry Hills CC 4 and 3
Jack Adolfson, Fox Hill Club def. Alex Liss, The Olde Course at Loveland 4 and 3
Andrew Howe, Fox Hill Club def. Justin Goldsberry, South Suburban GC 5 and 3
Alan Berry, Meadows GC def. Tristan Rohrbaugh, Ironbridge GC 2 and 1
Ross Macdonald, CC at Castle Pines def. Bretton Krantz, Ptarmigan CC 3 and 2
Hayden Nicholaides, South Suburban GC def. Aj Ott, Ptarmigan CC 3 and 2
Jake Staiano, Glenmoor CC def. Riggs Winz, Raccoon Creek GC 3 and 2
Chase Federico, Elmwood Golf Course def. Chris Weinstein, Green Valley Ranch GC 2 and 1

QUARTERFINALS
Jack Adolfson, Fox Hill Club def. Randy Urso, CommonGround GC 3 and 2
Andrew Howe, Fox Hill Club def. Alan Berry, Meadows GC 4 and 2
Hayden Nicholaides, South Suburban GC def. Ross Macdonald, CC at Castle Pines 4 and 3
Jake Staiano, Glenmoor CC def. Chase Federico, Elmwood Golf Course 3 and 2

SEMIFINALS
Jack Adolfson, Fox Hill Club def. Andrew Howe, Fox Hill Club 5 and 4
Jake Staiano, Glenmoor CC def. Hayden Nicholaides, South Suburban GC 3 and 1

36-HOLE FINAL
Jake Staiano, Glenmoor CC def. Jack Adolfson, Fox Hill Club 2 and 1

STROKE PLAY QUALIFYING
Advanced to Match Play
Kyler Dunkle, The Club at Pradera 33-36--69
Jack Pedersen, Omni Interlocken GC 34-37--71
Jake Staiano, Glenmoor CC 36-35--71
Dylan Wonnacott, Fox Hill CC 37-35--72
Chris Weinstein, Green Valley Ranch GC 39-35--74
Aj Ott, Ptarmigan CC 36-38--74
Josh McLaughlin, Olde Course at Loveland 36-39--75
Hayden Nicholaides, South Suburban GC 34-41--75
Evan Buchalski, Olde Course at Loveland 36-39--75
Chase Federico, Elmwood Golf Course 33-42--75
Ross Macdonald, CC at Castle Pines 36-40--76
Andrew Romano, Colorado GC 36-40--76
Pierce Aichinger, Bear Creek GC 37-39--76
Ty Caron, Rifle Creek GC 40-36--76
Cameron Connor, Boulder CC 38-38--76
Hunter Lee, Highlands Ranch GC 37-39--76
Timothy Amundson, Columbine CC 37-39--76
Mathew Yeager, Red Rocks CC 37-39--76
Li Chen, Legacy Ridge GC 36-41--77
Billy Ramsey, Lone Tree GC 38-39--77
Tristan Rohrbaugh, Ironbridge GC 38-39--77
Spencer Roberts, Colorado National GC 37-40--77
Garrett Jones, West Woods GC 37-40--77
Sam Marley, South Suburban GC 39-38--77
Tyler Zhang, Lone Tree GC 38-39--77
Riggs Winz, Raccoon Creek GC 40-37--77
Matthew Vacek, Indian Peaks GC 38-40--78
Jeremiah Driggers, CC at Castle Pines 37-41--78
Taylor Rodriguez, Walking Stick GC 41-37--78
Alan Berry, Meadows GC 39-39--78
Coby Welch, Links GC 37-41--78
Jacob Allenback, Elmwood GC 35-43--78
Justin Goldsberry, South Suburban GC 39-39--78
Jack Adolfson, Fox Hill CC 37-42--79
Blake Young, Trinidad GC 38-41--79
Maxwell Pederson, CC at Castle Pines 37-42--79
Max Urman, Meridian GC 39-40--79
Bretton Krantz, Ptarmigan CC 41-38--79
Cole Folwell, Boulder CC 41-38--79
Daniel Pearson, Fox Hill CC 39-40--79
Grant Dinkel, Flatirons GC 41-38--79
Collin Tedesco, Plum Creek G & CC 36-43--79
Randy Urso, CommonGround GC 37-43--80
Keegan Sheard, Applewood GC 39-41--80
Benjamin Moore, Glenmoor CC 39-41--80
Brandon Dvorak, Broadlands GC 38-42--80
Matt Bell, Harmony Club 39-41--80
Coleson Krantz, Ptarmigan CC 37-43--80
Donny Kinnaman, Lincoln Park GC 38-42--80
Andrew Howe, Fox Hill CC 40-41--81
Kobe Padilla, CommonGround GC 40-41--81
Christopher Raap, Highlands Ranch GC 42-39--81
Nick Leibold, Columbine CC 41-40--81
Ben Robinson, Red Sky GC 37-45--82
Robert Morris Pettit, Ironbridge GC 39-43--82
Austin Hardman, Highlands Ranch GC 39-43--82
Alex Liss, The Olde Course at Loveland 41-41--82
Jack Cavanagh, Broadlands GC 42-40--82
Mitchell Nevin, Eagle Ranch GC 41-41--82
Ian Coberly, Riverview GC 40-42--82
Philip Lee, Cherry Hills CC 43-40--83
Samuel Theil, Hiwan GC 42-41--83
Kevin Shafer, Meridian GC 45-38--83
Gary Schlatter Jr., Glenmoor CC 42-41--83

Failed to Qualify for Match Play
Eli Schoenbeck, Desert Hawk GC 42-41--83
Alec Poorman, Flatirons GC 42-41--83
Trevor Glen, Thorncreek GC 39-44--83
Troy Dangler, Tiara Rado GC 39-44--83
Neil Tillman, West Woods GC 39-44--83
Clayton Crawford, Maroon Creek Club 42-42--84
Connor Alexander, Castle Pines GC 45-39--84
Trey Lambrecht, Northeastern 18 GC 44-40--84
Joey Buckley, Cherry Hills CC 42-43--85
Cody Leis, The Club at Pradera 39-47--86
Andrew Cooper, Glenmoor CC 40-46--86
Mark Hillary, Cherry Hills CC 43-43--86
Ethan Yamada, Omni Interlocken GC 43-44--87
Jackson Vacek, Harmony Club 42-45--87
Ethan Fisher, South Suburban GC 42-45--87
Logan Bryson, King's Deer GC 41-48--89
Jacob Schiffbauer, The Club at Rolling Hills 42-47--89
Todd Millard, Twin Peaks GC 40-51--91
Evan Tooley, Raccoon Creek GC 48-44--92
Kyle Kleckner, Cherokee Ridge GC 40-53--93
Dalton Anderson, Bella Rosa GC 46-47--93
Bridger Ryan, Broadlands GC 46-48--94
Jonathan Marsh, CommonGround GC 47-47--94
Darren Kasischke, Lakewood CC 41-54--95
Carter Alcock, Colorado GC 47-49--96
Zach Moritz, Thorncreek GC 50-48--98
Austin Lundgren, King's Deer GC 50-59--109
Marquinn D McGary, CommonGround GC 59-57--116
Jimmy Makloski, Pueblo CC WD
Jack Cummings, Omni Interlocken GC NS
Jack Lazzeri, Columbine CC WD
Christian Wagner, Lake Valley GC WD

Go to CGA Junior Match Play Results Archive