With a strong finish on Sunday afternoon, Glenn Workman made a little history.
The golfer from Desert Hawk at Pueblo West, who soon will start his senior season at the University of Wyoming, played his final three holes in 2 under par to capture the CGA Amateur Championship at the Sonnenalp Club in Edwards.
That made Workman the winner of both the Wyoming State Amateur and the CGA Amateur in 2017, marking the first time the same player has won both titles in a single year.
In addition, Workman joins a stellar group of champions at Sonnenalp. Brandt Jobe won the CGA Amateur the last time it was played at the course, in 1985, when the layout was known as Singletree Golf Club. And Kevin Stadler captured the Colorado Open title at the course in 2002. Each of those players went on to earn more than $9 million on the PGA Tour.
"What a rich history this course has," Workman noted. "Hosting Colorado Opens, hosting this tournament before. It's a golf course that you have to hit it well. It's not something where you can just overpower it. That was my advantage today because I don't hit it long off the tee. This course, you've got to hit it well off the tee and putt it good."
Only time will tell if Workman further follows in the footsteps of Jobe or Stadler and becomes a PGA Tour player and is successful at that level. For now, he's proven himself to be one of the better amateurs in the region by winning the two aforementioned state amateur titles this summer, in addition to being low-amateur in the Wyoming State Open and finishing runner-up in the Wyoming State Match Play.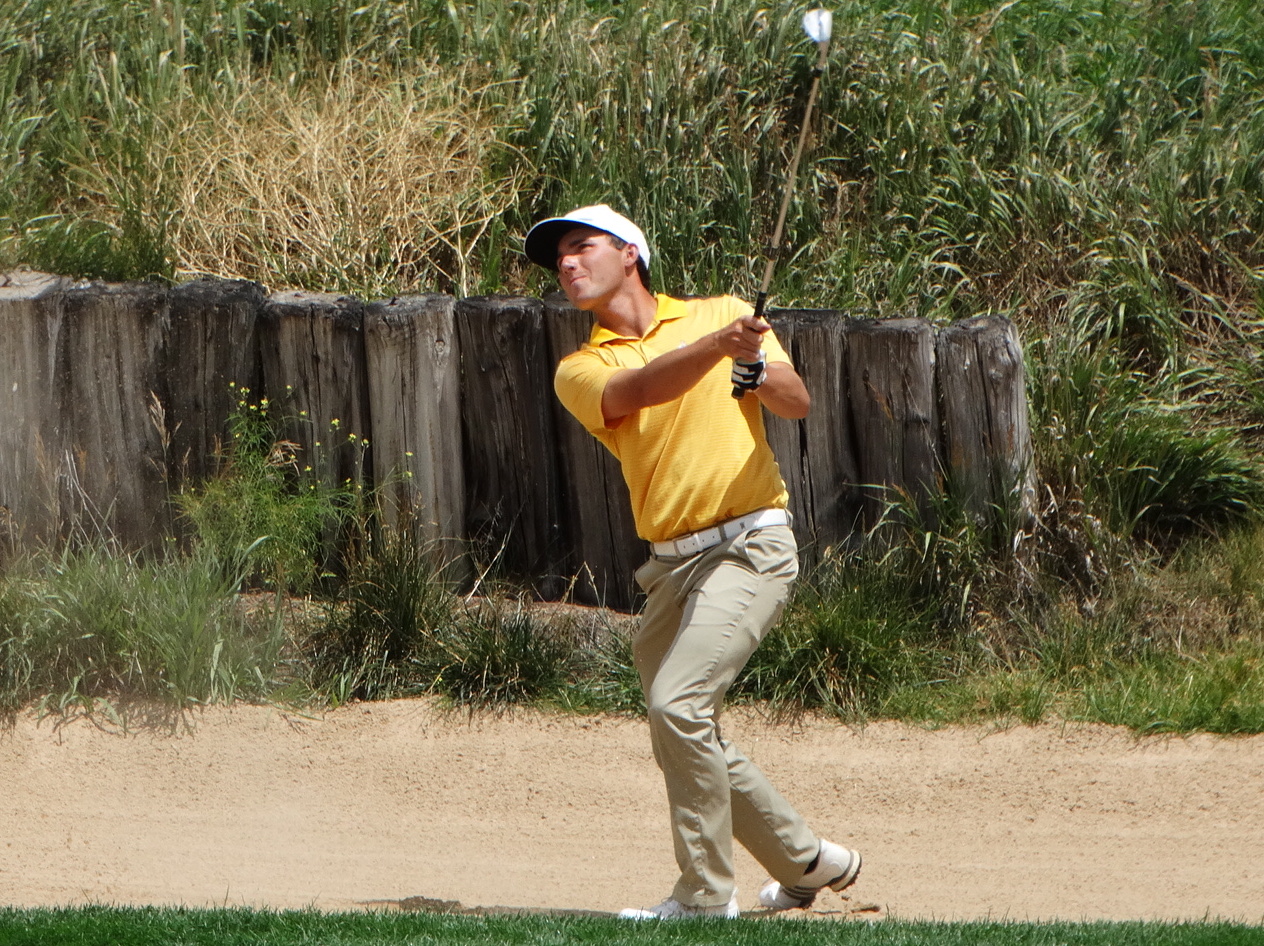 "This is incredible," Workman (pictured left and above) said of Sunday's victory. "It's a huge win for me. It is my biggest. This is the highlight of my summer for sure. There's so many good players in this, so to win this means so much.
"I felt the heat from all the good players all day."
At Sonnenalp, the 21-year-old led after each of the last three rounds. On Sunday, he closed with a 2-under-par 69 to finish at 6-under 278, which was good for a two-stroke victory.
After being just a shot in front of Colorado State University golfer Jake Staiano and University of Denver player Isaac Petersilie, Workman gave himself some cushion. On No. 16, he sank a 4 1/2-foot birdie putt. He pushed his tee shot into a bunker on the par-3 17th, leaving himself a 36-yard sand shot. But he nestled the ball up inside of a foot for a tap-in par.
"That was the shot of the tournament," Workman said. "Sometimes coming down the stretch you've got to hit shots like that. I honestly didn't think much about it — just got up there and hit it. It worked out. It was really close. I was happy."
Then on the par-5 18th, Workman got home in two and two-putted for birdie, earning him the N.C. "Tub" Morris Trophy. He had told himself he needed a birdie down the stretch, and he made two.
"Approaching the home stretch like that is so hard because there's so much pressure," Workman said. "Hitting good golf shots is difficult sometimes. I told myself, 'Be patient, there's a lot of golf to play.' I had to make a lot of good shots and I'm really happy with the way I played."
All in all, he didn't falter. If one of his challengers were to overtake him on Sunday, it was going to take a stellar round. The way it turned out, even a 4-under-par 67 by Staiano (left) left him two shots short of a playoff.
"You don't wish anybody to play bad. I'm glad he played well," said Petersilie, a past Junior Amateur and state high school champion. "I've just got to play better (to win)."
The victory was Workman's first in a CGA championship, though he won a Junior Tournament of Champions title in 2012.
Staiano, who finished eighth in the CoBank Colorado Open last month, made a 15-foot birdie on the final hole to shoot his 67 and finish second alone at 4-under 280. Next up for the golfer from Glenmoor Country Club is his second trip to the U.S. Amateur, where fellow Coloradan Sam Marley will caddie for him. The two were paired for Sunday's final round, with Marley tying for sixth place.
"Honestly it's a great builder for next week," Staiano said of his performance at Sonnenalp. "That's what I took it as. I sort of came in struggling and I was able to work through it the last four or five days and get my swing to something I could take to California for sure. I played better today. I finally hit the ball better. I finally putted a little better. I wish I could have done that earlier, then I would have definitely been in contention a little more. But I'm excited for next week. It's something to build off of for sure."
Petersilie (left), who plays out of Colorado Springs Country Club, posted a top-three finish for the second straight year at the CGA Amateur. After being runner-up in 2016, he placed third on Sunday after shooting 68-68 on the weekend for a 281 total. Petersilie one-putted six of his first seven greens on the back nine Sunday.
"It was fun," said Petersilie, who made 11 birdies combined on Saturday and Sunday. "The course is in great shape. It was real easy to putt on those greens. It was fun to kind of feed off of Glenn because he hit some good shots."
Tying for fourth place at 283 were CSU golfer AJ Ott of Ptarmigan Country Club and Cole Nygren of Colorado National Golf Club, who was competing in his final CGA amateur tournament before turning pro later this month. Nygren, who finished fifth in this event last year, closed with a 71, while Ott carded a bogey-free 69.
DU golfer Chris Korte, looking for a sweep of the CGA Match Play and Amateur titles in the same year, was among those who shared sixth place at 284.
For the final results from the CGA Amateur, CLICK HERE.