The weather-related stoppages of play just seemed to delay the inevitable Thursday afternoon at Cherry Creek Country Club.
And in the end, it was indeed Brooke Collins of the Omni Interlocken Golf Club who stormed to victory in the CWGA Stroke Play Championship.
The Louisville resident and University of Oklahoma golfer overcame a brief challenge early in the final round and ended up lapping the field by finishing under par for 54 holes.
Two years after her older sister Chelsey claimed the CWGA Match Play title, Brooke won the Stroke Play crown by six strokes.
"I feel like no lead is too big a lead," Collins said. "That's my motto. I was just trying to get as many birdie opportunities as I could."
After opening with a bogey, Collins birdied five of her last 16 holes Thursday en route to a 2-under-par 70 and a 1-under-par 215 total. Fifteen-year-old Calli Ringsby of Denver Country Club, playing in her first CWGA Stroke Play, made an early run but settled for a 1-over-par 73 and a runner-up finish at 221. Five-time champion Janet Moore of Cherry Hills Country Club took third place at 226 after a final-round 76.
For Collins, it was her second CWGA title, following her 2006 win in the Junior Stroke Play. She also has a 2007 state high school championship to her credit.
"It feels great to get (an open-division) CWGA title," the 21-year-old said. "I've been looking forward to this and I'm really happy about it."
When Collins started bogey-par and Ringsby went par-birdie, the sophomore-to-be at Cherry Creek High School was within a stroke of the lead and Collins thought, "I have my work cut out for me today." But she would go 3 under par the rest of the way, leaving Ringsby too much of a hill to climb.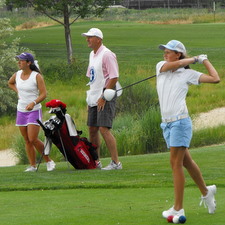 "I started off really well and I thought maybe I had a chance," said Ringsby (pictured teeing off). "I got pretty close at the beginning, then she played phenomenal golf. The only way to catch her when you're three behind (entering the final round) is she has a bad day and you have a good day. But she played phenomenal. You could just tell it was her week."
Just to cap things off in style, the long-hitting Collins put an exclamation mark on her victory with two-putt birdies on both the 15th and 16th holes. She drove the green on the 253-yard par-4 15th and hit the 461-yard par-5 16th in two.
"It feels real good to finish under par for three days," she said. "I'm completely happy with that. I couldn't ask for anything more."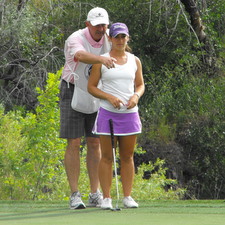 Collins had her entire family out for support on Thursday. Her dad, Omni director of golf Larry Collins (pictured at left with Brooke), caddied for her, and her mom and Chelsey cheered her on. And in the end, they all had reason to celebrate.
At the same time, Ringsby served notice she will be a force to be reckoned with on the local golf scene. Without ever having played Cherry Creek Country Club before Tuesday's first round, she went 73-75-73 and finished second.
"She definitely kept me on my toes the whole time," Collins said of Ringsby. "I was very impressed with her play and she's going to be a great player when she gets older. She already is, but she's going to be even better."
CWGA Stroke Play Championship
CHAMPIONSHIP FLIGHT
Brooke Collins, Omni Interlocken Resort GC – 71-74-70–215
Calli Ringsby, Denver CC – 73-75-73–221
Janet Moore, Cherry Hills CC – 74-76-76–226
Lindsay McGetrick, Colorado GC – 81-71-75–227
Samantha Stancato, Patty Jewett GC – 80-77-80–237
Hannah Wood, South Suburban Family Sports – 83-77-78–238
Melissa Martin, Bookcliff CC – 81-75-82–238
Kim Eaton, Riverdale GC – 83-75-81–239
Paige Crawford, Patty Jewett GC – 80-76-84–240
Kasha Scott, Wellshire GC – 79-75-87–241
Leslie McGetrick, Colorado GC – 85-79-81–245
Amy Hodgkinson, Twin Peaks GC – 87-76-83–246
Gina Larson, Boulder CC – 86-73-87–246
Jill Gaschler, Willis Case GC – 77-87-87–251
Anna Christenson, Highlands Ranch GC – 84-77-91–252
Mikayla Tatman, Twin Peaks GC – 77-80-90–247
FIRST FLIGHT
Shannon Lutynski, Red Hawk Ridge GC – 91-79-73–243
Christina Spinzig, Hiwan GC – 85-80-79–244
Laurie Steenrod, Saddle Rock GC – 82-88-76–246
Lara Pocs, The Ranch CC – 84-83-83–250
Mackenzie Cohen, Inverness Hotel & GC – 88-85-77–250
Jamie Engelkemier, Boomerang GL – 84-91-77–252
Mary Doyen, Broken Tee GC – 77-88-87–252
Tracy Saracino, Kennedy GC – 88-83-82–253
Libby Avery, Pinery CC – 94-82-78–254
Kathy Malpass, Hiwan GC – 85-86-85–256
Lindsay Reeve, Boulder CC – 90-81-89–260
Michaela Breit, Highland Hills GC – 93-87-83–263
Amy Carlson, Boulder CC – 92-94-86–272
SECOND FLIGHT
Kelly Moran, Boulder CC – 84-79-79–242
Sally Lawrence, Broken Tee GC – 81-77-84–242
Sheryl Larsen, Lakewood CC – 86-82-82–250
Vickie Brown, Broken Tee GC – 86-83-85–254
Ruth Van Zee, Blackstone CC Wga – 83-82-90–255
Nina Dulacki, Broken Tee GC – 82-88-87–257
Laura Wetzel, Coal Creek GC – 89-86-83–258
Callie Hodgkinson, Twin Peaks GC – 91-85-83–259
Devra Ochs, Cherry Creek CC – 83-84-92–259
Meredith Beykirch, The Club at Flying Horse – 86-84-89–259
Sandra Young, Eisenhower GC – 84-92-86–262
Carla Stearns, Wellshire GC – 88-86-91–265
Joanna Ringsby, Castle Pines GC – 99-88-90–277
Kaylan Self, Cherokee Ridge GC – 96-93-92–281
THIRD FLIGHT
Sara Swaney, Perry Park CC – 90-81-86–257
Chris Jansen, Broken Tee GC – 87-87-94–268
Diane Harris, Cherry Creek CC – 99-88-81–268
Jennifer Hocking, Cherokee Ridge GC – 88-89-91–268
Marla Straw, Overland GC – 84-90-97–271
Marilyn Heustis, Broken Tee GC – 93-88-91–272
Megan McCambridge, Boulder CC – 90-92-93–275
Bobby Jackson, Willis Case GC – 85-96-95–276
Jessica McVay, CommonGround GC – 103-87-87–277
Jill Kirkpatrick, Broken Tee GC – 92-91-95–278
Kimalee Hull, Broken Tee GC – 95-90-94–279
Sheila Schroeder, Broken Tee GC – 92-93-94–279
Jan Milne, Ptarmigan CC – 96-100-84–280
Lynne Janis, Riverdale GC – 100-86-94–280
Peggy Puckett, Wellshire GC – 101-94-101–296
FOURTH FLIGHT
Lisa Bolam, Ptarmigan CC – 86-81-88–255
Sally Brands, Rifle Creek GC – 90-88-89–267
Claudia Gallegos, South Suburban GC – 92-87-92–271
Suzann Burley, Meadow Hills GC – 99-91-87–277
Jeanine Wasielewski, West Woods GC – 98-94-87–279
Vicki Porter, CommonGround GC – 96-93-95–284
Pat Kuntz, Riverdale GC – 94-89-102–285
Norma Bisdorf, Overland GC – 98-89-99–286
Jenny Elliott, Broken Tee GC – 99-100-89–288
Theresa Lange, Canongate at Blackstone CC – 100-99-93–292
Lyndon Lieb, Broken Tee GC – 99-99-98–296
Frankie Hood, Deer Creek GC at Meadow Ranch – 100-97-103–300
Juna Orr, Broken Tee GC – 96-107-102–305
Juliet Miner, Bear Dance Wga – 106-100-106–312
Patty Smogor, Broken Tee GC – 99-91-WD
FIFTH FLIGHT
Kay Geitner, South Suburban GC – 85-89-89–263
Catherine Atkinson, Glenmoor CC – 90-88-90–268
Nondis Lowther, Rifle Creek GC – 94-87-88–269
Pat O'Connor, Collindale GC – 97-94-98–289
Paulette Jerpe, Fox Hollow GC – 99-102-89–290
Cindy Speer, Fox Hollow GC – 97-95-100–292
Irene Stein, Collindale GC – 96-101-97–294
Mary F Smith, Fox Hollow GC – 100-98-99–297
Stella Madrid, Broken Tee Englewood Wga – 101-97-100–298
Connie Garcia, Fox Hollow GC – 98-96-112–306
Becky Finger, Riverdale GC – 112-106-96–314
Donna Edelen, Riverdale GC – 111-106-101–318
Shirley Moschetti, Wellshire GC – 111-102-106–319
Linda Powell, Broken Tee GC – 106-106-WD
SIXTH FLIGHT
Sally Beswick, Deer Creek GC at Meadow Ranch – 116-97-111–324
Barbara White, Riverdale GC – 105-112-110–327
Cindy Gilbert, Eagle Vail GC – 109-113-106–328
Cogie Elzea, Riverdale Golf Courses – 113-113-109–335
Rene Shriver, Fox Hollow GC – 116-107-112–335
Kathy Mansueto, Broken Tee GC – 120-110-115–345
Jan Lee Heath, Lamar Lga – 121-118-111–350