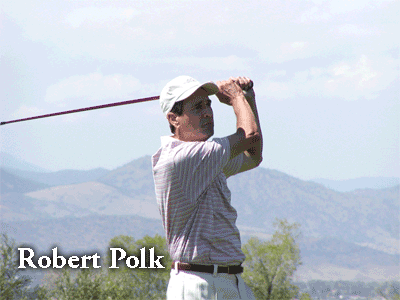 Robert Polk of Pinery CC shot 75 in the final round to win the 2005 CGA State Senior Stroke Play Championship at Highlands Ranch Golf Club by three strokes. His three-day total of 213 (three-under par) was the only sub-par total for the championship. Polk was awarded the Warren Simmons Trophy as champion, which will be displayed at his home club (Pinery CC) for the next year. Earning the CGA Silver Medal as runner-up was 2004 CGA Senior Points winner Bill Boyd of Highland Hills GC, who shot three consecutive 72's to finish at even-par 216. 2004 runner-up, and home course favorite, Larry Netherton shot 75 in the final round to finish third at 217. Colorado Golf Hall of Famer John Olive of the Broadmoor GC finished at 218 in a fourth place tie with first round leader Harry Johnson of Eagle Ranch GC. Olive also won the Super Senior Division title (60 and older) by four strokes over Roger Gunderson who finished at 222. Three players tied for sixth at 219 including David Farabaugh of Ranch CC, 2005 U.S. Senior Open qualifier Scott Radcliffe of Rolling Hills CC, and 2000 champion Charlie Post of Plum Creek CC.
Polk, who turned 50 this June, is off to a tremendous start as a Senior having won the CGA Senior Four-Ball title last week with partner Jim Pierce, and now winning his first CGA individual title at the Senior Stroke Play.
"I hope be competitive in the Senior group for a long time"¦hopefully as long as John Olive," said Polk afterward.
FINAL RESULTS
Robert Polk, Pinery Country Club , 70-68-75–213
Bill Boyd, Highland Hills Golf Course, 72-72-72–216
Larry Netherton, Highlands Ranch Golf Club, 70-72-75–217
John Olive, Broadmoor Golf Club, 72-75-71–218
Harry Johnson, Eagle Ranch Golf Course, 68-73-77–218
David Farabaugh, Ranch Country Club, 73-75-71–219
Scott Radcliffe, Rolling Hills Country Club, 75-72-72–219
Charlie Post, Plum Creek Golf & Country Club, 73-74-72–219
David Brown, Highlands Ranch Golf Club, 71-72-77–220
Steve Murphy, Canterberry Club, 76-74-71–221
Roger Gunderson, Green Valley Ranch Golf Club, 76-70-76–222
Scott Crone, Pinehurst Country Club, 73-71-79–223
Grant Maples Jr., Meridian Golf Club, 78-73-73–224
John Sostmann, Columbine Country Club, 76-73-76–225
Skip Manning, Ptarmigan Golf & Country Club, 75-71-79–225
Tom Ritchie, Meridian Golf Club, 78-73-75–226
Rick George, Castle Pines Golf Club, 76-76-75–227
Rod Walters, West Woods Golf Club, 75-76-76–227
Tom Lawrence, Lakewood Country Club, 75-75-77–227
Kelly Crone, Deer Creek Golf Club at Meadow Ranch, 76-75-76–227
Jerry Kidney, Overland Golf Course, 76-76-76–228
Stephen Barlow, Cherry Hills Country Club, 75-77-76–228
Chuck Fisher, Riverdale Golf Courses, 78-71-79–228
Richard Ronning, Lakewood Country Club, 76-74-79–229
George Nicholaides, Plum Creek Golf & Country Club, 80-74-75–229
Ronald Knapp, Pinery Country Club, 74-78-77–229
Chris Thomas, Pinehurst Country Club, 76-73-80–229
Tom Kundinger, Denver Country Club, 73-74-82–229
Gary Potter, Denver Country Club, 73-77-79–229
Bill Stevens, Meridian Golf Club, 78-76-76–230
Steve Boswell, Mira Vista Golf Course, 74-77-79–230
John Callahan, Lone Tree Golf Club & Hotel, 73-74-83–230
Sean Forey, Rolling Hills Country Club, 74-80-77–231
Jim Pierce, Pinery Country Club, 76-77-78–231
Bob Rognmoe, Pinehurst Country Club, 80-72-79–231
Art Cudworth, Pinehurst Country Club, 75-76-80–231
Jim Bristow, Meadow Hills Golf Course, 78-76-79–233
Bradley Smith, Ptarmigan Golf & Country Club, 75-78-81–234
Ron Perry, Willis Case Golf Course, 75-79-80–234
Doug Jones, Tiara Rado Golf Course, 78-73-85–236
John Kaiser, Meadows Golf Club The, 77-73-87–237
Peter Perry, South Suburban Golf Course, 80-73-NC–NC
MISSED CUT
Mark Achziger, Greeley Country Club, 76-79″"155
John Boyles, Pinery Country Club, 77-78–155
Jack Quinlivan, Bear Creek Golf Club, 79-76–155
Robert Russo, Denver Country Club, 81-75–156
Gary Snyder, Aspen Golf Club, 82-74–156
Harry King, City Park Golf Course, 78-79–157
Terry Kunz, Omni Interlocken Resort and Golf Club, 78-79–157
Don Berthiaume, Highlands Ranch Golf Club, 83-74–157
Tom Terch, Inverness Hotel & Golf Club, 80-77–157
Steve Bell, Denver Country Club, 76-82–158
Dan Dicker, Fossil Trace Golf Club, 78-80–158
Tom Gorton, Dalton Ranch Golf Club, 78-80–158
Glenn Hyde, Riverdale Golf Courses, 78-80–158
Kary Kaltenbacher, Glenmoor Country Club, 83-75–158
Joe Morrill, The Club at Cordillera, 80-78–158
Tom Warren, Evergreen Golf Course, 77-81–158
Don Alley, Colorado Springs Country Club, 84-75–159
Juan Blanco, The Olde Course at Loveland, 78-81–159
Bill Holmes, Boulder Country Club, 83-76–159
Steve Stoltz, Fort Collins Country Club, 80-79–159
Mark Barkley, Highlands Ranch Golf Club, 81-78–159
Jim Erickson, Wellshire Golf Course, 80-80–160
Danny Wyrick, Fox Hollow Golf Course, 78-82–160
Rocky Zuendel, Country Club of Colorado, 82-79–161
Jeff Wagner, Fox Hollow Golf Course, 83-79–162
Al Brookes, West Woods Golf Club, 82-81–163
Steven Coyer, Eagle Springs Golf Club, 85-78–163
Joe Miller, Wellshire Golf Course, 84-81–165
Monty Nash, The Olde Course at Loveland , 86-79–165
Rich Trout, Rolling Hills Country Club, 83-82–165
Joe Hybl, Elmwood Golf Course, 86-81–167
John Walla, Aspen Golf Course, 82-85–167
Richard Thorstad, Mira Vista Golf Course, 82-86–168
Rob McClure, Rolling Hills Country Club, 83-86–169
William Schmit, Kennedy Golf Course, 87-86–173
Bill Bye, Saddle Rock Golf Course, 94-81–175
Paul Gagnon, Springs Ranch Golf Club, 82-NS–NS
Brady Hendren, Cherry Creek Country Club, 80-WD–WD
Jack Manzi, Bear Creek Golf Club, 81-NS–NS
Kevin Ortell, Heritage Eagle Bend Golf & Country Club, 89-NS–NS
Frank Wilkinson, Tiara Rado Golf Course, 79-WD–WD