Makloski Leaves Ex-Champs in his Wake
Pueblo golfer wins CGA Senior Match Play for first individual CGA title
by Gary Baines - 5/18/2012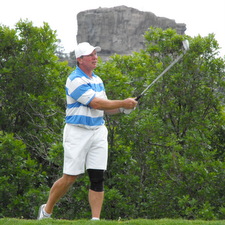 The CGA Senior Match Play Championship trophy is one of the heaviest around, as anyone who has lifted it will attest. Perhaps that's fitting considering the weight Ray Makloski apparently felt in trying to earn the hardware on Friday afternoon.

The 52-year-old from Pueblo Country Club defeated two former champions Friday to win the title at Red Hawk Ridge Golf Course in Castle Rock. But it was by no means easy.

"I can't believe I did this," he said. "I never even imagined myself winning it. There's a lot of good players and I don't play many tournaments now. And I can tell why. I never got nervous when I was younger, and I've been nervous every day (at the Senior Match Play). And that didn't help my swing. But it was fun."

Makloski (pictured above and below) captured his first CGA individual title by rallying to beat 2005 winner Kelly Crone of Highlands Ranch Golf Club in the final 2 and 1. In the semifinal Friday morning, Makloski ousted defending champion David Delich of the Broadmoor Golf Club 1 up.


"They're both just good guys and quality golfers," Makloski said of Delich and Crone. "They're not going to give you many holes. I just knew I needed to be mentally strong and always think you have a chance on the hole."

Makloski was 2 down after four holes in the championship match, but never trailed after winning the eighth hole with a conceded birdie. He got up and down twice in the final five holes of the match and sank an 8-foot par putt on No. 17. And when Crone then missed a 7-foot par attempt, the title was Makloski's.

"The best player won.That's all there is to it," Crone said.

The 60-year-old Crone paid the price for missing four putts of 7 feet or less in the final, including three in the final six holes.

"I left every putt short the whole round," he said. "I could not get the ball to the hole. That's because the poa annua (grass) grew up a little in the afternoon and I didn't adjust. That's my fault."


Also costly for Crone (pictured at left with Makloski) were the couple of times he pushed drives far to the right. On No. 5, he lost a ball when that happened. And on No. 13, he found his ball in a bush and had to punch out sideways. In both cases, he lost the hole. And on the latter occasion, Makloski took the lead for good in the match.

Another key point for Makloski was the par-5 16th, where his first two shots were still 50 yards short of Crone's drive. Still, Makloski managed to halve the hole with a bogey after getting up and down from a bad lie beside the green, while Crone missed a 7-foot par attempt.

Crone's miss on a similar-length par putt on No. 17 ended the match after Makloski made a clutch par from just further out.

But Crone was pleased with doing as well as he did this week considering that at his age, he could be playing in the Super-Senior Championship.

"I'm still competitive (in the senior division)," Crone said. "When I'm not competitive here, I'll play Super-Seniors."

As for Makloski, this victory is his second in CGA championships, following his win with Pete Severson in the 1998 Two-Man Team. This team, Makloski had to depend on his putting and chipping to prevail.

"My short game just bailed me out every hole because my full swing was rotten," said Makloski, whose son Jimmy won the 2011 CJGA Tournament of Champions. "It's gotten progressively worse every day. It wasn't pretty. I chipped and putted real well. That's the only thing that saved me."


Meanwhile, in the Super Senior Championship for players 60 and older, Bob Sims (pictured at left) of Black Bear Golf Club scored a 1-up victory over Patrick Mooney of Colorado Golf Club in the final. Sims' two-putt birdie on the 18th hole made the difference.

"In 2007 I lost in (the Super-Senior final) to David Farabaugh, and I've only played in this one one other time since, so it was good to get back and play," Sims said. "It was a really good match."

Sims, 66, has also won the super-senior division of the CGA Senior Stroke Play (in 2006) and his age group twice in the National Senior Games, but he devotes most of his competitive fire these days to senior softball tournaments.

"I don't get to play as much golf as I'd like to," he said.
CGA Senior Match Play Championship
At Red Hawk Ridge GC in Castle Rock
Semifinals
Ray Makloski, Pueblo CC (5) def. David Delich, Broadmoor GC (1), 1 up
Kelly Crone, Highlands Ranch GC (26) def. Brent Timm, Red Hawk Ridge GC (3), 3 and 2
Final
Makloski def. Crone, 2 and 1
SUPER-SENIOR CHAMPIONSHIP
Final
Bob Sims, Black Bear GC (5) def. Patrick Mooney, Colorado GC (2), 1 up

SUPER SENIOR FINAL
David Farabaugh, Broadlands GC (4) def. Jeffrey Wagner, Fox Hollow GC (15), 1 up
CLICK FOR SUPER-SENIOR MATCH PLAY TREE

Go to CGA Senior Match Play Results Archive