Jennifer Kupcho seemed surprised by the weight of the CWGA Stroke Play trophy, but she probably shouldn't be.
After all, she's had plenty of opportunities to lift it over the last couple of years.
The Westminster resident on Wednesday did something that no other woman had accomplished in the new millennium.
Not only did she become the first player in 20 years to win the CWGA Stroke Play Championship three straight times, but she claimed each of those titles by more than a dozen shots.
But at this point that's secondary, according to Kupcho.
"It's exciting to come out of Colorado and have everyone be super supportive of me," said the Wake Forest junior-to-be, who will be competing in her second consecutive U.S. Women's Open next month. "That's probably a bigger deal than winning — just to know that everyone is behind me when I'm out competing on a national level."
But whatever the case, it's certainly worth taking note of what Kupcho accomplished on Wednesday.
The No. 11-ranked women's amateur in the world, Kupcho completed her trifecta by chalking up a 13-shot victory at Lone Tree Golf Club in the 70th CWGA Stroke Play.
Just three weeks before she returns to the U.S. Women's Open, Kupcho (left and above) became the fifth player to win the CWGA Stroke Play at least three straight years, joining four Colorado Golf Hall of Famers: Janet Moore (1994-97), Carol Flenniken (1968-70), Joan Birkland (1964-66) and Sally Hardwick (1957-59).
Kupcho, the runner-up at last month's Women's NCAA Division I Championships, also became the first person since Wendy Werley in 1988 and '89 to win four straight CWGA major titles (the Stroke Play and Match Play). Alas, Kupcho's streak is expected to end next month as a scheduling conflict likely will keep her from entering the CWGA Match Play.
"That's OK," she responds when asked about her run of CWGA major victories ending.
The 20-year-old finished in style on Wednesday, making seven birdies in the final round to shoot a 5-under-par 67 at the Stroke Play. That gave the three-time CWGA Player of the Year a 6-under 210 total for three days.
"Today I was actually hoping to shoot 67, and I did it," she said. "After I got to 5 under (after 16), I wanted to make a couple more (birdies) because that would be cool. But you can't always make them." Kupcho's missed birdie putts on the final two holes were from 6 and 10 feet, respectively.
The previous two years in the Stroke Play, Kupcho prevailed by 21 and 19 shots. Overall, she's won five CWGA majors, with Wednesday marking her second at Lone Tree.
Erin Sargent (left) of Longmont, the 2016 4A state high school champion, tied for second at 223 on Wednesday with her University of Wyoming teammate Megan Knadler of Phoenix. Knadler closed with a 74 and Sargent with a 75.
Mary Weinstein of Highlands Ranch, the 2016 Junior Golf Alliance of Colorado's girls Player of the Year, shot a 2-under-par 70 on Wednesday to claim fourth place at 224.
Sargent, a 2015 U.S. Women's Amateur qualifier, relished the experience of competing with one of the world's top female ams.
"I, of course, gave it my best," the 19-year-old said. "Overall, it was a solid three days of golf. It's more experience for me to have for the future.
"Of course, I want to win. That's just a given. But if I'm not going to win, I'm just going to learn from (Kupcho's) game and see how I can improve so next time this comes around I have a better chance.
"I definitely like to look at how she plays her game and how I can improve mine so that I can get to the place where I can shoot the numbers that she can. I definitely pay attention to where she puts the ball on the course, what club choice she makes and that sort of thing. I do my best to take what experience and what talent she has and try to apply that to my game so I can get better."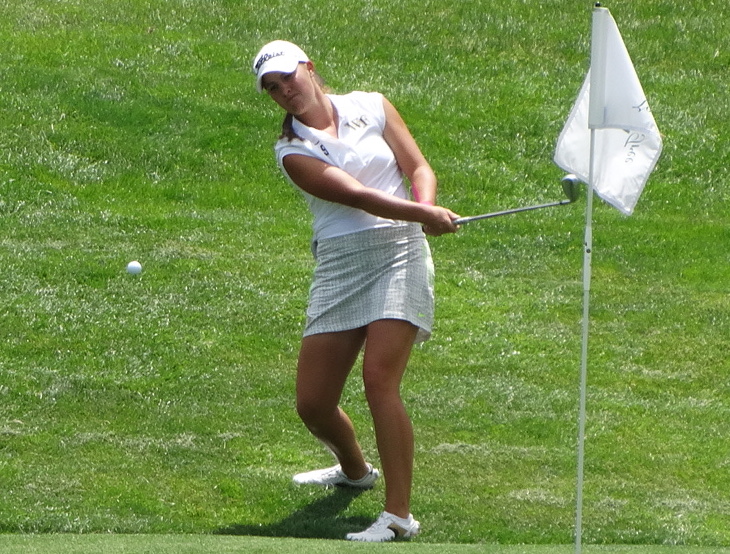 The lessons were certainly there to be learned on Wednesday. Just in the last 11 holes, Kupcho (left) had seven birdie attempts of 10 feet or less, and several much closer.
"The past couple of days (Monday and Tuesday) I obviously didn't play my best," Kupcho said of her rounds of 71-72. "I could have definitely made a lot more putts. I'm a little upset. My goal coming in was to shoot 199 (for three rounds). That didn't happen so it's a little bit of a disappointment. But I came out and had one good round to carry that over to the U.S. Open.
"It would have been great to win by that kind of margin (20 or so again), but I didn't play as well as I could have and everyone else played pretty well.
"Today, I was coming out hoping to make some putts and I finally rolled one in on No. 3. I was super happy about that, and after that they just kind of all went in."
Well, not all, but certainly an impressive number — enough to carry over into preparations for the U.S. Women's Open, her next tournament. That's where, as she noted above, she'll undoubtedly be getting plenty of support from folks in her home state, as well as in others.
The gross winners of the other flights on Wednesday were Arielle Keating (first), Alexis Chan (second), Sue Hartwell (third) and Jean Miller (fourth).
The low net players were Maddie Kern (first flight), Chan (second), Hartwell (third) and Miller (fourth).
CWGA Stroke Play Championship
At Par-72 Lone Tree GC
GROSS SCORES
Championship Flight
Jennifer Kupcho, Westminster, Colo. 71-72-67″"210
Erin Sargent, Longmont, Colo. 74-74-75″"223
Megan Knadler, Phoenix, Ariz. 77-72-74″"223
Mary Weinstein, Highlands Ranch, Colo. 73-81-70″"224
Anna Kennedy, Parker, Colo. 80-75-72″"227
Delaney Elliott, Superior, Colo. 74-74-79″"227
Kelly Hooper, Spokane, Wash. 76-75-76″"227
Ashlyn Kirschner, Arvada, Colo. 79-76-74″"229
Jaclyn Murray, Grand Junction, Colo. 77-77-75″"229
Gillian Vance, Lakewood, Colo. 75-79-76″"230
Jennifer Hankins, Thornton, Colo. 76-79-75″"230
Sarah Hankins, Thornton, Colo. 78-76-76″"230
Jacquelin Biggs, Englewood, Colo. 78-77-79″"234
Samantha Barker, Highlands Ranch, Colorado 83-70-82″"235
First Flight
Arielle Keating, Colorado Springs, Colo. 81-75-79″"235
Maddie Kern, Westminster, Colo. 77-81-78″"236
Danielle Price, Wakatipu, Colo. 75-82-81″"238
Megan Vernon, Conifer, Colorado 78-80-83″"241
Holly Schaefer, Greenwood Village, Colo. 83-76-83″"242
Sydney Gillespie, Highlands Ranch, Colo. 85-81-76″"242
Kaylee Knadler, Phoenix, Ariz. 82-88-76″"246
Delaney Benson, Littleton, Colo. 84-83-84″"251
Jamie Zook, Colorado Springs, Colo. 82-86-86″"254
Kelsey Webster, Boulder, Colo. 87-88-86″"261
Jaylee Tait, Littleton, Colo. 82-87-WD""WD
Second Flight
Alexis Chan, Highlands Ranch, Colo. 81-76-79″"236
Tiffany Maurycy, Denver, Colo. 85-78-78″"241
Mariah Ehrman, Westminster, Colorado 89-73-85″"247
Madison McCambridge, Boulder, Colo. 85-78-88″"251
Kelly Rahn, Dacono, Colo. 82-85-92″"259
Kelly Martin, Evergreen, Colo. 91-85-84″"260
Joanna Ringsby, Denver, Colo. 91-87-85″"263
Katherine Moore-Lilly, Longboat Key, Fla. 90-90-83″"263
Kathy Malpass, Evergreen, Colo. 93-84-93″"270
Third Flight
Sue Hartwell, Arvada, Colo. 86-77-86″"249
Haejeong Son, Centennial, Colorado 83-89-85″"257
Laurie Steenrod, Aurora, Colo. 84-88-86″"258
Jennifer Hocking, Colorado Springs, Colorado 88-85-88″"261
LeAnna Rosenow, Arvada, Colo. 91-88-83″"262
Carla Stearns, Aurora, Colo. 83-87-93″"263
Roxanne Witmer, Pueblo West, Colo. 83-90-90″"263
Katty Rothberg, Denver, Colo. 86-86-93″"265
Louise Lyle, Colorado Springs, Colo. 87-89-91″"267
Tess Mitchell, Littleton, Colo. 98-88-87″"273
Nancy Werkmeister, Wheat Ridge, Colo. 89-95-93″"277
Maureen Wood, Lafayette, Colo. 107-98-108″"313
Dee Baker, Florissant, Colo. 92-WD
Fourth Flight
Jean Miller, Arvada, Colo. 85-90-89″"264
Alison O"™Connor, Windsor, Colo. 85-95-85″"265
Sheila Schroeder, Englewood, Colo. 88-88-91″"267
Patty Smogor, Centennial, Colo. 97-86-89″"272
Patricia Swanson, Arvada, Colo. 84-94-95″"273
Karen Leuschel, Broomfield, Colo. 94-95-93″"282
Julie Krueger, Castle Pines, Colo. 88-96-101″"285
Karin Hathaway, Denver, Colo. 99-95-92″"286
Janine Lowe, Littleton, Colo. 95-93-101″"289
Juliet Miner, Castle Rock, Colo. 94-99-97″"290
Linda Schippers, Aurora, Colorado 98-104-105″"307
Connie Norkoli, Aurora, Colo. 115-100-110″"325
NET SCORES
First Flight
Maddie Kern, Westminster, Colo. 75-79-76″"230
Arielle Keating, Colorado Springs, Colo. 80-74-78″"232
Holly Schaefer, Greenwood Village, Colo. 80-73-80″"233
Kaylee Knadler, Phoenix, Ariz. 79-85-73″"237
Danielle Price, Wakatipu, Colo. 75-82-81″"238
Megan Vernon, Conifer, Colorado 77-79-82″"238
Delaney Benson, Littleton, Colo. 83-82-83″"248
Sydney Gillespie, Highlands Ranch, Colo. 87-83-78″"248
Jamie Zook, Colorado Springs, Colo. 81-85-85″"251
Kelsey Webster, Boulder, Colo. 85-86-84″"255
Jaylee Tait, Littleton, Colo. 84-89-WD""WD
Second Flight
Alexis Chan, Highlands Ranch, Colo. 77-72-75″"224
Tiffany Maurycy, Denver, Colo. 81-74-74″"229
Mariah Ehrman, Westminster, Colorado 84-68-80″"232
Kelly Martin, Evergreen, Colo. 84-78-77″"239
Madison McCambridge, Boulder, Colo. 81-74-84″"239
Joanna Ringsby, Denver, Colo. 84-80-78″"242
Kelly Rahn, Dacono, Colo. 77-80-87″"244
Katherine Moore-Lilly, Longboat Key, Fla. 85-85-78″"248
Kathy Malpass, Evergreen, Colo. 88-79-88″"255
Third Flight
Sue Hartwell, Arvada, Colo. 77-68-77″"222
Haejeong Son, Centennial, Colorado 73-79-75″"227
Roxanne Witmer, Pueblo West, Colo. 71-78-78″"227
Carla Stearns, Aurora, Colo. 73-77-83″"233
Laurie Steenrod, Aurora, Colo. 76-80-78″"234
Katty Rothberg, Denver, Colo. 76-76-83″"235
Tess Mitchell, Littleton, Colo. 86-76-75″"237
Jennifer Hocking, Colorado Springs, Colo. 81-78-81″"240
Louise Lyle, Colorado Springs, Colo. 78-80-82″"240
LeAnna Rosenow, Arvada, Colo. 84-81-76″"241
Nancy Werkmeister, Wheat Ridge, Colo. 81-87-85″"253
Maureen Wood, Lafayette, Colo. 98-89-99″"286
Dee Baker, Florissant, Colo. 83-WD
Fourth Flight
Jean Miller, Arvada, Colo. 71-76-75″"222
Julie Krueger, Castle Pines, Colo. 68-76-81″"225
Alison O"™Connor, Windsor, Colo. 72-82-72″"226
Sheila Schroeder, Englewood, Colo. 75-75-78″"228
Karen Leuschel, Broomfield, Colo. 77-78-76″"231
Patricia Swanson, Arvada, Colo. 70-80-81″"231
Patty Smogor, Centennial, Colo. 84-73-76″"233
Janine Lowe, Littleton, Colo. 78-76-84″"238
Karin Hathaway, Denver, Colo. 84-80-77″"241
Juliet Miner, Castle Rock, Colo. 78-83-81″"242
Linda Schippers, Aurora, Colorado 77-83-84″"244
Connie Norkoli, Aurora, Colo. 93-78-88″"259