David Delich has won the CGA Senior Match Play title before, but it wasn't that experience he drew upon during Friday's championship match in the same event.
Instead, what was on his mind was the 2008 final, when he was 2 up with five holes left, then bogeyed four of the last five and lost 1 down to Ken Sady.
That experience, painful as it was, helped Delich keep the pressure on for a 4 and 2 championship match victory at The Heritage at Westmoor over Scott Sullivan of Bookcliff Country Club.
"It kind of sticks in your craw when you do (what Delich did against Sady)," the Broadmoor Golf Club member said after defeating Sullivan. "When you get this far into the field, the chances don't happen all the time. So once you get three or four matches in, you better put your game face on. I was very ready to play today.
"I was committed to get it done. I felt awful about letting the last one go. So that was in my mind today. I knew I was 2, 3, 4 up on the back and I didn't want to give him a window (of opportunity)."
Delich, a former member of the U.S. national hockey team, earned his third CGA title overall, following victories in the 1997 Mid-Amateur and the 2007 Senior Match Play.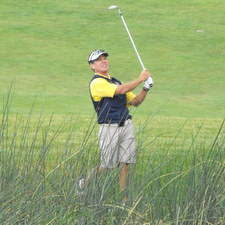 Delich, who won the first hole Friday when Sullivan got in trouble off the tee and made double bogey, didn't lose a hole in the championship match until No. 15, where he missed a 3-foot par putt. With Sullivan then 3 down and needing to also win the next three holes to avoid losing the match, he sent two approach shots into the water on the par-4 16th after Delich had put his ball 30 feet below the hole. Sullivan (pictured at left on No. 16) then conceded the hole and the match.
"I was on a severe downslope (in the rough), so I tried to take a higher-lofted club and I just didn't catch it," said the long-hitting Sullivan, a U.S. Senior Open contestant last year. "It was an all-or-nothing shot and I needed one at that point."
Delich was methodical in the title match. In the few times he did miss greens in regulation, he was within a few yards of the putting surface and on the closely-mowed grass. From holes six through 11, he drained three birdie putts, and Sullivan was never able to get it going on the greens. It's little wonder, then, that Delich had the honors on each tee from 1 through 15.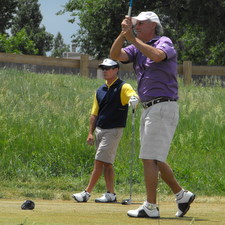 "I got up on him right away and was able to keep that (lead) all day and that was huge because he's a very dangerous, very good player," Delich said.
However it happened, Delich is just happy to get some redemption after what occurred in the 2008 final.
"After letting that (potential win) go, you like to get that second one to validate that the first one wasn't a fluke," said 54-year-old who works in commercial real estate. "So that was pretty important."
As for Sullivan, an owner of restaurants who was competing in the CGA Senior Match Play for the first time, he just wishes he could have gotten the flat stick working.
"I'm just disappointed I didn't putt a little better, but that's golf," the 53-year-old said.
Delich also experienced some problems on the greens this week, but he tried to expunge his woes on Thursday by sending his putter to a watery grave after his 25-hole quarterfinal victory.
"So there's a brand-new putter at the bottom of the pond if anyone is interested," he noted. Though Delich didn't putt great with his new wand of choice on Friday, he said it was an improvement.
A day after playing a total of 43 holes in his round-of-16 and quarterfinal matches, Delich had two comparatively easy matches on Friday. Before defeating Sullivan, he beat Hal Marshall of Bear Creek Golf Club 6 and 4 in the semifinals. Sullivan made it to the final after ousting 2004 champion Scott Radcliffe of Rolling Hills Country Club in 19 holes in the semis.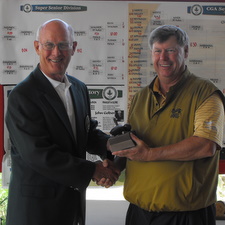 In the super-senior final for players 60 and older, 65-year-old David Farabaugh of the Broadlands Golf Course (pictured at right in accompanying photo) defeated Jeffrey Wagner of Fox Hollow Golf Course 1 up for the championship. It was the second super-senior match play title for Farabaugh, who was also runner-up in 2009 and 2010.
CGA Senior Match Play
At The Heritage at Westmoor in Westminster
(Seeding in Parenthesis)
SEMIFINALS
David Delich, Broadmoor GC (21) def. Hal Marshall, Bear Creek GC (9), 6 and 4
Scott Sullivan, Bookcliff CC (14) def. Scott Radcliffe, Rolling Hills CC (7), 19 holes
FINAL
David Delich, Broadmoor GC (21) def. Scott Sullivan, Bookcliff CC (14), 4 and 2
SUPER SENIOR FINAL
David Farabaugh, Broadlands GC (4) def. Jeffrey Wagner, Fox Hollow GC (15), 1 up
CLICK FOR SUPER-SENIOR MATCH PLAY TREE