Scott Radcliffe had come too far, and gone through too much, to be denied Thursday at the CGA Senior Stroke Play Championship.
Just to get into the event at Cherry Creek Country Club, Radcliffe had to survive a qualifying tournament. Then, after holding a one-stroke lead after Tuesday, a four-stroke lead after Wednesday, and a five-stroke advantage after 15 holes on Thursday, things unexpectedly got a little dicey.
Radcliffe let three shots of his lead slip away in the next two holes, meaning he was two ahead going into the 18th, a formidable par-4 with water guarding the green. But, seemingly determined to close the deal in style, Radcliffe flew his approach shot over the lake and straight at the pin, which was in one of the more precarious positions on the green.
The ball stopped just 10 feet short of the flag, and Radcliffe finished like a champion by holing the birdie putt. That not only earned him his second CGA individual title — he also won the 2004 Senior Match Play — but it made him the only player in the field to complete 54 holes with a sub-par total.
"I got under the gun, withstood some pressure and brought it home," Radcliffe said. "That's gratifying."
"It was a thrill to finish that way. On the 18th hole it's always fun to hit a good shot in there and close it out for victory. I was happy to do that."
In posting the wire-to-wire win, Radcliffe held off his good friend of nearly a half-century, Sean Forey of Bear Creek Golf Club, who placed second.
Radcliffe, a 58-year-old business consultant, ended up winning by three after a final-round 75 in windy conditions left him at 1-under-par 215 overall. Despite a triple bogey on the 13th hole, Forey posted the low round Thursday, a 1-under 71, to earn runner-up honors a week after being low amateur in the HealthOne Colorado Senior Open.
Jerry Kidney of Overland Golf Course, who went into the final hole two strokes behind Radcliffe, shot a 75 Thursday to place third at 219, while five-time champion John Olive of the Broadmoor Golf Club (77-221) was fourth.
Kidney, 62, won the super-senior division for players 60 and older.
Kidney thought he had a shot at the overall title "right until the end, until Scott hit his (second) shot on 18. On this golf course anything can happen. But he hit an awesome shot. He deserved it for sure."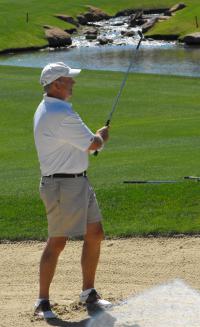 Radcliffe (pictured at left and above) never led by fewer than two strokes on Thursday, and he was six ahead with nine holes remaining and five up after a 6-foot birdie on the 15th hole. But a two-shot swing on the 16th — where Kidney made birdie and Radcliffe a bogey — and a bogey by Radcliffe on No. 17 left him just two ahead of Kidney and Forey going into the 18th.
But as Forey was completing his round, Kidney pulled his tee shot into a fairway bunker on the final hole. Radcliffe, on the right side of the fairway off the tee, hit his approach first and virtually ended the suspense with his sterling iron shot. Kidney ended up three-putting for bogey while Radcliffe made his birdie.
"I was very concerned after seeing the lead dwindle to two," said Radcliffe, whose golf accomplishments include competing in five USGA championships. "What helped was when they (Kidney and Olive) both hit their drives on the last hole into the sand trap. That freed me up a little bit because I knew birdie was going to be very hard (for them). My concern at that point was making sure I didn't go into the water. I took some extra club and played a nice shot."
Forey may have lost his chance at the title with a first-round 78. He stood out the last two days with scores of 69-71, but couldn't dig himself completely out of the hole.
"Two of the three rounds were good, but I just blew so bad the first day," he said. "And Scott is a really good player. We grew up playing golf together, and he beats me all the time."
Radcliffe and Forey teamed up to win the CGA Senior Four-Ball title in 2003.
Despite not winning on Thursday, Forey kept himself "in the thick of thing" for CGA Senior Player of the Year honors. He was a semifinalist in the Senior Match Play, was low amateur in the Colorado Senior Open and placed second in the Senior Stroke Play. A good showing in Monday's U.S. Senior Amateur qualifying could put him over the top.
"Taking second didn't get me there yet, but I'm right in there," he said. "It'll depend on who does good at the Senior Amateur qualifying."
CGA Senior Stroke Play Championship Results
At Par-72 Cherry Creek CC in Denver
Scott Radcliffe, Rolling Hills CC, 70-70-75–215
Sean Forey, Bear Creek GC, 78-69-71–218
Jerry Kidney, Overland Park GC, 72-72-75–219
John Olive, Broadmoor GC, 71-73-77–221
Harry Johnson, Eagle Ranch GC, 74-77-73–224
Hal Marshall, Bear Creek GC, 74-73-77–224
Robin Bradbury, Legacy Ridge GC, 75-74-76–225
Dave R Brown, Highlands Ranch GC, 75-73-77–225
Kelly Crone, Highlands Ranch GC, 75-74-76–225
Bruce Hogg, Colorado Springs CC, 71-79-75–225
Glynn Hopkins, Pinery CC, 72-79-75–226
Ray Makloski, Pueblo CC, 72-79-76–227
David Delich, Broadmoor GC, 78-72-78–228
Thomas Roos, Plum Creek G & CC, 78-77-74–229
Pat Bowe, CommonGround GC, 77-75-78–230
Rick George, Castle Pines GC, 74-80-77–231
Guy Mertz, Fox Hill CC, 76-74-81–231
Reed Myer, Denver CC, 83-75-73–231
Butch Boucher, Haymaker GC, 75-73-83–231
Gary Albrecht, CommonGround GC, 77-77-78–232
Steve Bell, Denver CC, 76-79-77–232
Mark Franz, Saddle Rock GC, 75-76-81–232
Bob Chandler, CommonGround GC, 75-80-78–233
Robert Polk, Colorado GC, 80-77-76–233
Carl Juengst, Meridian GC, 74-82-78–234
Charlie Post, Colorado GC, 78-77-79–234
Jim Reynolds, Bear Creek GC, 76-79-79–234
Brian Mooney, Colorado National GC, 77-81-78–236
Kent Moore, Cherry Hills CC, 77-78-81–236
Dave J Brown, RMGCSA GL, 78-80-79–237
Keith Masters, Meadow Hills GC, 80-74-83–237
Jim Marsico, Castle Pines GC, 77-82-79–238
Rod Walters, Westwoods GC, 75-79-85–239
David Snow, Saddle Rock GC, 82-79-78–239
Steve Summers, Broadmoor GC, 78-83-79–240
Bill Boyd, Highland Hills GC, 77-78-86–241
Bill Burns, Hillcrest GC, 79-82-80–241
Ed Noordewier, Breckenridge GC, 80-81-81–242
Terry Lorenz, Pinehurst CC, 81-77-85–243
Charlie Ogren, Collindale GC, 77-82-87–246
Doug Jones, Tiara Rado GC, 79-82-86–247
Roger Gunderson, CommonGround GC, 75-85-WD