Just when it seemed like the CGA Stroke Play Championship would be hard-pressed to top what happened in last year's tournament, it may have done just that.
A summer after Steve Ziegler completed the first Match Play/Stroke Play CGA title sweep since 1985, Wyndham Clark and Jim Knous added another stellar chapter to a tournament that dates back to 1937.
How's this for a 1-2 punch? At the age of 16 years and 8 months, Clark became the youngest winner of the CGA Stroke Play since 1971, when Boulder's Bob Byman claimed the title before he was 16½. But Clark's feat happened only after Knous bettered the Boulder Country Club course record by two strokes in firing a 10-under-par 60.
Adding to the storylines was Knous coming from 10 strokes behind going into Sunday to force a playoff with Clark, who ended the day on a fitting note, draining a 30-foot birdie putt on the second extra hole to claim the title.
Winning a major state championship at 16 "is a huge accomplishment for me," Clark said. "It's probably my greatest win, my greatest accomplishment. I haven't won anything as big as this, so it means a lot."
And so does shooting a 60 at BCC after no one had managed anything better than 62 in the course's 4½ decades of existence at its current site. Trey Maples fired a 62 in the 1992 CGA Stroke Play at BCC, and Hale Irwin, BCC director of golf Kevin Bolles and former assistant professional Mark Trauner carded 62s in non-tournament rounds.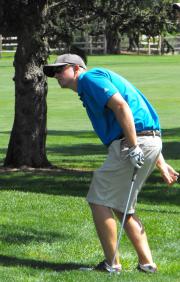 Before Sunday, Knous (pictured at left) had never shot better than 66 in his life, but he chipped in twice and carded an eagle and eight birdies at BCC.
"I went out and practiced my putting (Saturday after round 3) and kind of joked around with my dad, saying, "Wouldn't it be funny if I shot 61 or so," Knous said. "Then I come out and just make a lot of putts today."
"It's incredible. I've never even dreamed of setting a course record before and going this low. Ten under — you see that on the TV. But when it's clicking, all those putts just seem to go in. The hole was as big as a basket. I'll be thinking about this for a while. I was a great round."
Clark closed with an even-par 70 on Sunday, which left him tied with Knous at 7-under 273. Joshua Mathis of Colorado Springs Country Club, who held at least a share of the lead after each of the first three rounds, three-putted the fourth and fifth holes and posted a 72 on Sunday to place third at 275. Mike Schoolcraft, a teammate of Clark on the 4A state-champion high school team from Valor Christian, finished fourth at 278 after going 69-67 on the weekend.
Clark's victory was his second in a CGA championship, following his 2009 Junior Stroke Play title. It also capped a big week for the high school junior-to-be, who qualified for his first U.S. Amateur on Tuesday.
"Right now I just want to go celebrate everything that's happened (this week)," said the golfer from Cherry Hills Country Club. "It's come so quick. I came into this on a high, then this is an even bigger high."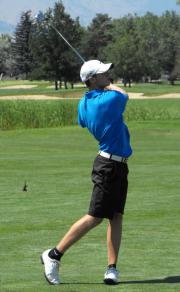 But the Stroke Play title almost eluded the 2009 4A state high school champion. Clark (pictured at left) thought he was cruising to victory as he walked up his final hole of regulation, but after he plugged his second shot in a greenside bunker on the par-4 18th, his dad informed him that someone had shot 60. Randall Clark had withheld the information from Wyndham for a couple of holes, which didn't make his son happy.
"I was a little frustrated that he didn't tell me," Wyndham said. "I wish he would have told me on 17 or (earlier on) 18 just so I knew I had to play extra conservative or take some risks. On 18 I would have made sure I hit the green and been a little more focused."
In fact, when his dad told him about the 60, Wyndham wasn't sure if the elder Clark was playing mind games just to keep him grinding to the end. But Randall Clark was telling the truth.
Clark could have avoided a playoff by getting up and down for par from the bunker on 18, but with the bad lie, he failed to get his ball out of the sand. And after his next shot rolled 7 feet past the flag, Clark needed to sink a side-hill bogey putt to force sudden death.
Knous lipped out a 20-foot birdie attempt on the first playoff hole, but both players posted pars. On the second extra hole, the 18th, Knous pulled his tee shot into the trees. After Clark hit his approach 30 feet left of the flag, Knous punched out to the fairway, then left his third shot 30 feet above the hole. Knous just missed his par attempt, then Clark clinched the victory by holing his birdie putt.
"I guess I finished in style," said Clark, who placed third in the Stroke Play last year after leading with nine holes remaining.
With his victory Sunday, Clark added to his already-impressive golf resume. In his career, he's won two American Junior Golf Association tournaments, a 4A state high school individual championship and the CGA Junior Stroke Play title. He's also advanced to the round of 16 at the U.S. Junior Amateur, placed third in the Junior PGA Championship and in the Callaway Junior World Golf Championships, and is ranked among the top 20 junior players in the nation.
Wyndham "has a great game," said Steve Irwin, who finished fifth after being paired with Clark on the weekend. "He drives the ball almost better than anyone I've seen in a while. He's a good player. He's got some maturing to do, but he's well ahead of 16 years old. That's for sure." If Clark's career would continue on the same trajectory as Byman's did at a young age, that would be quite an accomplishment. While Byman was still at Fairview High School, he won the 1972 U.S. Junior Amateur and qualified for the 1972 U.S. Open. In college, he was a key player in Wake Forest winning two NCAA titles. And in 1979, Byman won an event on the PGA Tour.
CGA Stroke Play Championship Results
At Par-70 Boulder CC
x-indicates won on second hole of playoff
x-Wyndham Clark, Cherry Hills CC, 70-67-66-70–273
Jim Knous, GC at Ironbridge, 73-71-69-60–273
Joshua Mathis, Colorado Springs CC, 65-68-70-72–275
Mike Schoolcraft, Cherry Hills CC, 72-70-69-67–278
Steve Irwin, Lakewood CC, 68-69-69-73–279
Cody Kent, Plum Creek G & CC, 71-69-72-67–279
Matt Schovee, Cherry Hills CC, 69-72-69-69–279
Jon Lindstrom, Heritage at Westmoor, 69-70-70-71–280
Steve Ziegler, Ranch CC, 72-68-72-69–281
Rob Clever, Saddleback GC, 69-73-70-70–282
Keenan Holt, Hillcrest GC, 71-70-71-71–283
Mark Hubbard, Pinehurst CC, 70-73-69-71–283
David Schroeder, Broadmoor GC, 68-75-71-69–283
Scott Mendelsohn, Highlands Ranch GC, 74-67-74-68–283
Zahkai Brown, Indian Tree GC, 69-72-72-72–285
Derek Fribbs, Plum Creek G & CC, 72-76-68-69–285
Branson Real, Wray CC, 72-72-73-68–285
Zach Zaremba, Desert Hawk GC, 73-74-69-69–285
Nicholas Allen, Raccoon Creek GC, 69-77-70-69–285
David Holtgrewe, Cherry Hills CC, 74-72-70-69–285
Danny Hahn, CommonGround GC, 71-73-71-71–286
Justin Spray, CC of Colorado, 72-75-69-70–286
Alex Buecking, Columbine CC, 71-72-71-73–287
Jonathan Park, CommonGround GC, 77-67-68-75–287
Danny Riskam, Meridian GC, 69-69-78-71–287
Sean Thomas, Indian Tree GC, 71-73-73-70–287
Taylor Stamp, Broadmoor GC, 73-72-73-72–290
Bryan Kruse, Heritage at Westmoor, 73-70-76-71–290
Sebastian Heisele, Colorado National GC, 73-71-75-73–292
Tad Willenbrock, Glenmoor CC, 71-74-74-73–292
Devin Schreiner, Hillcrest GC, 71-74-78-70–293
Ryan Boshoven, Plum Creek G & CC, 75-70-71-77–293
Kaleb Mahanes, Fox Hill CC, 73-75-72-73–293
Michael Tilghman, Castle Pines GC, 70-72-79-72–293
Kory Harrell, Eisenhower GC, 72-75-73-74–294
Bobby McCracken, Fossil Trace GC, 73-74-73-74–294
David Delich, Broadmoor GC, 72-76-74-73–295
Adam Joiner, Aspen Glen Club, 74-74-74-73–295
Mike Larson, Boulder CC, 76-70-79-74–299
Mike Schroetlin, Loveland GC, 70-78-80-76–304
Troy Sidabras, Collindale GC, 71-72-78-WD

Go to full CGA Stroke Play Results

Go to CGA Stroke Play Results Archive