There's a definite trend developing for Colorado Golf Association championships this summer. Very talented Colorado golfers who have gone winless in major CGA tournaments finally score a breakthrough victory, only to say the occasion probably marked the end of their CGA careers.
It happened two weeks ago for Riley Arp, who went out with a victory in the CGA Public Links Championship. And Gunner Wiebe of Cherry Hills Country Club followed suit on Friday with a win in the 110th CGA Match Play at CommonGround Golf Course in Aurora.
"To come out and win it with this (probably) being the last CGA tournament I play in as an amateur means a lot since I've never won one before," said Wiebe, who noted there's a very good chance he'll be a professional at this time next year after one more golf season at the University of San Diego. "I feel like every good player who has gone through Colorado has at least won a Match Play or a Junior Match Play. I feel like I've been a pretty good player in Colorado. This kind of solidifies my place in good golf in Colorado, I think."
With a hand from his caddie/dad — Mark Wiebe, a two-time winner on both the PGA Tour and the Champions Tour — Gunner rallied to record a 2-and-1 victory over University of Denver golfer Klinton Krieger Friday in the 36-hole Match Play final. The 21-year-old Wiebe was 3 down during the morning round, but after four-putting the 19th hole, he played the final 16 holes in 7 under par to overtake his friend and fellow college senior-to-be. Wiebe (pictured above with Mark) didn't take his first lead in the match until after the 31st hole.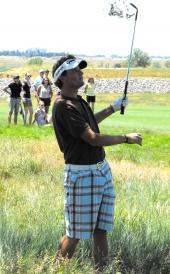 Despite his strong play in the afternoon, Wiebe pointed to a highly unusual occurrence — at least for a CGA Match Play final — as the key to his win. On the par-4 15th in the morning, he won the hole despite making a triple bogey. It was part of a three-hole stretch in which Wiebe completely erased a 3-down deficit.
For Wiebe, the triple bogey was the result of hooking his tee shot into a deep bunker, hitting the face of the hill in front of the bunker, topping his third, his fourth coming up short, a chunked chip not making it over the false front on the green, a second chip staying on the putting surface, then rolling in a 12-footer for 7.
The only thing that made it bearable for Wiebe was that misery loves company. Krieger skulled his third shot — from a greenside bunker — into the deep native grass, barely made it into the mowed grass with his fourth, saw his fifth trickle over the false front, then failed to get up and down. Add it up and it's a snowman.
"It was two explosions," Mark Wiebe said. "One bomb went off in the middle of the fairway and one bomb went off at the green. It was the weirdest thing I've ever seen."
Added Gunner: "It was just terrible, terrible golf, but it was saved by one shot I guess. To win with a 7, I've never even seen anything like that. But as silly as it sounds, it was nice to see that putt (for triple bogey) go in, because we kind of forgot what we were playing for."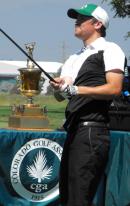 Krieger (pictured at left), whose father Ken won the CGA Match Play title in 1977, eventually rebounded and held a 2-up lead through 22 holes. But after a birdie by Wiebe on the 23rd hole, neither player was more than 1 up again until Wiebe closed out the match. Krieger, playing in his first CGA Match Play final, bogeyed three of the last five holes to allow Wiebe to gain the upper hand for good. Wiebe finished things with a two-putt par on the 35th hole, where Krieger made bogey.
"I was in a good position, being up most of the day," said Krieger, who finished 2 under par for 35 holes Friday, compared to 4 under for Wiebe. "It was never a big enough lead to be in command and put a lot of pressure on him, but I was in a really good spot the whole day."
In the end, though, Wiebe prevailed, continuing his stellar play of the last year. Since the middle of last summer, he's qualified for the U.S. Amateur, earned a spot in the San Diego PGA Tour stop, won two college tournaments (including his conference championship), finished 25th in the NCAA Finals, and won the CGA Match Play.
"He's finally playing golf like he's been capable of playing," Mark Wiebe said of his son. "He's had a nice go of it. He's really building his game. But you have to learn. There are no shortcuts. He's learned that he has to work hard. This didn't come easy. He's worked his butt off. And it's always nice when you work so hard to see some payoff."
"I think this (win) means a ton. This is his first major championship in Colorado. It's not just a junior golf tournament. It's a major event."
With Friday's victory, Wiebe puts his name on the CGA Match Play trophy alongside those of U.S. Open champions Hale Irwin and Steve Jones, as well as longtime PGA Tour players Brandt Jobe and Kevin Stadler.
"I've started to take my game to a better level," Gunner said. "Now I feel like I have a chance to win regardless of whether I have my best stuff or not."
After playing in next week's Trans-Miss at Denver Country Club, then the HealthOne Colorado Open, Gunner will repay his dad by caddying for him at the U.S. Senior Open near Seattle. Then he'll head to summer school at the University of San Diego, which is why he won't be playing in the CGA Stroke Play Championship next month.
The year-old CommonGround course, owned and operated by the CGA and the CWGA, was hosting its first CGA championship. The CWGA Match Play tournament will be held at CommonGround Aug. 2-5.
View Final Match Hole-by-Hole
Final Match Play Tree