When Thursday's round began, two players in the final groups could say they've won the CWGA Stroke Play Championship more than once. But by the time the competition ended, those two had company.
Melissa Martin of Bookcliff Country Club in Grand Junction played her final 11 holes in 2 under par at Lakewood Country Club on Thursday to become the first back-to-back CWGA Stroke Play champion since Nicki Cutler in 2000 and 2001.
At 20 years old, Martin joined fellow competitors Janet Moore of Greenwood Village and Kim Eaton of Greeley as multiple-time winners of the event. Moore has captured the Stroke Play title five times — including four in a row in the mid-'90s — and Eaton four times, including back-to-back in 1978-79.
Winning the event each of the last two years "is very exciting," said Martin, who plays golf for Colorado State University. "It was in the back of my mind on the first three holes, and I can tell you I played those first three holes terrible (2 over par). It was really in my mind because it was reachable, I thought. But I had to push (those thoughts) out of there."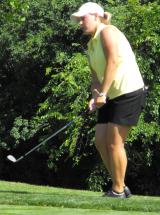 Ironically, Martin's victory came at the expense of Colorado Golf Hall of Famers Eaton and Moore, who both were in the running to add to their victory totals. Eaton, the CWGA Player of the Year and Senior Player of the Year in 2009, led by as many as four strokes on Thursday but played the back nine in 46 in the final round and finished fourth. Moore, who used to call Lakewood Country Club her home course, didn't seriously challenge for the title on Thursday but tied for second with former state high school champion Brooke Collins of Louisville.
Martin shot a 1-over-par 76 in the final round to finish at 4-over 229 on a formidable layout. Moore (76 Thursday) and Collins (75) ended up five strokes behind. Eaton, who struggled to an 84 after posting 76-75 in the first two rounds, came in at 235.
Martin's title defense was almost over before it started as she forgot to register for the tournament until just before the deadline. That would have been a major mistake because this victory could prove to be a nice kick-start for Martin after a tough spring semester on the course for CSU.
"I think these (CWGA Stroke Play titles) are the biggest things I've ever won, and they're a good test of your character and your golf game," she said.
That proved particularly true at Lakewood, with its tight fairways and small greens.
"This course, if you hit one bad shot it can get you hesitant for the rest of the round," said Eaton, the executive director of the Colorado Golf Hall of Fame.
Eaton experienced that first-hand on the back nine Thursday. Despite two birdies by Martin to close out the front nine, Eaton still made the turn with a two-stroke lead. In the first 45 holes of the tournament, she had just one hole where she posted worse than a bogey.
But, in the course of one hole — the par-3 10th, which features a green that slopes severely from left to right — Eaton went from leading by two to trailing by one. Her tee shot missed left, leaving her in one of the most difficult positions with the pin tucked left. She left two pitches short of the green, then chipped on and two-putted for a triple bogey.
"I just quit on the (tee) shot, and that kind of did me in," Eaton said. "But there were a few other shots that did me in too."
Eaton regained a share of the lead on the 11th hole when Martin made bogey, but going over the green on Nos. 13 and 14 translated into bogey and double bogey for the 50-year-old. She also bogeyed the 15th and 17th holes to end her hopes for victory. In the course of 10 holes (8-17), Eaton had dropped 10 strokes to Martin.
"I just couldn't get anything going," Eaton said. "I kind of felt like Dustin Johnson today." Johnson led the U.S. Open going into the final round, but shot 82 on Sunday.
"I was kind of surprised and I felt bad for her because she's a great golfer," Martin said of Eaton. "I just tried to take advantage of that, however. You're playing hard and trying to play against the course."
CWGA Stroke Play Championship Scores
At Par-75 Lakewood CC
Championship Flight Melissa Martin, Bookcliff CC, 80-73-76–229
Janet Moore, Cherry Hills CC,78-80-76–234
Brooke Collins, Omni Interlocken Resort, 80-79-75–234
Kim Eaton, Riverdale GC, 76-75-84–235
Sarah Faller, Highlands Ranch GC, 80-76-85–241
Anna Christenson, Highlands Ranch GC, 79-82-82–243
Lynette Duran, Foothills GC, 84-79-81–244
Paige Crawford, Patty Jewett GC, 81-85-80–246
Dana Zamprelli, Red Hawk Ridge GC, 89-82-76–247
Jamie Befort, Heritage at Westmoor GC, 82-86-82–250
Chance Forbes, Hiwan GC, 88-80-82–250
Kathleen Kershisnik, Columbine CC, 83-86-85–254
Amy Hodgkinson, Twin Peaks GC, 84-84-86–254
Tracy Saracino, Kennedy GC, 82-82-91–255
Molly Dorans, Eagle Trace GC, 88-82-91–261

VIEW COMPLETE RESULTS