The last time Guy Mertz had won an individual CGA championship, Ronald Reagan was still President.
Yes, it had been that long.
But, after a close call last year left him even hungrier for a title, the Fox Hill Country Club member finally ended the victory drought on Friday at Heritage Todd Creek in Thornton.
The 51-year-old dentist from Longmont gained the upper hand on the first hole of the championship match and kept building his lead from there, eventually defeating Chuck Fisher of the Riverdale Golf Courses 4 and 3.
Now Mertz owns bookend trophies from the CGA, with this one going near the hardware he received for winning the 1988 Public Links Championship. For the record, Mertz also helped Fox Hill capture the CGA Club Team Championship in 2000.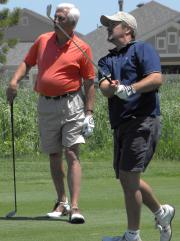 To put into perspective how long it was between individual CGA titles for Mertz, his 20-year-old son Nicklaus, who caddied for his dad this week, wasn't even born when Guy won in '88. Neither was Guy's 19-year-old daughter.
"I told my son it's been 22 years between state championships," said Mertz, who qualified for the 1990 U.S. Amateur and three U.S. Publinks. "I kind of gave up competitive golf until I became a senior player (last year). I played a lot of golf, but not tournament golf. Now that I turned 50, that was what I was really looking forward to, starting last year."
A year ago, in his first CGA senior championship, Mertz came ever so close to starting with a bang. He advanced to the finals of the CGA Senior Match Play and held a 1-up lead with three holes to play over one of the top over-50 competitors in the state, Robert Polk of Colorado Golf Club. But Polk won the match 1 up when Mertz bogeyed the 16th and 18th holes.
"I've thought about that match almost every day (since) — and how I lost it to Robert at the end," Mertz said. "I've replayed the last three holes in my head a hundred times. So this year I came here wanting to win this more than any other tournament I'm playing in. And now, to get (the victory) this year, it takes the sting out of last year and makes it that much better."
Mertz won three of the first five holes against Fisher and never let him get back into the match. And with son Nicklaus giving assistance, Mertz closed things out with a routine par on the 15th hole while Fisher made bogey after going into a greenside bunker.
Fisher, a 59-year-old from Westminster, was the player who prevented a rematch of last year's final. He pulled off an upset in Friday morning's semifinals, defeating Polk, who swept the CGA Senior Match Play and Senior Stroke Play championships in 2009. Fisher prevailed 2 up by winning two of the last four holes, including No. 18 with an eagle. Mertz, meanwhile, won the last two holes of his semifinal — likewise with an eagle on 18 — to overcome Sean Forey of Bear Creek Golf Club 1 up.
But while Mertz was even par over the 15 holes of the afternoon final, Fisher couldn't replicate the form he displayed in the win over Polk, going 4 over par overall against Mertz.
"I just played bad this afternoon," said Fisher, who was making his first appearance in the Senior Match Play finals. "I got off to a bad start, then Guy made about a 40-foot putt on 7 that put me 3 down."
Even though the 1988 Publinks was a very big win for Mertz, he puts this Senior Match Play title right up there with it in terms of significance.
"I think what makes it even sweeter is it occurred after what happened last year," Mertz said. "I had been thinking about it a lot since last year. I wanted to get my name on that trophy, and now that I have, nobody can take that away."
And even though it was so long between individual CGA championships for Mertz, he already has his sights set on the CGA Senior Stroke Play that will be contested in September at Cherry Creek Country Club.
"Robert (Polk) got the double (winning both senior events) last year; I'm the only one that can get the double this year," Mertz said.
In Friday's final of the super-senior division for players 60 and older, W. Patrick Mooney of Colorado Golf Club claimed the title with a 1-up victory over David Farabaugh of The Ranch Country Club.
CGA Senior Match Play Championship Results
At Par-72 Heritage Todd Creek in Thornton
Semifinals
Chuck Fisher, Riverdale GC (28) def. Robert Polk, Colorado GC (1), 2 up
Guy Mertz, Fox Hill CC (10) def. Sean Forey, Bear Creek GC (14), 1 up
Championship Match
Guy Mertz, Fox Hill CC (10) def. Chuck Fisher, Riverdale GC (28), 4 and 3
Super-Senior Championship Match
W. Patrick Mooney, Colorado GC (4) def. David Farabaugh, Ranch CC (3), 1 up
CLICK FOR SUPER SENIOR MATCH PLAY TREE