Ed Mate, executive director of the CGA, said he was amazed Tom Gempel could stand up after what he'd been through — playing 80 holes of competitive golf in the course of 32 hours.
But on a day when the lead switched hands six times, the 36-hole CGA Match Play Championship final was a dizzying situation for everyone involved at Bear Creek Golf Club, including players, caddies, rules officials and spectators.
So it seemed only appropriate that just when things appeared settled, they became unsettled in a hurry.
Steve Ziegler of Broomfield was the beneficiary of the last switch in momentum as he won the last three holes of the match for a 1-up victory and his first CGA championship.
"I was absolutely pumped" despite being 2 down to Gempel with three holes left, said Ziegler, a 20-year-old junior-to-be at Stanford. "I was on the ropes."
But Ziegler turned out to be the last man standing as Gempel apparently ran out of gas and finished double bogey-bogey-bogey. The recent University of Colorado graduate missed a 2-foot par putt — his second of the final 18 holes — on the 36th hole to end the match.
"It was unfortunate that it ended like that," said Gempel, a 22-year-old who plays out of the Pinery Country Club. "I was pretty tired and hungry at the end. I hope (the outcome) didn't have anything to do with that, but it may have. I was nervous all week, but I think it got the best of me at the end."
Gempel, who hasn't been regular contender for significant golf titles, had been holding up remarkably well until the final three holes. With pinpoint accuracy with his irons, he played the previous 12 holes in 7 under par and had seven birdie opportunities of 8 feet or less during that stretch.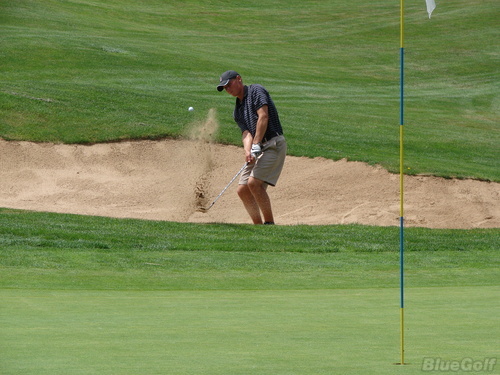 Gempel hit his 6-iron approach over the peninsula green and into the water on the par-4 16th, losing the hole to Ziegler's bogey. "I'm still a little mystified by that; I thought I hit a great shot," Gempel said. "I was juiced up, I guess — a lot of adrenaline."
Then he three-putted on the par-3 17th, missing a 5-footer for par. And on the par-4 18th, after Ziegler had opened the door by missing a 4-foot birdie attempt, Gempel failed to extend the match by making a relatively simple 2-footer for par.
"I missed a bunch of short putts all week, and it finally caught up with me," Gempel said.
Ziegler won the last three holes by going bogey-par-par.
"I was surprised he finished the way he did," Ziegler said of Gempel. "But this whole week I was trying a new match play philosophy. I was playing the course and old man par. It made all the difference this week. I was just forgetting about what my opponent did."
Gempel tried to be philosophical about what happened down the stretch.
"I'm pretty disappointed," he said. "But I played about as well as I've played in a long time. I've come a long way in the last month. I was once this close to quitting golf. So I'm proud of the way I played."
Ziegler was pushed for the first time all week. In his first five matches at Bear Creek, the player from The Ranch Country Club was 18 under par and his closest match was 4 and 3. On Friday, he played his first nine holes in 5-over-par 41, but was 2 under for his final nine. That included a 78-yard hole-out for an eagle on the par-4 10th hole that squared the match. And though Gempel rebounded to regain the momentum with birdie putts of 1 foot, 8 feet and 8 feet in the middle of the back nine, Ziegler prevailed in the end.
For Ziegler it was another in a long list of impressive accomplishments in the last several years. He's won two state high school titles, claimed his first college victory, was one of eight American college players selected for the prestigious Palmer Cup team and made the round of 16 at last month's British Amateur. And now he"˜s the 2009 CGA Match Play champion.
Winning a CGA title for the first time "is huge," Ziegler said. "It's been a giant monkey on my back. I've played in (CGA) events since I was a kid, and they're difficult to win. It's a huge accomplishment. I'd put it up there alongside my state (high school) wins and my first college win."
Ziegler joins a list of CGA Match Play champions that includes Hale Irwin, Steve Jones, Brandt Jobe and Kevin Stadler.

VIEW MATCH PLAY TREE
VIEW PHOTO GALLERY