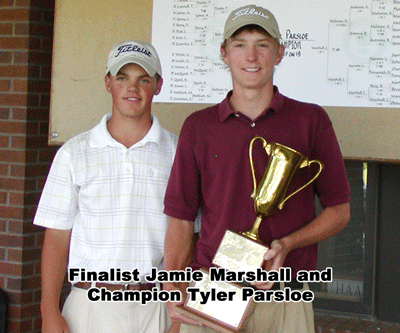 Defending champion and 2005 CGA Junior Player of the Year, Tyler Parsloe (The Meadows GC), defeated Jamie Marshall (CC at Castle Pines) on the first playoff hole to win his second consecutive CGA Junior Match Play title at Bear Creek Golf Club. In doing so Parsloe joined Davis Love (father of PGA Tour pro Davis Love III) and Tom Glissmeyer as only the third player to have won consecutive titles since the inaugural championship in 1951 (Love in 1953-1954, Glissmeyer 2002-2003). Parsloe, a sixteen year old junior at ThunderRidge HS, will be age-eligible to compete in 2007 and attempt to become the first player to win three times.
The match was very tightly contested, with neither plaver ever leading by more than one hole. Marshall won the first hole, and held his 1-up lead until Parsloe made consecutive birdies on #6 and #7 to take a 1-up lead. Marshall quickly got the match back to all square on #8, and regained the lead with a birdie on #11. Parsloe answered with a birdie on #12 to even the match up, only to lose the next hole. Marshall held his lead until Parloe birdied #15 to even the match. On the par-3 17th, Marshall made a two-putt par from 85 feet, and Parloe missed his par putt putting Marshall 1-up going into #18. Both players were on the green in two, but this time Marshall missed his par putt coming back, and Parloe drained a gutsy 6-foot par putt to force the playoff. One the first playoff hole, Parloe made par, and Marshall's par attempt slid just past the hole making Parloe the champion.
Parsloe had earned his place in the final match by defeating Gunner Wiebe (Cherry Hills CC) 3 and 2 in the morning semifinals in a match that was a repeat of last year's final match. Marshall defeated Kaleb Mahanes (Fox Hill CC) by the same score to advance to the final round.
In the First Flight, Bryan Hackenberg (Riverdale GC) won the title in a strong final match against Branden Barron (South Suburban Family SC). Both players were under par when Hackenberg closed Barron out on #16 for a 3 and 2 victory.
CHAMPIONSHIP SEMIFINALS (AM)
Tyler Parsloe, The Meadows GC, def. Adam Gunner Wiebe, Cherry Hills CC, 3 and 2
Jamie Marshall, The CC at Castle Pines, def. Kaleb Mahanes, Fox Hill CC, 3 and 2
CHAMPIONSHIP FINAL MATCH (PM)
Tyler Parsloe, The Meadows GC, def. Jamie Marshall, The CC at Castle Pines, 19 holes
FIRST FLIGHT SEMIFINALS (AM)
Branden Barron, South Suburban Family SC, def. Matthew Stratton, Valley CC, 1 up
Bryan Hackenberg, Riverdale GC, def. Garret Smith, CC of Colorado, 5 and 3
FIRST FLIGHT FINAL MATCH (PM)
Bryan Hackenberg, Riverdale GC, def. Branden Barron, South Suburban Family SC, 3 and 2

VIEW CHAMPIONSHIP MATCH PLAY BRACKET
VIEW FIRST FLIGHT MATCH PLAY BRACKET