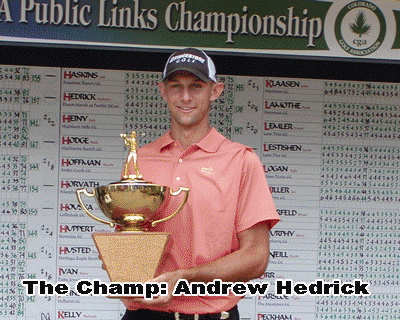 Denver "" CSU Pueblo player Andrew Hedrick (Desert Hawk at Pueblo West) eagled the first playoff hole to win the CGA Public Links Championship at The Courses at Hyland Hills – Gold Course. Hedrick shot 67 in the final round tying him for the title at 205 (-11) with Brian Richmeier (Meadow Hills GC), who had fired a seven-under 65 in the final round. On the first playoff hole (#1, 561-yard par-5) Richmeier was just right of the green in two, and was able to get up and down for birdie "" but it wasn't enough. Hedrick, who had placed his tee shot in the #2 hole's fairway on a more direct line to the first green, hit an approach shot that rimmed into, then back out of the hole and came to rest a foot away. After Richmeier made his birdie putt, Hedrick tapped in his eagle to win his first CGA championship.
1999 champion and Colorado Golf Hall of Fame inductee Rick DeWitt (West Woods GC) fired a 69 in the final round for a total of 206 to take third place. Michael Baird (Red Hawk Ridge GC) shot 72 in the final round to finish in a fourth place tie at 207 with CU's Derek Tolan (South Suburban Family SC), who turned in a six-under 66 on the final day. Defending champion CSU player Zen Brown (Indian Tree GC) shot a final round 73 for a 208 total and a sixth place finish.
The field was cut after round 2 at 149 to the low 40 plus ties for the final round on Sunday.
FINAL RESULTS
Andrew Hedrick, Desert Hawk at Pueblo West, 73-65-67″"205 (Playoff)
Brian Richmeier, Meadow Hills GC, 72-68-65–205
Rick Dewitt, West Woods GC, 69-68-69–206
Michael Baird, Red Hawk Ridge GC, 68-67-72–207
Derek Tolan, South Suburban Family SC, 71-70-66–207
Zen Brown, Indian Tree GC, 68-67-73–208
Jim Grady, Omni Interlocken, 69-74-69–212
Zachary Zaremba, Walking Stick GC, 71-69-73–213
Steve Murphy, Canterberry GC, 75-67-72–214
Matt Strong, Wellshire GC, 71-71-72–214
Jacob Lestishen, Lone Tree GC, 74-68-72–214
Tyler Parsloe, The Meadows GC, 76-68-71–215
Scott Lamothe, Inverness GC, 73-67-75–215
Henry Bissell, Wellshire GC, 72-70-73–215
Charles Soule, Ute Creek GC, 72-71-72–215
Patrick Grady, Omni Interlocken , 72-76-68–216
Patrick Arellano, Kennedy GC, 71-75-70–216
Andrew Dannewitz, Meadow Hills GC, 69-73-74–216
Miles Philpy, Spreading Antlers GC, 77-72-68–217
Derek O'Neill, Lone Tree GC, 78-67-72–217
Mark Franz, Saddle Rock GC, 70-74-74–218
Kyle Logan, Indian Peaks GC, 70-75-73–218
Chris Carlson, Highlands Ranch GC, 74-71-73–218
Riley Andrews, Links Golf Course, 76-71-73–220
Matthew Brunk, Pelican Lakes G & CC, 71-75-74–220
Bob Heiny, Highland Hills GC, 73-74-73–220
Sean Crowley, Mira Vista GC, 72-74-75–221
Jeff Haskins, Keystone Ranch GC, 73-72-76–221
Rick Ewing, Desert Hawk at Pueblo West, 71-71-80–222
Joe Boeckenstedt, The Courses at Hyland Hills, 75-74-74–223
Dan Silva, South Suburban GC, 73-72-78–223
Bryan Hackenberg, Riverdale GC, 72-70-81–223
Brian Morfeld, Flatirons GC, 75-71-77–223
Steve Breitzka, Mira Vista GC, 74-74-76–224
Sean Gouran, Eagle Trace GC, 73-71-80–224
Ryan D'Onofrio, Indian Tree GC, 76-73-75–224
Josh Berrelez, Boomerang Links, 71-76-77–224
David Hoffman, Antler Creek GC, 68-76-80–224
Chase Watkins, Collindale GC, 71-75-79–225
Ty Capps, Highlands Ranch Golf Course, 74-75-77–226
Brad Bryant, The Meadows GC, 72-77-78–227
Martin Prazak, Meadow Hills GC, 74-75-83–232
Erik Utterback, Omni Interlocken, 75-74-DQ–DQ
MISSED CUT
Chet Wilmes, Aurora Hills GC, 74-76–150
Steve Ivan, Patty Jewett GC, 77-74–151
Nick Hodge, Highlands Ranch GC, 74-77–151
Michael Wolf, Murphy Creek GC, 76-75″"151
Dean Clapp, Meadow Hills GC, 77-74–151
Bill Boyd, Highland Hills Golf Course, 78-73–151
Shane Houska, Collindale GC, 75-77–152
Logan Wacker, Omni Intelocken, 82-70–152
Gabe Orr, Wray CC, 76-76–152
David Lemler, Lone Tree GC, 76-76–152
Bob Chandler, Fossil Trace GC, 74-78–152
Richard Kelly, Fox Hollow GC, 79-74–153
Ryan Husted, Heritage Eagle Bend G & CC, 75-79–154
Jeff Wyatt, Meadow Hills GC, 78-76–154
Dale Chavez, South Suburban GC, 79-75–154
Chuck Schmidt, The Heritage at Westmoor, 80-74–154
Brady Garr, West Woods GC, 77-77–154
Justin Edmonds, Kennedy GC, 72-83–155
Michael Ryan, Raccoon Creek Golf Course, 78-78–156
Mark Volk Jr., Lone Tree Golf Club & Hotel, 78-78–156
Jimmy Spierings, Highlands Ranch GC, 80-76–156
Bob Schuler, Fox Hollow GC, 77-79–156
Matthew Huppert, Kennedy Golf Course, 81-76–157
John Klaasen, Meridian GC, 77-80–157
Gary Elder, Foothills GC, 81-76–157
Bradley Broughton, Cherokee Ridge GC, 76-81–157
Alex Peckham, Meridian GC, 79-78–157
Austin Blake, Fort Morgan GC, 78-80–158
Pat Bowe, The Courses at Hyland Hills, 81-78–159
Michael Glaesel, Indian Tree GC, 79-80–159
John A. Scott, Pine Creek GC, 79-80–159
Brandon Donahue, Sumo Golf Village , 81-82–163
John Scott, City Park GC, 84-80–164
Patrick Horvath, Murphy Creek GC, 87-79–166
Mark Spenner, The Courses at Hyland Hills, 83-83–166
Matt Reinick, Thorncreek GC, 80-87–167
Jeff Johnson, Hollydot GC, 84-83–167
Chris Fowler, Mountain Vista Greens GC, 86-81–167
Joe Miller, Wellshire GC, 85-85–170
Adam Pladson, Mira Vista GC, 88-86–174
Kristoffer Hall, Riverdale Golf Club, 84-DQ–DQ
VIEW COMPLETE LEADERBOARD AND SCORECARDS