2003 CGA Senior Stroke Play champion Kelly Crone (Deer Creek at Meadow Ranch GC) defeated four-time champion John Olive (Broadmoor GC) 2 up in the final match to win his first CGA Senior Match Play Championship. Crone became only the eighth player to win both the CGA Senior Match Play and the CGA Senior Stroke Play, joining an elite group that includes H.B Bolas, Les Fowler, Larry Eaton, Chuck Goudey, John Golden, Roger Gunderson, and, of course, John Olive. "Winning the Senior Match Play is great," said Crone afterwards, " and doing it against John Olive makes it even more special."
The match itself was hard fought. Crone opened up a 2 up lead with birdies on the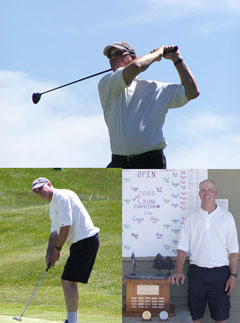 first two holes, the Olive's birdie on #6 closed the gap to one. On the par-3 eighth hole, Crone put his tee shot in the tall, thick native area, then blasted a short shot out of it to the rough beside the green. He then holed the chip to save par and halve the hole. Olive then made his move with birdies on #9 and #10 to take a 1 up lead. Crone answered with a birdie on the par-5 11th to even the match, then reclaimed the lead on the par-5 13th when Olive made bogey. The match remained 1 up through hole 17. On the par-4 18th, with Crone's tee shot safely in the fairway, Olive hit his tee shot into the right side water hazard giving Crone the victory 2 up.
Earlier in the day, Crone defeated 1996 champion Grant Maples, Jr. (Meridian GC) in 19 holes to earn his place in the finals. Olive made the final match by defeating 2004 finalist Charlie Post (Plum Creek CC) 2 and 1 in the semifinals.
In the Super Senior Division, 2004 CGA Super Senior Stroke Play champion Mark Barleau (Lakota Canyon GC) earned his second straight super senior title in convincing fashion, defeating defending champion Dan Dicker (Fossil Trace GC) 6 and 4 in the final match.
Championship Division Round of 64
Sean Forey, Bear Creek Golf Club def. Scott Radcliffe, Rolling Hills Country Club–1 up
Steve Bell, Denver Country Club def. Lloyd Price, Legacy Ridge Golf Course–3 and 2
Kelly Crone, Deer Creek GC at Meadow Ranch def. Richard Barg, Aurora Hills GC–2 and 1
Patrick Almdale, Hyland Hills def. Gary Guilford, Meridian Golf Club–1 up
Ronald Knapp, Pinery Country Club def. Chris Thomas, Pinehurst Country Club–6 and 5
Jim Bristow, Meadow Hills Golf Course def. Gene Scroth, Breckenridge GC–2 up
Brady Hendren, Cherry Creek CCb def. Steve Stewart, Ridge at Castle Pines–4 and 3
Pat Mooney, Meridian Golf Club def. Tom Kundinger, Denver Country Club–3 and 2
Grant Maples Jr., Meridian Golf Club def. David Gross, Flatirons Golf Course–1 up
Robert Cloud, Wellshire Golf Course def. Tom Coates, South Suburban Golf Course–4 and 2
Ron Perry, Willis Case Golf Course def. Richard Thorstad, Mira Vista Golf Course–1 up
Steve Boswell, Mira Vista Golf Course def. Tom Lawrence, Lakewood Country Club–1 up
Jerry Kidney, Overland Golf Course def. Bradley Smith, Ptarmigan Golf & Country Club–19 holes
Dave Fankell, Red Rocks Country Club def. Jim Lemar, Deer Creek GC at Meadow Ranch–19 holes
Harry King, City Park Golf Course def. Vance Adler, Country Club at Castle Pines–19 holes
Danny Wyrick, Fox Hollow Golf Course def. David Brown, Highlands Ranch Golf Club–20 holes
Charlie Post, Plum Creek Golf & Country Club def. Tom Gorton, Dalton Ranch Golf Club–6 and 5
Steve Heany, Meridian Golf Club def. John Wakentin, Inverness Hotel & Golf Club–4 and 3
Ted Warner, Greeley Country Club def. Bob Harris, Willis Case GC–1 up
Scott Crone, Pinehurst CC def. John Sostmann, Columbine Country Club–1 up
Stan Smazal, Cherry Hills Country Club def. Doug Jones, Tiara Rado Golf Course–2 and 1
Don Berthiaume, Highlands Ranch Golf Club def. Charlie Ogren, Collindale GC–3 and 2
John Boyles, Pinery Country Club def. Juan Blanco, The Olde Course at Loveland–1 up
James Marsico, Cherry Creek Country Club def. Richard Ronning, Lakewood CC–4 and 2
Bill Boyd, Highland Hills Golf Course def. David Merritt, Meridian Golf Club–5 and 4
John Callahan, Lone Tree Golf Club def. Bill Stevens, Meridian Golf Club–3 and 1
Rick George, Castle Pines Golf Club def. Mark Achziger, Greeley Country Club–3 and 2
Art Cudworth, Pinehurst Country Club def. Kirk Miller, Estes Park Golf Course–5 and 4
John Olive, Broadmoor Golf Club def. Jim Pierce, Pinery Country Club–1 up
Greg Mokler, Collindale Golf Course def. Rich Trout, Rolling Hills Country Club–2 and 1
Bob Sherrill, Columbine Country Club def. Scott Peterson, Denver Country Club–4 and 3
Stephen Barlow, Cherry Hills Country Club def. Jack Manzi, Bear Creek Golf Club–20 holes
Championship Round of 32
Steve Bell, Denver Country Club def. Sean Forey, Bear Creek Golf Club–4 and 3
Kelly Crone, Deer Creek Golf Club at Meadow Ranch def. Patrick Almdale, Hyland Hills–1 up
Ronald Knapp, Pinery Country Club def. Jim Bristow, Meadow Hills Golf Course–21 holes
Brady Hendren, Cherry Creek Country Club def. Pat Mooney, Meridian Golf Club–1 up
Grant Maples Jr., Meridian Golf Club def. Robert Cloud, Wellshire Golf Course–5 and 3
Steve Boswell, Mira Vista Golf Course def. Ron Perry, Willis Case Golf Course–2 and 1
Jerry Kidney, Overland Golf Course def. Dave Fankell, Red Rocks Country Club–5 and 4
Harry King, City Park Golf Course def. Danny Wyrick, Fox Hollow Golf Course–6 and 5
Charlie Post, Plum Creek Golf & Country Club def. Steve Heany, Meridian Golf Club–2 and 1
Ted Warner, Greeley Country Club def. Scott Crone, Pinehurst CC–2 and 1
Stan Smazal, Cherry Hills Country Club def. Don Berthiaume, Highlands Ranch Golf Club–4 and 2
John Boyles, Pinery Country Club def. James Marsico, Cherry Creek Country Club–2 and 1
John Callahan, Lone Tree Golf Club def. Bill Boyd, Highland Hills Golf Course–2 and 1
Art Cudworth, Pinehurst Country Club def. Rick George, Castle Pines Golf Club–4 and 3
John Olive, Broadmoor Golf Club def. Greg Mokler, Collindale Golf Course–2 and 1
Stephen Barlow, Cherry Hills Country Club def. Bob Sherrill, Columbine Country Club–2 and 1
Championship Round of 16 (AM)
Kelly Crone, Deer Creek Golf Club at Meadow Ranch def. Steve Bell, Denver Country Club–3 and 2
Brady Hendren, Cherry Creek Country Club def. Ronald Knapp, Pinery Country Club –2 up
Grant Maples Jr., Meridian Golf Club def. Steve Boswell, Mira Vista Golf Course –5 and 4
Jerry Kidney, Overland Golf Course def. Harry King, City Park Golf Course–5 and 4
Charlie Post, Plum Creek Golf & Country Club def. Ted Warner, Greeley Country Club–1 up
John Boyles, Pinery Country Club def. Stan Smazal, Cherry Hills Country Club–2 and 1
John Callahan, Lone Tree Golf Club def. Art Cudworth, Pinehurst Country Club–20 holes
John Olive, Broadmoor Golf Club def. Stephen Barlow, Cherry Hills Country Club–5 and 4
Championship Quarterfinal Round (PM)
Kelly Crone, Deer Creek Golf Club at Meadow Ranch def. Brady Hendren, Cherry Creek CC""19 holes
Grant Maples Jr., Meridian Golf Club def. Jerry Kidney, Overland Golf Course""1 up
Charlie Post, Plum Creek Golf & Country Club def. John Boyles, Pinery Country Club""5 and 4
John Olive, Broadmoor Golf Club def. John Callahan, Lone Tree Golf Club""4 and 3
Championship Semifinal Round (AM)
Kelly Crone, Deer Creek Golf Club at Meadow Ranch def. Grant Maples Jr., Meridian GC""19 holes
John Olive, Broadmoor Golf Club def. Charlie Post, Plum Creek Golf & Country Club""2 and 1
Championship Final Match (PM)
Kelly Crone, Deer Creek Golf Club at Meadow Ranch def. John Olive, Broadmoor Golf Club""2 up
Super Senior Division Round of 16
Dan Dicker, Fossil Trace Golf Club def. Bob Campiglia, Glenwood Springs Golf Club–4 and 3
Donovan Quam, Meridian Golf Club def. Larry Pate, Fox Hollow Golf Course–20 holes
Dick Schmaltz, Walking Stick Golf Course def. Rocky Zuendel, Country Club of Colorado–3 and 2
Bert Welz, Raccoon Creek Golf Course def. John Ball, Broadmoor Golf Club–2 and 1
Mark Barlau, Lakota Canyon Ranch Golf Club def. Joe Morrill, Cordillera –4 and 3
Larry Hayes, Hyland Hills def. Jim Collins, Country Club at Castle Pines–2 and 1
Bill Holmes, Boulder Country Club def. Bruce Kaldenberg, Red Hawk Ridge Golf Course–3 and 2
Michael Carlon, Fossil Trace Golf Club def. Dick Sage, Ridge at Castle Pines North The–19 holes
Super Senior Division Quarterfinal Round
Dan Dicker, Fossil Trace Golf Club def. Donovan Quam, Meridian Golf Club–1 up
Bert Welz, Raccoon Creek Golf Course def. Dick Schmaltz, Walking Stick Golf Course–2 and 1
Mark Barlau, Lakota Canyon Ranch Golf Club def. Larry Hayes, Hyland Hills–1 up
Bill Holmes, Boulder Country Club def. Michael Carlon, Fossil Trace Golf Club–19 holes
Super Senior Division (60 and older) Semifinal Round
Dan Dicker, Fossil Trace Golf Club def. Bert Welz, Raccoon Creek Golf Course""19 holes
Mark Barlau, Lakota Canyon Ranch Golf Club def. Bill Holmes, Boulder Country Club""19 holes
Super Senior Division (60 and older) Final Match
Mark Barlau, Lakota Canyon Ranch Golf Club def. Dan Dicker, Fossil Trace Golf Club""6 and 4