It took Pat Mooney (pictured) of Meridian Golf Club 19 holes to defeat Jim Brown of Fox Hill Country Club in the final match of the CGA Senior Match Play Championship at Los Verdes Golf Club in Denver. But he could have ended it on the par-three 17th. Mooney had just won 16 to go 1 up in the match when he stuck his tee shot on 17 just 12 feet from the flagstick. However, he was unable to convert, and tied the hole. Brown then birdied the par-five 18th to even the match and send it to a playoff. On the first playoff hole, Mooney tapped in for par, and Brown was left with a 6-foot par putt. When Brown's putt came to rest just inches from the hole, Mooney claimed his first CGA Senior Match Play title.
"Winning the State Amateur Senior Match is the greatest accomplishment of my golf career," said Mooney, who is a two-time US Mid-Amateur Championship qualifier. "I really wanted to win it on 17 with a birdie, but just winning it is awesome. It was a great match.
Mooney earned his place in the final match by defeating Charlie Post of Plum Creek Golf & Country Club 2 and 1 earlier in the day. Brown's 1 up victory over Jerry Kidney of Overland Park Golf Course in the semifinal round placed him in the final match against Mooney.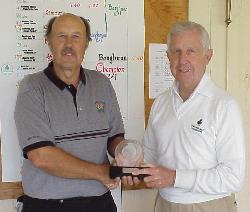 Don Baughman (pictured with CGA Governor Les Fowler on right) of Tiara Rado Golf Course defeated Dick Johnson of Aurora Hills Golf Course 2 and 1 to claim the title in the Super Senior Division.
Round of 32, Championship Division
Richard Oh, Meridian GC def. Kirk Miller, Estes Park GC, 3 and 1
Gene Schroth, Breckenridge GC def. Doug Jones, Tiara Rado GC, 5 and 4
Ron Knapp, Pinery CC def. David Gross, Flatirons GC, 2 and 1
Patrick Mooney, Meridian GC def. Bert Welz, Columbine CC, 4 and 3
Charlie Post, Plum Creek CC def. James Grubbs, Canterberry GC, 3 and 2
Willie Kellum, Los Verdes GC def. Greg Mokler, Fort Collins CC, 19 holes
Russell Hatfield, Pagosa Springs GC def. Mark Achziger, Greeley CC, 2 and 1
Mike Christie, Saddle Rock GC def. Dave Roylance, Saddle Rock GC, 1 up
Gary Cowan, Broadmoor GC def. Jim Voigt, Inverness GC, 3 and 2
Jim Bristow, Meadow Hills GC def. Jim Pierce, Pinery CC, 2 and 1
Dave Richardson, Fox Hill CC def. Tom Gorton, Hillcrest GC, 4 and 3
Jim Brown, Fox Hill CC def. Harry King, Denver City Park GC, 2 and 1
Aaron Babl, Twin Peaks GC def. Bob Campiglia, Glenwood Springs GC, 2 and 1
Jerry Kidney, Overland Park GC def. Dick O'Donnell, Los Verdes GC, 6 and 4
John Olive, Broadmoor GC def. Roger Gunderson, Meadow Hills GC, 3 and 2
Murl Hendrickson, Sunset GC def. Dale Carnegie, Los Verdes CC, 2 and 1
Results of Round of 16, Championship Division (a.m.)
Richard Oh, Meridian GC def. Gene Schroth, Breckenridge GC, 2 and 1
Patrick Mooney, Meridian GC def. Ron Knapp, Pinery CC, 4 and 3
Charlie Post, Plum Creek CC def. Willie Kellum, Los Verdes GC, Concede
Russell Hatfield, Pagosa Springs GC def. Mike Christie, Saddle Rock GC, 2 and 1
Jim Bristow, Meadow Hills GC def. Gary Cowan, Broadmoor GC, 2 and 1
Jim Brown, Fox Hill CC def. Dave Richardson, Fox Hill CC, 24 holes
Jerry Kidney, Overland Park GC def. Aaron Babl, Twin Peaks GC, 3 and 2
John Olive, Broadmoor GC def. Murl Hendrickson, Sunset GC, 3 and 2
Results of Quarterfinal Round, Championship Division (p.m.)
Patrick Mooney, Meridian GC def. Richard Oh, Meridian GC, 1 UP
Charlie Post, Plum Creek CC def. Russell Hatfield, Pagosa Springs GC, 2 and 1
Jim Brown, Fox Hill CC, def. Jim Bristow, Meadow Hills GC, 1 UP
Jerry Kidney, Overland Park GC def. John Olive, Broadmoor GC, 1 UP
Semifinal Round, Championship Division (a.m.)
Patrick Mooney, Meridian GC def. Charlie Post, Plum Creek CC, 2 and 1
Jim Brown, Fox Hill CC, def. Jerry Kidney, Overland Park GC, 1 UP
Final Round, Championship Division (p.m.)
Patrick Mooney, Meridian GC def. Jim Brown, Fox Hill CC, 19 holes
Round of 16, Super Senior Flight
Ed Coover, Fox Hill CC def. Dick Schmaltz, Walking Stick GC, 6 and 4
Warren Simmons, CC at Castle Pines def. Bill Claycomb, Lincoln Park GC, 5 and 4
Don Baughman, Tiara Rado GC def. David Askin, Fox Hollow GC, 4 and 3
Larry Voris, Fox Hill CC def. Ray Best, Aurora Hills GC, 4 and 2
Phill Word, Pinehurst CC def. Michael Link, Foothills GC, 5 and 4
Chuck Goudey, Collindale GC def. John Hignett, Applewood GC, 4 and 2
Dick Johnson, Aurora Hills GC def. Paul Buchanan, Montrose GC, 3 and 2
Quarterfinal Round, Super Senior Flight
Tim Dewell of Springs Ranch GC, def. Ed Coover, Fox Hill CC, 2 UP
Don Baughman, Tiara Rado GC, def. Warren Simmons, CC at Castle Pines 2 and 1
Phill Word, Pinehurst CC, def. Larry Voris, Fox Hill CC, 4 and 3
Dick Johnson, Aurora Hills GC def. Chuck Goudey, Collindale GC, 19 holes
Results Semifinal Round, Super Senior Flight
Don Baughman, Tiara Rado GC, def. Tim Dewell of Springs Ranch GC, 2 and 1
Dick Johnson, Aurora Hills GC def. Phill Word, Pinehurst CC, 19 holes
Final Round, Super Senior Flight
Don Baughman, Tiara Rado GC, def. Dick Johnson, Aurora Hills GC, 2 and 1