Far Exceeding Expectations
Reid withstands challenges from 2 former champs to capture his first CGA title at Mid-Amateur
by Gary Baines - 9/30/2018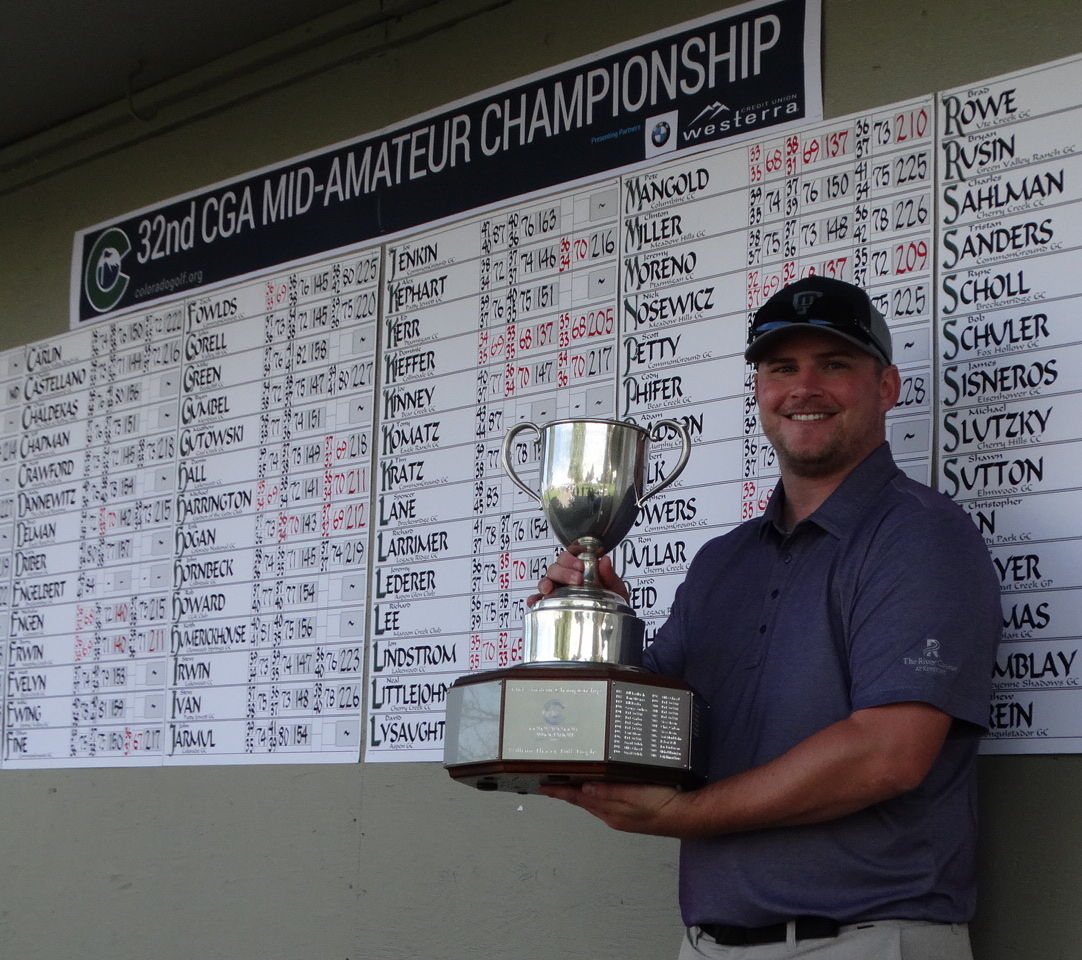 Jared Reid had modest goals going into the 32nd CGA Mid-Amateur Championship this weekend at CommonGround Golf Course in Aurora.

"This week, honestly, my goal was to make the cut and be top 30 -- just so I didn't have to qualify again for next year's (Mid-Am)," the 28-year-old from Legacy Ridge Golf Course said.

To say that the Denver resident exceeded expectations -- his own and those of others -- at the Mid-Am would be an understatement of monumental proportions.

Not only did Reid finish in the top 30 on Sunday, but he won the state title in the tournament limited to players 25 and older. And not only did he win, but he did so while going head to head in the final group with two players who have won five CGA Mid-Ams between them -- two-time champ Chris Thayer of Walnut Creek Golf Preserve and three-time winner Jon Lindstrom of Lakewood Country Club.

"Teeing off with those two and they're announcing all the times they've won the championship and runner-ups and everything like that," noted Reid (pictured above and below). "I'm like, 'Geez, how am I going to do this today? Hopefully I get out of their way most of the time.'"

Certainly no need to worry about that, as it turned out. And, on top of all that, Reid became just the third player in the history of the championship to finish double digits under par, joining four-time champ Keith Humerickhouse (11 under in 2012) and seven-
time winner Rick DeWitt (10 under in 2000).

The victory was the first by Reid in a CGA championship. In fact, he's only competed in three -- two Mid-Ams and the CGA Four-Ball -- since moving from Michigan about five years ago.

"This is definitely, definitely" the biggest thing he's done in golf, he said. "I never won any events in college -- just maybe some best balls back home in the Upper Peninsula of Michigan. This is definitely the biggest individual accomplishment I've ever had. I couldn't imagine what the week was going to end up like."

Reid completed a wire-to-wire performance on Sunday by finishing with a 10-under-par 203 total at CommonGround. He avoided a playoff when Thayer, the defending champion, saw his 9-foot birdie putt on the 18th hole slip just to the right of the cup.

Reid, who played college golf at Northern Michigan University, closed with a 1-under-par 70 on Sunday -- the same score as playing partners Thayer and Lindstrom.

After he was tied for the lead with Thayer through nine holes on Sunday, Reid took the lead for good when he sank a 15-foot birdie putt on No. 10. Then he two-putted the par-5 11th for another birdie, giving him three birdies in four holes. And Thayer didn't help his cause when he slightly pulled his 6-iron second shot and it went into the water on 11, though he did save par on the relatively easy par-5, where the stroke average on Sunday was 4.36.

But Reid's most impressive shot came on the 495-yard, par-4 15th hole, where a massive drive left him with just 140 yards for his approach shot. He hit a gap wedge to 1 foot for birdie to go two ahead.

Reid then two-putted from 65 feet for par on 16, but bogeyed 17 after going into the greenside bunker on the par-3, leaving him with a one-stroke lead going into the par-5 18th. There, he was right of the green in two and pitched over a bunker complex to 25 feet, two-putting for par.


That gave Thayer (left) a chance to force a playoff, but the 38-year-old couldn't sink his 9-footer for birdie.

In the last five CGA Mid-Amateurs, Thayer has now finished first, second, second, first and second. He's posted six straight sub-par rounds in this event, dating back to last year.

"I was happy with the way I hung in there," Thayer said. "I hit the ball really well, but I missed a 7-footer on 9, a 5-footer on 13 and a 9-footer (on 18). There were a lot of putts like that.

"But Jared played great. He played smart and hit good shots under pressure. He rips it and he hit it really straight all day. With that type of clubhead speed, you could be just a little bit off and they could go a bunch of different directions.

"But this is definitely a bomber's course. I'm not a bomber, but I'm in the top 20 percent of the field in terms of distance. But these guys that hit it 30 yards by me, it's an edge for sure."
Lindstrom (below) will second Thayer's praise of Reid's performance this week.

"It's awesome. The guy hits it a mile," Lindstrom said. "I had a couple of really good drives and he was 70 yards ahead of me. It's tough to compete."
Reid fully acknowledges the difference his driver can make. He wasn't hitting it well on the front nine on Sunday, but on the back side, it returned to form and he was smacking it long and straight down the stretch.

"My game kind of lives and dies by my driver," he said. After struggling off the tee in the first half of the round, "the driver was kind of working (starting on the back nine) and I didn't miss a fairway through the rest of the day, which kept my momentum going. I
started feeling good on the tee and I could swing as hard as I could and the ball was going right where I was looking for. I springboarded off that.

"When I'm hitting gap wedge into some of the par-4s and they're hitting 7- through 5-irons, that's definitely an advantage."

Really, it was with nine holes left that Reid had the confidence to feel he could win the title.

"Honestly I've only won probably two or three tournaments, even in high school," he said. "That's what the most uncomfortable feeling was: Could I finish this off?

"But (after 45 holes) I thought, 'I might as well just do it since you've come all this way."

Lindstrom, who's won the title in 2008, '15 and '16, finished third for the second straight year, sharing that spot this time at 205 with with former Colorado State University golfer Dominic Kieffer of Collindale Golf Course, who closed with a 68.

At age 51, Lindstrom was the first winner of the Super Mid-Amateur Division for players 40 and older. He was six strokes better than Super Mid-Am runner-up Michael Harrington of Garden of the Gods Club, who likewise posted a 70 on Sunday.

"I'm glad they have the old-man flight now," Lindstrom said with a smile. "It feels great (to be the first Super Mid-Am champ). I was telling (CGA executive director Ed Mate) they should get us a sponsor like Joint-Ritis or Depends. How about the Depends Super-Senior Mid-Am Flight?"

For all the scores from the CGA Mid-Amateur, CLICK HERE.