Sealing the Deal
No near-miss this time for Forey, who wins CGA Super-Senior Stroke Play; Donnellan claims 72-and-over title
by Gary Baines - 8/23/2018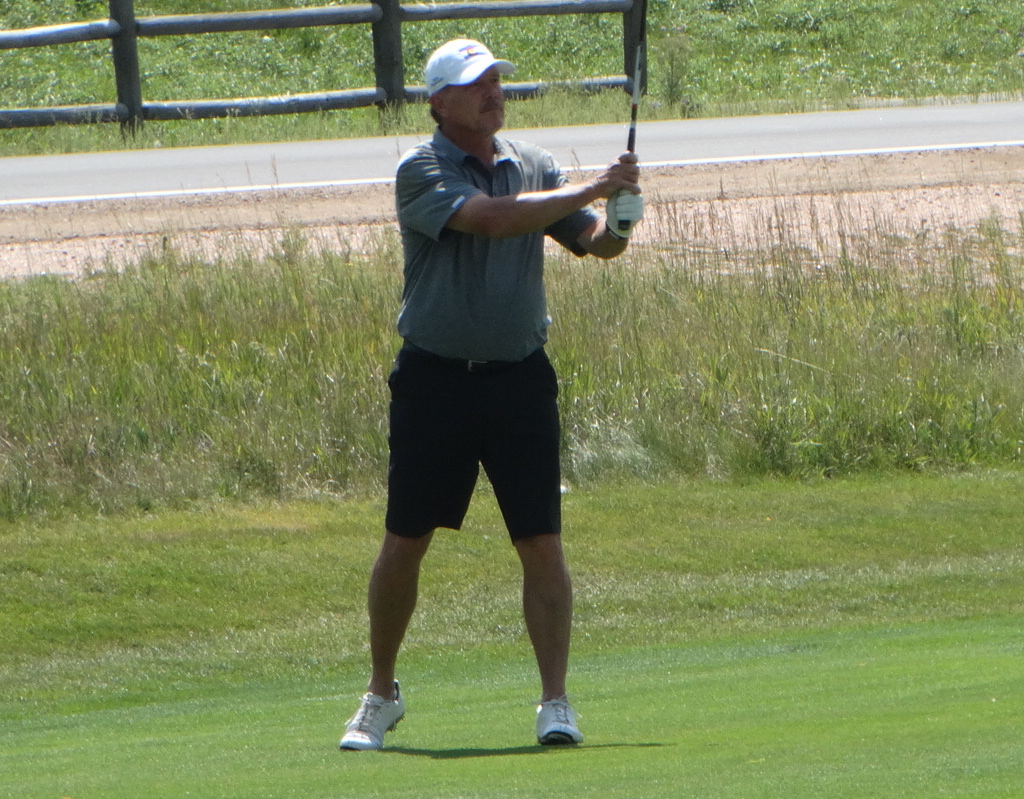 Since Sean Forey started competing in the CGA Super-Senior Stroke Play in 2013, he'd pretty much run the gamut of top-five finishes, with one notable exception.

The golfer from The Club at Rolling Hills was second in 2016, third in 2014 (one shot out of a playoff), fourth in 2013 and fifth last year.

And as for that one exception, he cleared that from the books on Thursday at Perry Park Country Club in Larkspur.

The 65-year-old led wire-to-wire in this week's 36-hole championship, eventually winning by four shots.

"I've been so close so many times, so it's nice to win this," he said. "As you get a little older, you think your chances go down a little bit. But I've been there in the hunt in just about every one of these. So it does make it sweeter to get it done."

Forey (pictured above and below) shot the low score each day -- a 1-over-par 73 on Wednesday and a 74 in windy conditions on Thursday -- to post a 3-over 147 total in the tournament for players 62 and older.


Forey, the CGA Senior Player of the Year in 2010 and a two-low amateur in the Colorado Senior Open, made two birdies and four bogeys on Thursday and was never seriously threatened down the stretch.

Rick George of Castle Pines Golf Club, a one-time runner-up in the CGA Mid-Amateur, lost some ground with a double-bogey 7 on the fourth hole, but made two birdies, shot 77 and finished second at 151.

"(Sean) got ahead by three or four shots. It was never really close," the 66-year-old George said. "Sean played good. Hats off to him."

As for his runnerup showing, George noted, "I've been working on my game and been seeing some progress. I'm pleased. You always look back on what you didn't do, but I'm pleased. It's something to build on."

Three former champions were next on the leaderboard. Kary Kaltenbacher of Glenmoor Country Club, the Super-Senior Stroke Play winner in 2014, recorded consecutive 76s and checked in third at 152. Gary Albrecht of CommonGround Golf Course, the defending champ, and 2015 winner Robert Polk of Colorado Golf Club shared fourth place at 154, likewise after 76s on Thursday.

In the end, Forey's putting might have made the difference. A member at Rolling Hills, which features some of the toughest greens in the state, Forey three-putted just twice in 36 holes at Perry Park.

"These greens are difficult to put the ball in the hole," the Morrison resident said. "It's really hard to make birdies. I don't think there's any doubt that the reason I did well is that I only had two three-putts in two days. Some of the guys had four a day. That comes from (playing at) Rolling Hills. We putt on severe greens there."
Donnellan Claims 72-and-Over Title in First CGA Event: In the 72-and-older division, Shaun Donnellan of Maroon Creek Club in Aspen, who was competing in his first CGA championship, earned the title.

The native of South Africa (left), who now splits time between Aspen and Vero Beach, Fla., rallied from a two-stroke deficit after Wednesday to win by two on Thursday.

"This was my first CGA championship. You get emails from the Colorado Golf Association, but I could never fit it in with my schedule" until this year.

"It's just fun still playing competitive golf. I don't play as much (tournament golf) as I'd like -- probably four or five events a year."

Donnellan, a 73-year-old who competed in the British Amateur 50 years ago this summer, posted rounds of 76-77 for a 9-over-par 153 total. Belying his age, he drove the 303-yard seventh hole (his 16th on Thursday) and two-putted for birdie before closing with consecutive bogeys.

First-round leader Roger Gunderson of CommonGround Golf Course took a triple-bogey 7 on the 15th hole -- his sixth -- after going out of bounds and struggled to an 81. He shared second place in the division with two-time defending champion Don Alley of Antler Creek Golf Course (77 Thursday, also including a triple bogey) and Bob Sims of Clubcorp Colorado (78).

For scores from the CGA Super-Senior Stroke Play, click on 62-AND-OVER, 72-AND-OVER.