King of the West
29 on final 9 gives CU's Macdonald 2nd straight CGA Western Chapter title; Sullivan prevails in senior division via playoff
by Gary Baines - 7/15/2018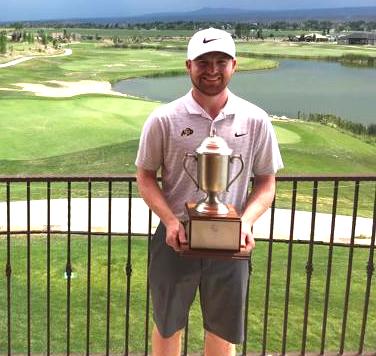 Ross Macdonald put a big-time exclamation mark on his successful title defense Sunday at the 36th CGA Western Chapter Championship.

The University of Colorado golfer from the Country Club at Castle Pines played his final nine holes of the event in 7-under-par 29 at The Bridges Golf & Country Club in Montrose. That torrid stretch gave Macdonald a nine-stroke victory in the 36-hole event.

The 22-year-old from Castle Rock (left) finished with a 6-under-par 65 -- the best championship flight score on Sunday by six shots -- to post a 6-under 136 total. That made Macdonald the first back-to-back winner of the championship since Colorado Golf Hall of Famer Rick DeWitt accomplished the feat in 2001 and '02. DeWitt won the Western Chapter title five times.

On the back nine Sunday, Macdonald recorded two eagles -- on No. 10 and 17 -- and added birdies on 11, 12 and 18 to shoot the 29. It marked the first time Macdonald has ever broken 30 for nine holes on a championship course, and the 65 is his low tournament score ever. In addition, he can never remember making two eagles in nine holes before.

Macdonald needed just 11 putts to negotiate the greens on the back nine on Sunday.

"That was really cool," Macdonald said of his 29. "Going into 18, the only thing I was thinking about was shooting 29, which I'd never done in my life. That was definitely a good way to go out."

Macdonald had started out his title defense by being 3 over par after five holes on Saturday. But he closed with three straight birdies that day for a 71. On Sunday, he was 1 over par through nine holes when things turned on a dime.

He made a 20 footer for eagle on 10, a 25 footer for birdie on 11 and a 10 footer for birdie on 12. He parred the next four holes, twice getting up and down, including making a 20 footer on No. 16.

On No. 17, he hit a 5-iron from 235 yards to a foot for another eagle. Then he rolled in a downhill slider from 15 feet on No. 18 to close with a birdie.

"It was really nice to put that round together -- and that nine -- to come in with a good margin of victory," Macdonald said.

And the result -- going back-to-back in the Western Chapter -- was satisfying considering Macdonald originally wasn't planning to play in the event.

"I feels really good," he said. "Two weeks ago, I looked at it and didn't have anything on my schedule (for this week). I just thought it would be a good one to play in. And I think it's always good to pay respect and go back and defend a title. I've been playing really well the last five or six months so I felt really good. And I thought of this (course) as a good challenge -- and a good challenge to see if I could go back to back."
Macdonald now owns four CGA titles, having also won the Colorado Junior Amateur in back-to-back years (2013 and '14).

As he noted, the CU golfer has been performing well in recent months, having placed second in both the Pac-12 Conference Championships and the CGA Match Play.

First-round leader Barry Erwin of Murphy Creek Golf Course tied for second place at 145 after a second-round 76 on Sunday. Sharing runner-up honors with him was Cameron Barnhardt of Dalton Ranch Golf Club, who closed with a 74. Blake Schneiter placed fourth at 146 after his second straight 73.


Meanwhile, the senior title was decided in extra holes on Sunday.

Scott Sullivan (left) of Bookcliff Country Club in Grand Junction tied three-time CGA Senior Player of the Year Robert Polk of Colorado Golf Club in regulation, with both players finishing at 2-over-par 144. But Sullivan broke the tie on the first playoff hole by making a par while Polk recorded a bogey.

Sullivan shot a 3-under-par 68 on Sunday, improving on his first-round score by eight. He played his final 14 holes of regulation in 4 under par. For the day, he made six birdies and three bogeys.

Polk birdied his final hole of regulation -- No. 9 -- to force the playoff. He finished the day with three birdies, three bogeys (including the playoff) and a double bogey.

Placing third among the seniors on Sunday was 2017 CGA Senior Player of the Year Keith Atkins of Highland Meadows Golf Course, who closed with a 71.

For scores from the Western Chapter Championship, click on the following: OPEN, SENIOR.