A New Age
At 68, Johnson fends off Brown to earn first CGA super-senior title
by Gary Baines - 5/24/2018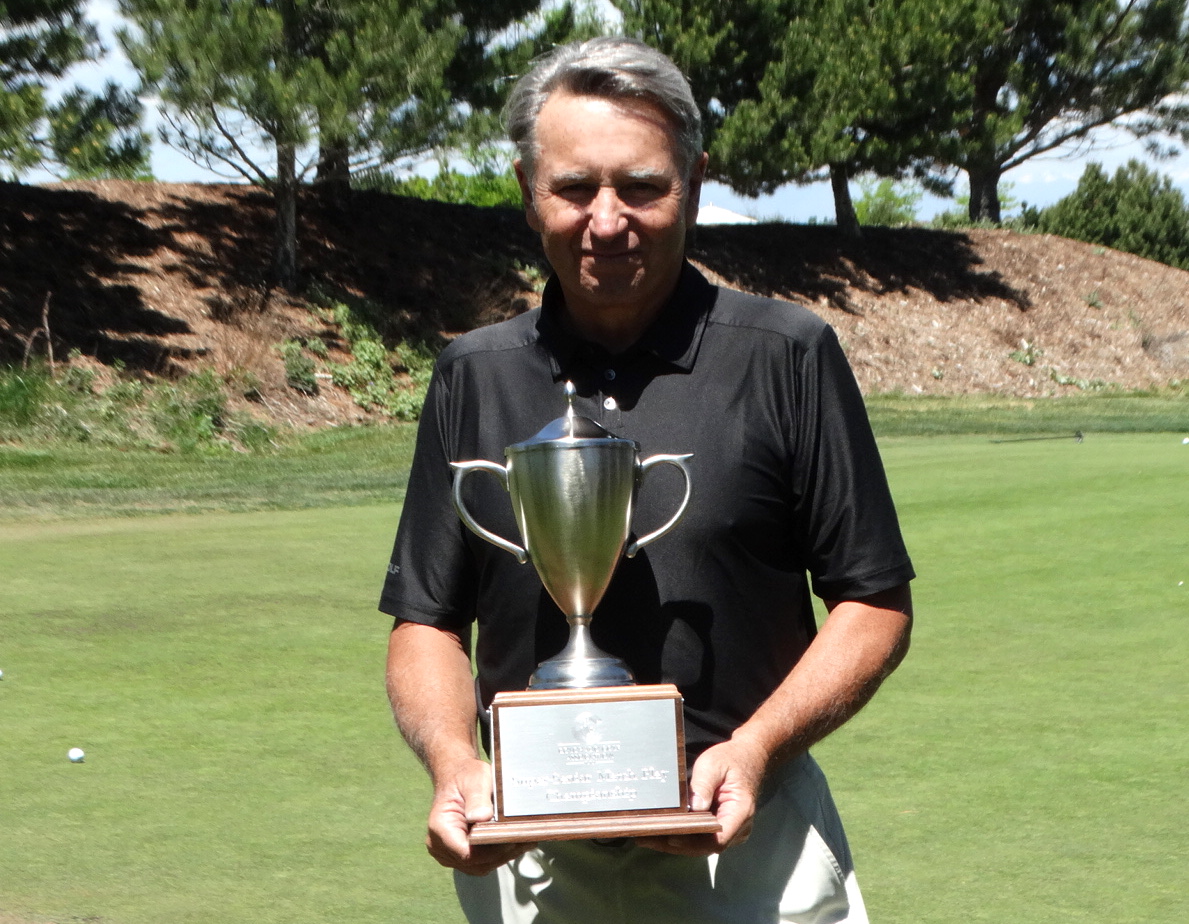 At 68 years old, Harry Johnson has long been eligible to compete in the CGA Super-Senior Match Play. But for many years he took a pass, opting to play in the senior division instead.

And who could argue when, as a 63-year-old, he swept the CGA Senior Match Play and Senior Amateur titles in 2013, becoming just the fifth player to win both events in a calendar year?

"I specifically didn't (enter) because I didn't think I was ready for super-senior golf -- that type of thing," the player from Eagle Ranch Golf Course said on Thursday. "I'm not saying these guys couldn't clean my clock or beat me, but I just didn't think I was ready for it when I was (first) eligible. Now, there are some guys I want to see. I love to see John Olive out here, I love to see Sean Forey. It gets back to those relationship things. You're on the driving range and somebody comes and slaps you on the back and says, 'How have you been?' and that type of thing. I enjoy that tremendously."

So Johnson finally relented this week, playing in his first CGA Super-Senior Match Play.

And given that he's won two CGA Senior Player of the Year awards since turning 60, it should come as no surprise that Johnson came out on top Thursday at Black Bear Golf Club in Parker. But it took overtime to earn the title.

Johnson lost a 3-up lead with five holes remaining in regulation in the final match, but posted the victory when he two-putted for par from 40 feet on the 19th hole to defeat Dave Brown of Highlands Ranch Golf Club.

"I'm old enough now that this is just a treat, a joy to play in these things," Johnson said. "I didn't want to lose, but I really don't feel that drive that I used to have in tournaments about winning and losing. At this age, it's more like just holding it together."


Johnson (above and left) never trailed in Thursday's match as he made a 70-plus-foot birdie from in front of the green on the first hole. "You look at that putt, and it was probably the difference in the match," he said. And he built a 3-up advantage through the 12th and 13 holes. But Brown, a four-time CGA champion competing in just his third major competition since 2010, played steady after bogeying holes 8, 10 and 12. Three down with five left in regulation, the 63-year-old played those final five holes in 1 under par. And Johnson bogeyed three times -- 14 and 15 after being in greenside bunkers and 17 by three-putting -- to leave the match all square going into 18.

There, after Johnson narrowly missed his 20-foot birdie attempt, Brown just missed a 12-foot birdie that would have won him the match.

So the final went to extra holes, becoming just the third match of the week to do so, with Brown having played in two of the three. Brown, twice a semifinalist in the CGA Match Play, left his approach short of the green in the rough, then pitched up to 4 feet from the cup. After Johnson stroked his 40-foot birdie try to within 3 feet, Brown's par attempt slid below the cup (pictured below), and Johnson made his par to clinch the title.

"I had missed them all high all week, and I remembered that when I got over that putt," Brown said of the decisive stroke. "I said, 'Don't miss it high because they keep lipping out.' So I hit it firm, and I may have pulled it a titch. But that thing just broke off the planet.

"My putting was less than sterling this week. It's disappointing, but that's golf. You've got to deal with the good and the bad. You just come back and try it again. That's all you can do."

After decades of playing in state championships, Brown said he needed a break after 2010, so aside from one CGA tourament each of the last two years, he's been away
from serious competition. Therefore, despite Thursday's outcome, he was happy to have won four matches and finished runner-up in the Super-Senior Match Play.
"I didn't compete for quite a few years, so this was better than I expected," he said. "I didn't expect to get to the final match. I made some swing changes during those years, and I'm still working through that. I'm on the right track. I feel good about the week.

"But there's a competitive edge that all competitors have, and not playing that long, you lose it. You've got to go find it, and the only way to find it is to play events."

As for Johnson, though he's now won about 10 CGA championships -- most coming in the Western Chapter senior ranks -- this is his first since his 2013 senior sweep.

In going 5-0 in his matches this week, Johnson defeated both 2017 finalists on Wednesday -- runner-up Jim Reynolds and defending champion Kent Moore. Johnson prevailed in all three matches he played that went to the 18th hole.

"The game has changed for me," he said. "It's not so much about winning and losing. I don't quite feel that pressure anymore. At this age it's a different perspective for me. These tournaments are more about renewing relationships and a little rejuvenation of another year of golf. I get as much joy out of that -- even more joy out of that -- than
winning at this stage. The relationships are what keep me coming back."

The CGA Super-Senior Match Play is limited to competitors at least 62 years old.

CGA Super-Senior Match Play
May 21-24, 2018 at Black Bear GC in Parker
WEDNESDAY'S QUARTERFINALS
Kent Moore, Cherry Hills CC, def. John Sostman, Raccoon Creek GC, 2 and 1
Harry Johnson, Eagle Ranch GC, def. Jim Reynolds, Bear Creek GC, 3 and 2
Dave Brown, Highlands Ranch GC, def. John Olive, The Broadmoor GC, 2 and 1
Sean Forey, The Club at Rolling Hills, def. Keith Gockenbach, Indian Peaks GC, concession
WEDNESDAY'S SEMIFINALS
Harry Johnson, Eagle Ranch GC, def. Kent Moore, Cherry Hills CC, 2 up
Dave Brown, Highlands Ranch GC def. Sean Forey, The Club at Rolling Hills, 20 holes
THURSDAY'S FINAL
Harry Johnson, Eagle Ranch GC def. Dave Brown, Highlands Ranch GC, 19 holes
For all the results from the Super-Senior Match Play, CLICK HERE.