Girls State High School Roundup
Eaglecrest freshman Emma Bryant completes sibling sweep of 5A state high school titles; Schalk repeats in 3A, remaining unbeaten in high school tourneys; Choi prevails in 4A
by Gary Baines - 5/22/2018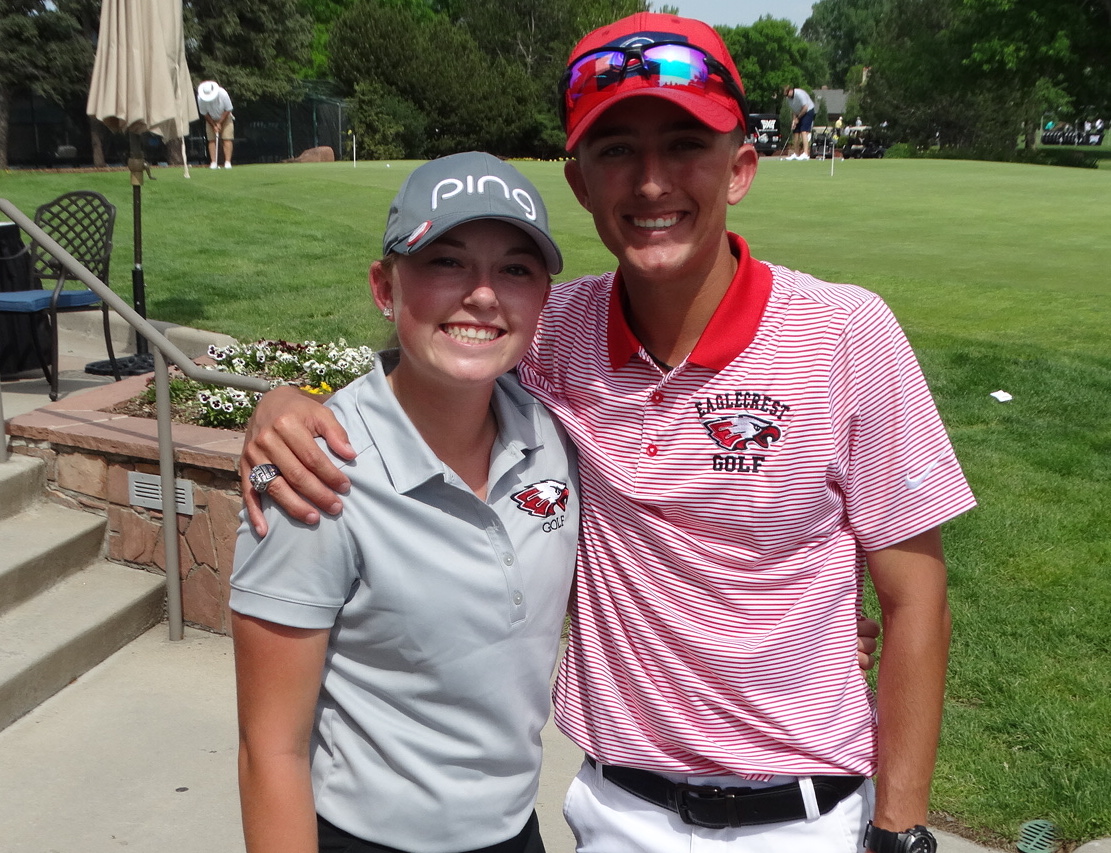 They called it the "Bryant Slam" when Davis Bryant and younger sister Emma jointly won all four Junior Golf Alliance of Colorado majors in 2017. So do you call it the "Sibling Sweep" when the pair wins both the boys and girls 5A state high school titles in the same school year?

Almost eight months after Davis Bryant claimed the 5A boys crown as a senior at Eaglecrest, Emma held up her end by capturing the 5A girls title as an Eaglecrest freshman on Tuesday at Boulder Country Club. It's the first time two players with the same surname have won the boys and girls state individual prep championships in one school year.

"After he won state we were like, 'Oh that would be so cool if Emma won state too. That's never happened before.'" Emma Bryant recalled the family thinking. "I was like, 'It could happen. I don't know. I guess you've got to see where the cards fall.' Getting the Bryant Slam was so cool, but us both winning state ... He got an excellence medal at school. I probably will too. And thinking who won state this season, it'll be, 'Oh, Emma and Davis Bryant, they both won state.' That's so cool. I'm not exactly walking in his footsteps; I'm kind of building my own path a little bit. But I'm going back to his path a tad bit."

(Emma and Davis Bryant are pictured above, while Emma celebrates with Eaglecrest teammates below.)
In helping keep the 5A high school titles all in the family, Emma Bryant became just the second freshman since 2002 to win an individual state high school title in Colorado girls golf. Holy Family's Hailey Schalk did the honors as a freshman last season and repeated as 3A champion on Tuesday (see below, along with the 4A tournament details).


Bryant came into Tuesday's final round three strokes out of the lead. But the 2017 Colorado Junior Match Play champion used a stellar front nine of 5-under-par 31 to shoot the first subpar round of her life on Tuesday -- a 2-under 70. That led to a seven-stroke victory margin with a 1-under 143 total.

"I honestly didn't feel like she could pull it off for two days and play as well as she did," said Davis Bryant, the JGAC Boys Player of the Year in 2017 who followed his sister throughout Tuesday's round. "She proved me wrong, and I'm happy she did.

"It's like the Bryant Slam again. It's so cool because we have a golfing family. Everybody in our family is involved with the game of golf and in the golfing community (dad Matt is PGA general manager at Green Valley Ranch Golf Club and mom Julie is the executive director of The First Tee at GVR). Everyone around us supports golf and wants the best for us. For what I was able to do last season, then Emma winning the Colorado Junior Match Play and really proving herself these last two days and taking it to another level, I'm so excited and proud. It feels awesome."

In winning on Tuesday, Emma Bryant overcame home-club favorite Kelsey Webster of Fairview, a senior who will play her college golf at the University of Colorado beginning in the fall. Webster was 1 under par for the tournament through eight holes on Tuesday, but the par-4 ninth at her home club potentially ruined a fairytale ending to her high school career.


Webster (left) hit her second shot thin and over the green on the ninth, which features a putting surface that slopes heavily from back to front. The senior putted from the back fringe and off the front of the green and ended up taking five putts (two from off the green) to get down from 70 feet behind the hole, giving her a triple-bogey 7. And when Bryant birdied No. 9 with a big-breaking 25-footer, there was a four-stroke swing on the hole and the freshman went to the back nine with a six-stroke lead.

"Obviously it was a super disappointing day. I let my emotions get the best of me I think," said Webster, the 5A Central Regional champion. "I couldn't get the ball in the hole (on No. 9). I kind of played hockey. I was super duper bummed after that hole. Everybody has those holes; it's just unfortunate that I had that hole at that time.

"I didn't feel a ton of pressure (from playing on her home course in her final state tournament). I just wanted it really badly. That's where my disappointment comes from. I know that I'm loved either way. It was just pressure on myself because I wanted it so bad."

With first-round leader Katie Berrian of Regis Jesuit faltering early in the round -- she was 4 over par through five holes Tuesday -- Webster turned out to be the last challenger for Bryant. But the ninth hole turned things sour, and she ended up shooting a 9-over 81 and tying for third place at 8-over 152 overall. Also at that figure were Berrian, Leigha Devine of Fossil Ridge, Payton Canon of Cherry Creek and Meghan Vogt of Broomfield.

Morgan Ryan of Grandview finished second on Tuesday as a 73 put her at 6-over 150. Defending champion Amy Chitkoksoong of Grandview placed eighth at 153.

After making birdie on her first three holes on Tuesday and converting five overall on her front nine, Bryant suffered a couple of double bogeys on the back side before closing with a 10-foot birdie.

"After nine I was like, 'I'm 5 under with nine holes to play. I can't screw up that much, right?,'" Bryant said.

Whatever the case, the fact that her first sub-par round came in the final day at state en route to victory, it was a pretty special outcome.


"It feels so good to shoot under par," said the 15-year-old, who picked up her fifth individual victory of the season on Tuesday. "I love it so much. I really wanted to shoot in the 60s today. Some of those holes really screwed me up (on the back nine) but I'm so happy to shoot under par."

With some golf-related guidance over the years from her parents and Davis -- with her brother particularly helping her out with the mental side of the game -- the work paid dividends on Tuesday.

"Everything I've tried to help her with, it feels so good," Davis said. "Days like today, everything we talked about and practiced, all the long nights of putting and chipping and a bunch of different competitions, it feels so good. It's a great way to start a high school career, and hopefully she can continue to play as well as she did here."

Meanwhile, Cherry Creek (left) claimed the 5A team title on Tuesday, notching victory No. 11 to the Bruins' record total. But this was Creek's first championship since 2013.

Cherry Creek finished with a two-day total of 46-over-par 478, two better than Grandview.

Schalk (3A) Still Undefeated in High School Ranks: Holy Family sophomore Hailey Schalk remained unbeaten in her two seasons of high school tournaments and kept alive her chances for an unprecented four Colorado girls state high school golf titles by repeating as 3A individual champion at Elmwood Golf Course in Pueblo.

Schalk, the 2017 GJAC Girls Player of the Year, came from behind on Tuesday to capture the crown. She shot a bogey-free 4-under-par 67 on Tuesday and finished at 6-under 136. She played the last 24 holes of the tournament in 8 under par.

Schalk became the eighth player to win at least two Colorado girls state high school titles, joining Lynn Ann Moretto (3), Ashley Tait (3), Jennifer Kupcho (2), Becca Huffer (2), Kelly Jacques (2), Jennifer McCormick (2) and Emily Wood (2).

First-round leader Caroline Jordaan, a junior from Colorado Academy, finished second, six strokes back of Schalk, after a second-round 74. It was Jordaan's third straight top-three finish at state (second in 4A, third in 3A and second in 3A.

Last year's runner-up, sophomore Charlotte Hillary of Kent Denver, placed third on Tuesday after a second-round 72 left her at 147.

Colorado Academy (62-over-par 488) claimed the 3A team title by seven over Kent Denver. It was CA's fifth girls golf state title since 2007, and third straight.

18th Hole Pivotal in Choi's 4A Victory: The 4A state tournament at the Country Club of Colorado proved to be a battle of attrition, with local player Maxine Choi of Cheyenne Mountain winning by one stroke at the Country Club of Colorado in Colorado Springs.

Choi posted rounds of 78-80 for a 16-over-par 158 total and finished a stroke ahead of defending champion Lauren Lehigh of Loveland. Choi's 8-foot birdie on the final hole on Tuesday -- combined with Lehigh's bogey there -- proved the difference. Lehigh struggled down the stretch, playing her final six holes in 7 over par in shooting 81.

Jessica Zapf of Windsor and Lauren Murphy of Glenwood Springs tied for third at 164.

Windsor captured the 4A team title by six over Glenwood Springs, while Loveland was another two back in third place. It was the Wizards' first girls golf state team title in school history.
For scores from the three girls state tournaments, CLICK HERE.