Setting Themselves Apart
Lakewood CC's Lindstrom/Bradsby make it 2 straight titles in CGA Four-Ball; Lindstrom is first to win the event 4 times
by Gary Baines - 5/6/2018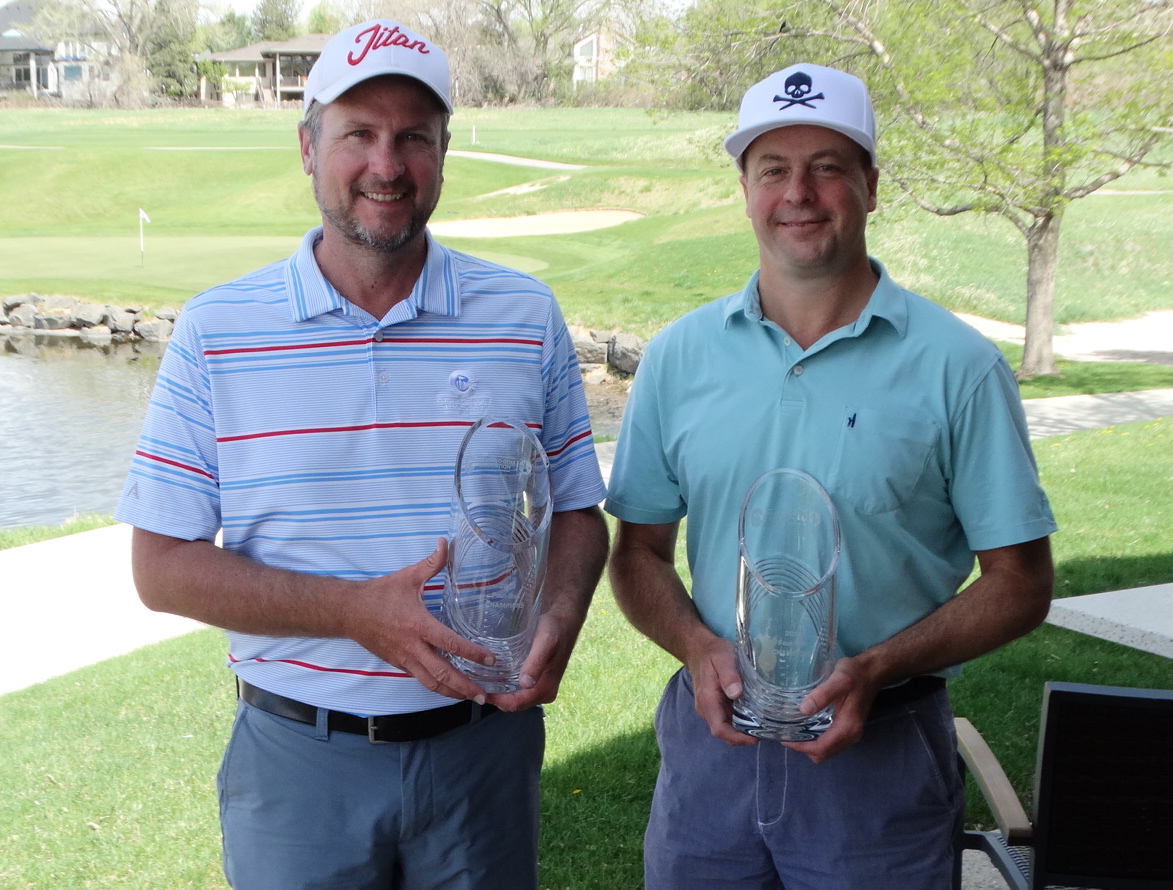 It was a day of firsts at the CGA Four-Ball Championship on Sunday at Legacy Ridge Golf Course in Westminster.

Let's count the ways:

-- Jon Lindstrom and Richard Bradsby, both of Lakewood Country Club, became the first team to win consecutive CGA Four-Balls since Rick DeWitt and Mike Glaesel did the trick in 1998 and '99.

-- With a 23-under-par 193 total for three rounds, they set the tournament scoring record, relative to par, since the Four-Ball went to a 54-hole format in 2011.

-- With the victory, Lindstrom became the first person to win the CGA Four-Ball at least four times. He had been tied for the most titles in the event, with Steve Irwin, another Lakewood CC member. Prior to the last two years, Lindstrom won in 2002 with Rick Larson and in 2012 with Dean Clapp.

Despite playing their last six holes in even-par on Sunday, Lindstrom and Bradsby prevailed by two strokes. They followed up their back-to-back rounds of 64 with a 7-under-par 65 on Sunday.
Through 54 holes, the partners never recorded a better-ball bogey. (They're pictured above and below, with Lindstrom in the striped shirt.)

"I'm going to create a conflict for Lindstrom next year" for this event, runner-up Alex Buecking said with a smile on Sunday.

The victory at Legacy Ridge marked the 10th CGA championship for the 50-year-old Lindstrom, who has claimed four Four-Balls, three Mid-Amateurs, two Two-Mans (with Clapp) and one Mid-Amateur Match Play.


"I like winning CGA events, so that's awesome," Lindstrom said. "I like team events. There used to be the two-man event, and I won that a couple of times too. It's a lot of fun playing with somebody (as a teammate)."

Meanwhile, the 49-year-old Bradsby owns two CGA titles, both in the Four-Ball. Lindstrom and Bradsby also finished second in the event, in 2014.

"It's special absolutely" to win CGA state titles, Bradsby said. "It's amazing."

Bradsby provided the spark in Sunday's final round by shooting a 4-under 32 on his own ball on the front nine, making six 3s on that side.

"Richard played great today," Lindstrom said.

"And John was killing it the other two (days)," Bradsby added.

With Lindstrom throwing in a birdie, he and Bradsby posted a 5-under 31 on the front nine. Then Lindstrom drained an 8-foot birdie putt on No. 11 and Bradsby an 18-foot birdie on 12. Even with no more birdies after being 7 under through 12, it was good enough.

"Obviously the week was great," Lindstrom said. "We did a good job of ham and egging it. There were three or four times one of us was out of the hole and the other guy ended up making birdie on that hole. It couldn't have worked out better."

As for their recent success in the Four-Ball, Lindstrom points to the two meshing as partners.

"We're both members at Lakewood and we play a lot of golf together -- both as opponents and partners," he said. "We know each other's games. We both go out and try to win it on our own, and if the other guy helps out, great. As opposed to putting pressure on, expecting the other guy to play well. We both do that really well, I think. Neither one of us gets pissed off if the other guy hits a bad shot."
Claiming second place for the second time in the last three years on Sunday were Buecking, of Columbine Country Club, and Trent Isgrig of Cherry Hills Country Club. Buecking, who won the 2009 title with Irwin, also placed fourth last year, with Sean Crowley.

Buecking and Isgrig, who shot a tournament-low 62 in the first round, had sterling opportunities at birdies at holes 6, 7, 9 and 10 on Sunday, but didn't convert any of them, costing themselves a chance at the title.

They closed with a 66 for a 195 total.

"We had a good time, but we're a little disappointed," Isgrig said. "The turning point was 6, 7, 9 and 10. We should have made at least two or three (birdies), and we didn't make any of them. That was the difference, no doubt."
Jake Staiano, the 2017 CGA Player of the Year, and Pierce Aichinger of Glenmoor Country Club fired an 8-under 64 on Sunday to tie for third place at 197. Staiano also placed third last year, with then-Colorado State University teammate Blake Cannon.

Also at 197 were Nick Nosewicz of Meadow Hills Golf Course and Chris Thayer of Walnut Creek Golf Preserve -- winners of a CGA Match Play and two CGA Mid-Amateurs, respectively -- and Alan Boyko of CommonGround Golf Course and Dean Siskowski of Collindale Golf Course. Nosewicz and Thayer carded a 66 on Sunday, and Boyko and Siskowski a 68.
(Pictured above, from left, are Nosewicz, Buecking and Thayer.)

In all, six teams out of 60 broke 200 for the 54-hole event.
For all the scores from the CGA Four-Ball, CLICK HERE.