Best of 2017
Staiano named CGA Les Fowler Player of the Year; Thayer (Mid-Am), Atkins (Senior), Moore (Super-Senior) also honored
by Gary Baines - 11/20/2017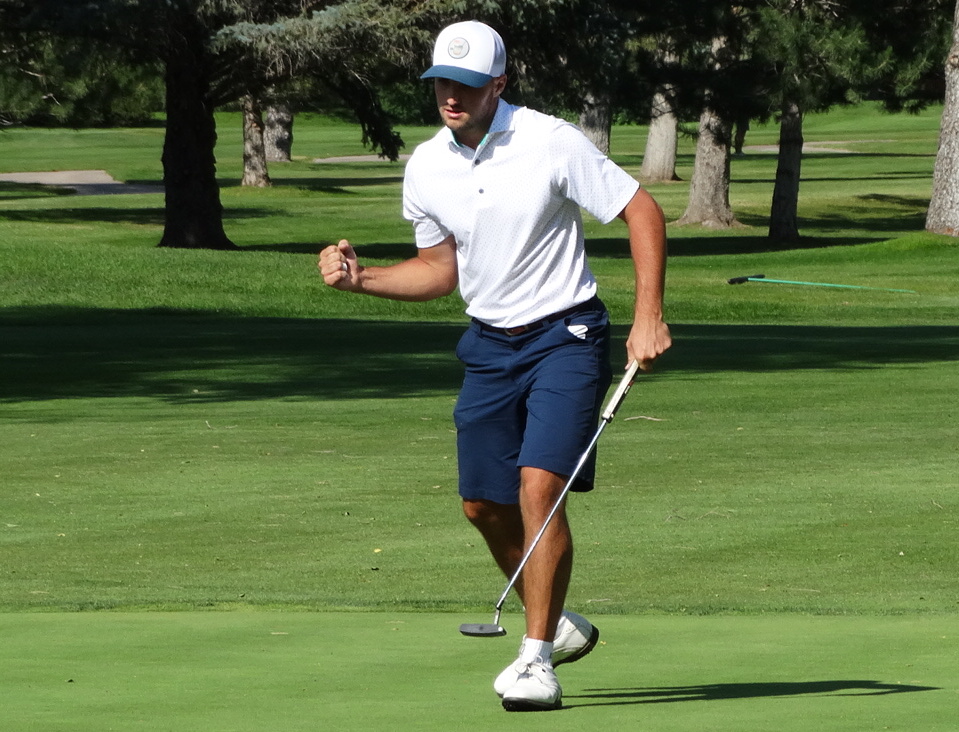 The CGA recently named its 2017 players of the year, and the honors were split between first-time winners and a couple of golfers who have earned season-long awards at least twice before.

Jake Staiano (left) of Glenmoor Country Club (the Les Fowler Player of the Year) and Keith Atkins of Highland Meadows Golf Course (Senior Player of the Year) captured CGA POY awards for the first time, while Chris Thayer of Walnut Creek Golf Preseve (Mid-Amateur Player of the Year) and Colorado Golf Hall of Famer Kent Moore of Cherry Hills Country Club (Super-Senior POY) have landed similar honors from the CGA in the past.

Thayer was named the Mid-Am Player of the Year for the third consecutive season, joining Keith Humerickhouse (2010, '12 and '13) as the only three-time winners of the award, which was first given in 2008. And while the CGA Super-Senior POY honor is new this year, Moore has previously been named the Les Fowler Player of the Year (1989) and the Senior Player of the Year (2006 and '14).

Another honoree being saluted by the CGA is Tom Kennedy, who receives the Jim Topliff Award as on-course official of the year. The now-retired District Court Judge has volunteered for the CGA for the last five years, and in 2017 he served as chief rules official at several tournaments, including the Mark Simpson Colorado Invitational that the University of Colorado hosts annually.

As for the players of the year, here's a recap of some of their 2017 highlights:

-- Jake Staiano, Les Fowler Player of the Year: The CGA's top annual award for players has gone to first-time winners for the last nine years, since Pat Grady won in both 2007 and '08. And Staiano, a Colorado State University golfer, is the 10th college-age player in the last 11 years to earn the overall POY honor, with the lone exception over that time being Michael Harrington of Colorado Springs in 2014.

"Being named player of the year definitely means a lot," Staiano said in a recent email. "Just to be in the category with some of the best players to come out of Colorado shows a lot about how far I have come in the past few years with my game. I definitely went through some hard times, but to get this award really shows my maturity through it all and how I was able to get through those times."

As CGA Les Fowler Player of the Year, Staiano joins a list of past honorees that includes 1996 U.S. Open champion Steve Jones (1980 and '81); Brandt Jobe, who has won more than $11.1 million combined on the PGA Tour and PGA Tour Champions (1985); Kevin Stadler, winner of the 2014 Waste Management Phoenix Open on the PGA Tour (2002); and three-time Colorado Open winner and 1986 U.S. Mid-Amateur champion Bill Loeffler (1986). (The CGA Player of the Year award debuted in 1978, after golfers such as Hale Irwin and Bob Byman had starred as amateurs in Colorado.)
Staiano was in the hunt for the title this year in the biggest tournament held annually in the state, the CoBank Colorado Open. He shared the lead after three holes of the final round, which is no small feat considering only two players (Gary Longfellow and Brian Guetz) have won the Colorado Open as amateurs.


Staiano ended up finishing eighth at 15-under-par for 72 holes, taking low-amateur honors by seven strokes. It was the best overall showing by an amateur at the Colorado Open since Cameron Harrell placed fifth in 2014.

Elsewhere, Staiano qualified for the U.S. Amateur for the second time and advanced to Sectionals at U.S. Open qualifying. In the biggest CGA championships, Staiano placed second at the CGA Amateur and fell in the semifinals of the CGA Match Play to eventual champion Chris Korte.

-- Chris Thayer, Mid-Amateur Player of the Year: In capturing this award for the third straight year, Thayer (left) edged out Jon Lindstrom, winner of the 2008, '15 and '16 CGA Mid-Amateurs. This time around in the Mid-Am, which is limited to players 25 and older, Thayer prevailed by one stroke for his second victory in the state championship, having previously won in 2014. He placed second to Lindstrom in both 2015 and '16.

Also in 2017, Thayer made the cut and finished 44th in the CoBank Colorado Open, tying for third among amateurs. He also advanced to U.S. Open Sectional Qualifying, but subsequently withdrew from that second and final stage of qualifying. Thayer made the round of 16 at the CGA Match Play.
-- Keith Atkins, Senior Player of the Year: Atkins won three tournaments in the senior division during the course of the year, at the Aurora Senior Amateur, the Collindale Invitational and the Estes Park Labor Day tournament.

In CGA championships, Atkins placed fourth in the CGA Senior Amateur and second in the senior division of the Western Chapter Championship. In the CGA Senior Am, he ended up two strokes behind winner Steve Ivan.


CGA senior championships were limited to players 51 and older in 2017.
-- Kent Moore, Super-Senior Player of the Year: When Moore (left) won the title in the Super-Senior Match Play in late May, it gave the Colorado Golf Hall of Famer victories in an amazing eight different CGA championships in his career. Over the last 44 years, he's won the 1973 Junior Match Play, the 1986 Amateur, the 1989 Match Play, the 1995 Mid-Amateur, the 2006 Senior Match Play, the 2014 Senior Stroke Play, the 2016 Super-Senior Stroke Play and the 2017 Super-Senior Match Play.

Moore was also in the hunt for the championship at the 2017 CGA Super-Senior Stroke Play, but Gary Albrecht edged him by one shot.

And in the Super-Senior Four-Ball tournament, Moore and partner Stephen Bell finished second in a playoff.

CGA super-senior championships were limited to players 61 and older in 2017.