Running the Table
CGA Super-Senior Match Play win gives Moore titles in 8 different CGA individual championships
by Gary Baines - 5/25/2017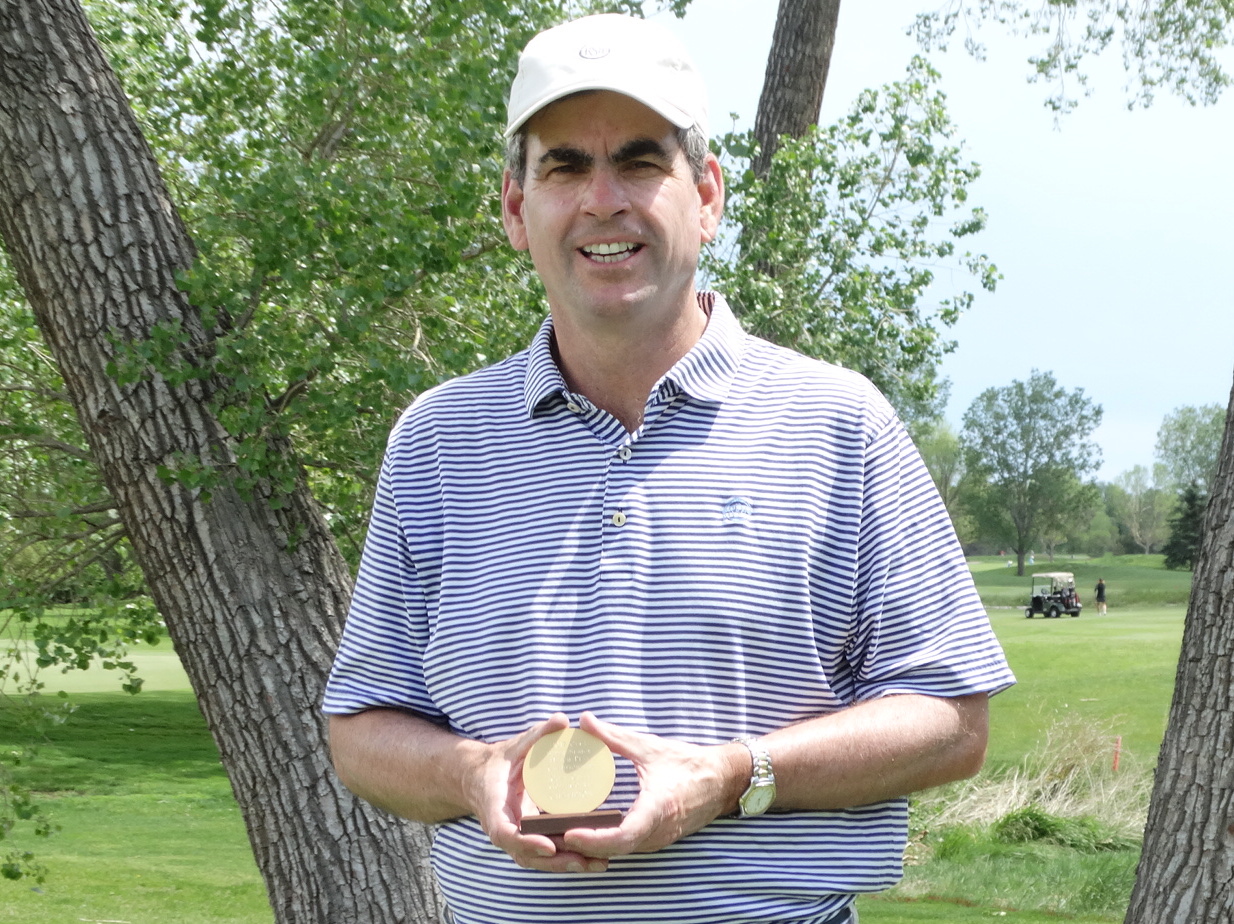 If there's an individual CGA championship for which Kent Moore has been eligible and competed, he's won it at one time or another.

And that's no exaggeration.

On Thursday, the Colorado Golf Hall of Famer added yet another different CGA championship to his variety-filled golf resume.

In defeating Jim Reynolds of Bear Creek Golf Club 1 up to claim the CGA Super-Senior Match Play title at Coal Creek Golf Course in Louisville, Moore became a winner of his eighth different CGA individual championship. Over the last 44 years, he's won the 1973 Junior Match Play, the 1986 Amateur, the 1989 Match Play, the 1995 Mid-Amateur, the 2006 Senior Match Play, the 2014 Senior Stroke Play, the 2016 Super-Senior Stroke Play and the 2017 Super-Senior Match Play.

Strangely, though, Moore hasn't won any of those events more than once. He just seems to spread out his success.

"I figure I've won every (CGA) championship that I'm eligible for now," said Moore, who notes the CGA Junior Amateur didn't exist when he was a teenager. "It's just fun to compete."

Overall, including team championships like the Parent/Child, and the now-defunct Two-Man Team and CGA/CWGA Mixed Team, Moore has won roughly 16 CGA championships. Oh, and by the way, he also serves as a vice-president on the CGA's volunteer Board of Governors.


On Thursday, the 61-year-old from Cherry Hills Country Club (pictured above and at left) finished strong to edge Reynolds in the 18-hole final at Coal Creek. Moore won the first two holes with pars, but from the fourth through the 18th holes, neither player was more than 1 up.

Reynolds -- a 63-year-old whose caddie, Gus Lundquist, is a former 5A state high school champion and a two-time U.S. Amateur qualifier who recently turned pro -- won the 13th and 14th holes to take his only lead on Thursday.

"I actually thought I was going to lose," Moore said. "He was hitting the ball so solid and he kept getting better."

But trailing for the first time seemed to spark Moore, who hadn't made a birdie in the first 14 holes. Hitting an approach onto the top ledge of a three-tier green on No. 15, Moore left his ball a mere 6 inches from the cup and made birdie to even the match.

"That birdie was just huge," he said. "Sometimes you go from playing defense to 'I need to win.' And you're only going to win by making a really good swing, committing to it and getting it there. I had the perfect distance. I was 80 yards, uphill, into the wind, which is a perfect 58 (degree wedge) for me."


After Moore received a fortunate bounce on his tee shot to avoid trouble on No. 16, Reynolds (left) had an opportunity to regain the lead, but missed a 10-foot birdie putt.

"If I had made the putt on 16, who knows what would have happened then?" Reynolds said. "I just misread the putt. Gus read it right and I didn't see it going left so that was kind of unfortunate."
Then the decisive shots came on the par-3 17th, where Moore hit a 9-iron from 148 yards to 6 feet and drained the putt to regain a 1-up advantage.

"It was one of those when I needed to hit it good and I did. It was perfect," he said.

Needing a birdie on the 18th hole, Reynolds cut a tee shot on the dogleg right onto the right hazard line and he couldn't pull off the near-miracle he needed. When Moore putted from the front collar of the green to gimme range, the final hole was halved with pars and Moore had the victory.

"(Moore) played to win, and he really came through in the end," Reynolds said after his best performance in a CGA championship. "What I feel is, I made him earn it. He's been
in these kind of positions many times before, and that's really the first time I've ever been in the hunt (for a state title). So I feel proud I took him to the last hole. I played my heart out.

"I feel like I won, to tell you the truth. He's such a good, strong, competitive player."

Said Moore: "It was a good match, a really good match."

The win gives Moore (left) victories in each of his first two individual CGA Super-Senior Championships as he prevailed in the Super-Senior Stroke Play last August. The tournament at Coal Creek marked his first Super-Senior Match Play. At 61, Moore is part of an ongoing rookie class in CGA Super-Senior events as, starting in 2017, the association is raising the minimum age for super-senior tournaments by one year each year. So next year, for instance, the minimum age will be 62. From 2021 and beyond, competitors must be at least 65.

"I just happen to hit that just right," the Centennial resident said. "I turned 60 exactly the right time."

CGA Super-Senior Match Play
At Coal Creek GC in Louisville
QUARTERFINALS
Mark Runyan, Clubcorp Colorado, def. Jeff English, CommonGround GC, 3 and 2
Jim Reynolds, Bear Creek GC, def. Dan Grigsby, Todd Creek GC, 1 up
Steve Scheffel, Ptarmigan CC, def. Don Alley, Antler Creek GC, 4 and 3
Kent Moore, Cherry Hills CC, def. Bruce Hayes, Walnut Creek Golf Preserve, 2 up
SEMIFINALS
Jim Reynolds, Bear Creek GC, def. Mark Runyan, Clubcorp Colorado, 4 and 3
Kent Moore, Cherry Hills CC, def. Steve Scheffel, Ptarmigan CC, 2 and 1
FINAL
Kent Moore, Cherry Hills CC, def. Jim Reynolds, Bear Creek GC, 1 up
For complete results, CLICK HERE.