Going OT
Long birdie putt on 19th hole gives English CGA Super-Sr. Match Play title
by Gary Baines - 5/26/2016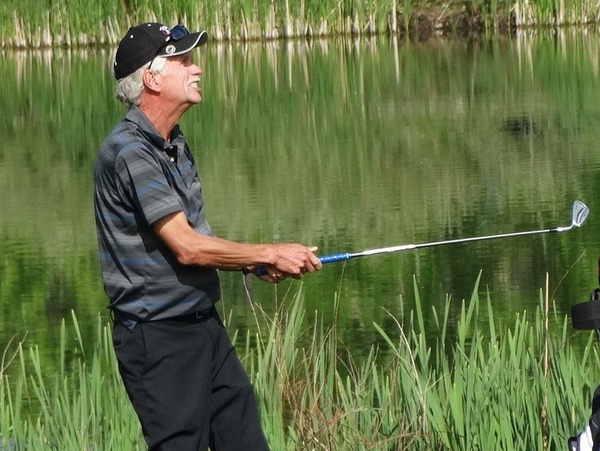 Out of the 31 matches contested at the CGA Super-Senior Match Play this week at West Woods Golf Club in Arvada, just one -- the last one -- went to extra holes.

Fittingly, the championship match for players 60 and older ended on a dramatic note Thursday as Jeff English of CommonGround Golf Course drained a 35-foot birdie putt on the 19th hole that gave him the title in a back-and-forth final against Steve Scheffel of Ptarmigan Country Club.

"I was just absolutely floored" at making the long winning putt, English said. "I just got plain-ass lucky frankly. I hadn't made a long putt like that the whole week."

It was the first CGA championship for the 64-year-old English, who lives in Evergreen.


"It's abolutely thrilling," he said. "I retired about a year and a half ago (from being a magistrate). I've always loved golf and I played a lot of tournaments growing up and had visions of being a pro way back when. I got married and ended up going to law school. I probably played 10 times a year for 30 years, then got back into it six or seven years ago. This is a culmination of a lot of great things."

Scheffel birdied the second and third holes to take a 2-up lead, but lost his advantage when he bogeyed three consecutive holes (12-13-14). And with a 5-foot birdie by English on 15, he was suddenly 3 up with three holes left in regulation.


But bogeys by English on Nos. 16 and 18 sandwiched around an 8-foot birdie by Scheffel on No. 17 forced the title match to an extra hole. (The two are pictured together at left.)

On that 19th hole, Scheffel seemingly had the advantage after putting his approach on the par-4 just 6 feet above the cup. But before someone could say "change of momentum" English had holed his 35-foot birdie attempt, letting out a holler in the process. And when Scheffel narrowly missed his 6-foot birdie attempt, the title was English's.

"I thought the momentum had swung the other way (toward me)," said the 60-year-old
Scheffel (left), a Windsor resident. "I had a great shot on the first extra hole. I was thinking pretty positively. Then he jarred it. I had kind of a tough putt down the ridge, and I wasn't sure which side of the ridge it was going to go on. It was a 50-50 guess, and I guessed wrong -- and I'm second place.

"I always think it's tough to make a birdie after someone else's birdie -- especially a long-distance one. It was a stellar putt he made."

On the way to the championship, English also took down two-time champion Roger Gunderson, the Super-Senior Match Play runner-up the past two years.

Back in 1975, English accomplished a career highlight by qualifying for and competing in the U.S. Amateur -- emerging from the same qualifying site as a guy named Payne Stewart.

"That was probably the thrill of my career, but this is right up there," he said of Thursday's victory. "This may surpass it quite frankly. The (Amateur) is sort of a distant memory now."


At the Super-Senior Match Play, English (left) gave credit for his focused play to a YouTube video he watched just prior to the championship.
"I was trying to get some good mental thoughts," he said. "I feel like I've got a good solid swing that I can repeat, but golf gets into your head. I found a video -- it was one of Tiger Woods' thoughts. What Tiger does, he has the 10-yard rule. If he hits a bad shot, he envisions a line 10 yards in front of him. As soon as he passes that line, the bad thoughts are gone. I really tried that. It got me at least to stop thinking about the bad shots. I was able to come back from bogeys to get a birdie (and from being 3 down after three holes in his semifinal match). That was the single biggest thing -- and focusing on each shot, which I'm normally horrible at."

CGA Super-Senior Match Play

At West Woods GC in Arvada
ROUND OF 32
John Olive, Broadmoor GC (1) def. Howard Hankey, Foothills GC (32), 6 and 5
Patrick Mooney, Colorado GC (16) def. Robert Walker, Boulder CC (17), 6 and 4
Steve Scheffel, Ptarmigan CC (8) def. Joe Morrill, Eagle Ranch GC (25), 4 and 3
Pete Perry, South Suburban GC (9) def. Ken Tai, Perry Park CC (24), 4 and 2
Don Alley, Antler Creek GC (4) def. Danny Wyrick, West Woods GC (29), Withdrew
Lonnie Miller, Meridian GC (20) def. Rod Walters, Indian Tree GC (13), 1 up
Larry Netherton, Highlands Ranch GC (5) def. Bill Hancock, Club at Flying Horse (28), 3 and 2
Lee Hansen, Pinehurst CC (12) def. Terry Pettit, Ptarmigan CC (21), 7 and 6
James W Brundige, Snowmass Club (31) def. Steve Ivy, Ptarmigan CC (2), Withdrew
Randy Miller, Boulder CC (18) def. Mark Barkley, Clubcorp Colorado (15), 4 and 3
Roger Gunderson, CommonGround GC (7) def. Cliff Damato, Meridian GC (26), 3 and 2
Jeffrey English, CommonGround GC (23) def. Todd Wilcox, South Suburban GC (10), 1 up
Frank Wilkinson, Lincoln Park GC (30) def. Jim Reynolds, Bear Creek GC (3), 1 up
Doug Jones, Tiara Rado GC (19) def. Jim F Pierce, Heritage Eagle Bend (14), 3 and 2
Fredrick Steffers, Eisenhower GC (6) def. Mike Giarratano, Highlands Ranch GC (27), 5 and 4
Bruce Hayes, Heritage at Westmoor (22) def. Bob Cloud, Commonground GC (11), 5 and 4
ROUND OF 16
Patrick Mooney, Colorado GC def. John Olive, Broadmoor GC, 1 up
Steve Scheffel, Ptarmigan CC def. Pete Perry, South Suburban GC, 3 and 2
Don Alley, Antler Creek GC def. Rod Walters, Indian Tree GC, 1 up
Lee Hansen, Pinehurst CC def. Larry Netherton, Highlands Ranch GC, 2 and 1
James W Brundige, Snowmass Club def. Randy Miller, Boulder CC, 10 and 8
Jeffrey English, CommonGround GC def. Roger Gunderson, CommonGround GC, 3 and 1
Doug Jones, Tiara Rado GC def. Frank Wilkinson, Lincoln Park GC, 4 and 2
Bruce Hayes, Heritage at Westmoor def. Fredrick Steffers, Eisenhower GC, 2 and 1
QUARTERFINALS
Steve Scheffel, Ptarmigan CC (8) def. Patrick Mooney, Colorado GC (16), 8 and 7
Don Alley, Antler Creek GC (4) def. Lee Hansen, Pinehurst CC (12), 3 and 2
Jeffrey English, CommonGround GC (23) def. Randy Miller, Boulder CC (18), 2 and 1
Doug Jones, Tiara Rado GC (19) def. Bruce Hayes, Heritage at Westmoor (22), 2 and 1
SEMIFINALS
Steve Scheffel, Ptarmigan CC (8) def. Don Alley, Antler Creek GC (4), 1 up
Jeffrey English, CommonGround GC (23) def. Doug Jones, Tiara Rado GC (19), 2 and 1
FINAL
Jeffrey English, CommonGround GC (23) def. Steve Scheffel, Ptarmigan CC (8), 19 holes