Fribbs Ends CGA Publinks on a High Note
Former CU golfer closes with 62 to win final Public Links Championship
by Gary Baines - 6/23/2013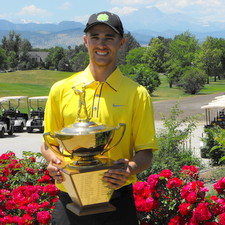 Two years ago, Derek Fribbs lost the CGA Public Links Championship in agonizing fashion -- by one stroke after he and his playing partners were each penalized one shot for slow play.

On Sunday, after likewise leading going into the final day of the Publinks, Fribbs left nothing to chance.

The former University of Colorado golfer could have shot a 59 with a birdie-birdie finish on Sunday, but he settled for an 8-under-par 62 -- the competitive course record from the back tees at Twin Peaks Golf Course in Longmont -- and a six-stroke victory in the 31st and final CGA Publinks.

"He was 9 under through 17; that's just unbelievable," said playing partner Steven Kupcho, whose 63 on Saturday stood as the tournament course record from the back tees for only 24 hours. "I can't even fathom shooting that number after what I did
yesterday because I felt like I played about as good as I could." (At left, Kupcho is pictured congratulating Fribbs on Sunday.)

The 22-year-old Fribbs, who plays out of Colorado National Golf Club, made his only bogey of the day on the final hole and finished the tournament with a remarkable 17-under-par 193 total.

Asked how the victory ranks among his golf accomplishments, the 2008 5A state high school champion said, "It's up there. It's pretty special for the way I finished today and the way I played the whole tournament. It's a good confidence booster."

Sunday marked Fribbs' second CGA championship as he also won the 2009 Junior Match Play.

Kupcho, the 2012 CGA Player of the Year from CommonGround Golf Course, placed a distant second on Sunday at 199, making the University of Northern Colorado golfer the CGA Public Links runner-up two straight years.

Former Colorado Mesa University golfer Brandon Bingaman was the only other player who finished under par for the tournament. The golfer from Black Canyon Golf Club closed with a 69 to end up at 205.

Kupcho, who entered the final round one back of Fribbs, tied him on two occasions early Sunday, and they were knotted after six holes. But Fribbs drained an 18-foot birdie putt on the par-3 seventh to go ahead for good.

That started a stretch in which Fribbs carded seven birdies in 10 holes. That left him at 9 under par through 16. With a round of 59 a possibility -- professional Pete Bain once shot 59 at Twin Peaks in a tournament, but it was from the white tees -- Fribbs' 50-foot birdie putt on No. 17 burned the edge of the cup, and he settled for a par. Then, needing to hole his 89-yard approach on 18 to break 60, he pulled his wedge shot into the rough and he failed to get up and down for par. In fact, he needed to sink a 7-footer for bogey.


Kupcho (pictured at left) was justifiably happy about breaking 200 for the first time in a three-round tournament. But the fact that he still lost by six says something about Fribbs' play.

"What are you going to say?" Kupcho said. "I hung with him up until the back nine here today. I'm proud of that and proud of myself.

"It's just fun to see somebody do that -- 9 under through 17," added Kupcho, who will be paired with Fribbs at Monday's 36-hole U.S. Amateur Public Links Qualifying in Windsor. "Props to him. If you're going to lose, that's the way to do it."

The 62 was the lowest tournament round of Fribbs' life. He was hitting his driver so far on Sunday that on several occasions he was left with pitches of less than 40 yards into greens on par-4s. His wedge play was also precise, and he needed just 25 putts in the final round.

"I'm not the shortest hitter, but I'm getting pretty accurate too," Fribbs said. "That feels pretty good. I feel comfortable playing aggressively out here. Most of the people don't hit drivers on some of the holes where I hit drivers.

"When you're hitting your driver well and you have (short wedges) in, you can make a lot of birdies."

Sunday marked Fribbs' third victory at Twin Peaks in the last 15 months. He won both the 2012 and '13 Twin Peaks Invitationals.

"The course sets up good to my eye," he notes.

And Sunday's win was extra special, coming in the same tournament in which a slow-play penalty cost him a spot in a potential playoff two years ago.


"I thought about that a little bit at the end" on Sunday, said Fribbs (pictured at left). "It does" make it more satisfying to win the tournament given what happened in 2011.

Fribbs, who just completed his CU golf career, said he plans to turn pro after this August's U.S. Amateur. Then after playing on the All-American Gateway Tour and in Monday qualifiers, he hopes to go to Web.com Tour qualifying in 2014.

With Fribbs' 62, the CGA Public Links Championship finished on a high note. CGA officials decided earlier this month to discontinue the championship after this year. The association plans to replace the tournament with another championship in 2014, though the format of that event hasn't been settled upon. For that story, CLICK HERE.

CGA Public Links Championship
At Par-70 Twin Peaks GC in Longmont
Derek Fribbs, Colorado National GC, 65-66-62--193
Steven Kupcho, CommonGround GC, 69-63-67--199
Brandon Lee Bingaman, Black Canyon GC, 67-69-69--205
Ben Krueger, Patty Jewett GC, 72-67-72--211
Sean Thomas, Indian Tree GC, 73-70-69--212
Lamar Carlile, City Park GC, 74-69-70--213
Paul Erdman, Colorado National GC, 70-70-73--213
Matt Porter, CommonGround GC, 69-77-68--214
James Kurtenbach, South Suburban GC, 71-70-74--215
Damon Dageenakis, Flatirons GC, 75-70-70--215
Clint Miller, Meadow Hills GC, 76-70-70--216
Eric Parish, CommonGround GC, 73-73-71--217
Sean Robbins, CommonGround GC, 78-69-70--217
Todd Millard, Twin Peaks GC, 71-72-74--217
Adam Douglas Griffith, Thorncreek GC, 75-68-74--217
Bryan Rusin, CommonGround GC, 70-71-76--217
Charles Santaularia, CommonGround GC, 73-72-73--218
Matt Robertson, Foothills GC, 72-73-73--218
Ethan Yamada, Omni Interlocken Resort GC, 74-75-71--220
Steve Connell, Riverdale GC, 72-76-72--220
Zach Tripp, Foothills GC, 73-73-75--221
Conner Barr, Boomerang GL, 72-75-74--221
Josh Gardella, The Ridge at Castle Pines North, 75-75-72--222
Robert Burke, Twin Peaks GC, 73-74-77--224
Travis Fore, Highland Meadows GC, 71-78-75--224
Chris Aiken, Conquistador GC, 73-74-77--224
Eli Schoenbeck, Desert Hawk GC, 76-69-79--224
Thomas Roos, Spring Valley GC, 80-71-74--225
Michael Jones, Eagle-Vail GC, 78-75-72--225
John Altenborg, Twin Peaks GC, 75-74-76--225
Zachary Coe, Eagle Ranch GC, 78-71-78--227
Brad Rowe, Saddleback GC, 74-75-79--228
Bo Baker, Devil's Thumb GC, 79-71-78--228
Nick Tarasiewicz, Patty Jewett GC, 71-79-79--229
Adam Thoutt, Legacy Ridge GC, 74-76-79--229
Steve Sullivan, Bear Dance GC, 71-78-82--231
Blake Basham, Highlands Ranch GC, 77-76-78--231
Arnold Hoy, CommonGround GC, 77-75-82--234
Behrod Keshtavar, Indian Peaks GC, 77-76-84--237
Brian Richmeier, Meadow Hills GC, 76-71-WD
Joshua Carter, Meadows GC, 71-76-WD

FAILED TO QUALIFY FOR FINAL ROUND
Steve Kass, CommonGround GC, 80-74--154
Billy Ramsey, Lone Tree GC, 71-83--154
Aaron Spear, Broadlands GC, 74-81--155
Erik J Bowen, Riverdale GC, 77-78--155
Jeffrey Hallock, Front Range GC, 76-79--155
Owen Ellis, Flatirons GC, 78-78--156
Brian Huston, Silver Spruce GC, 76-80--156
Matt Rick, Sunset GC, 82-74--156
Joe Frey, Willis Case GC, 78-79--157
Ryan Richards, Twin Peaks GC, 81-76--157
Lanny Cameron, Mariana Butte GC, 77-80--157
Taylor Foust, CommonGround GC, 78-79--157
Jon Tempest, Flatirons GC, 82-75--157
Casey Hannen, The Heritage GC at Westmoor, 77-82--159
Dallas Perrault, The Heritage GC at Westmoor, 79-81--160
Don Stoner, Indian Tree GC, 82-78--160
Dae Young Kim, GC at Heather Ridge, 82-79--161
Neil Tillman, West Woods GC, 87-74--161
Justin Weir, Eagle Ranch GC, 82-79--161
Wladimir Colmenares, Legacy Ridge GC, 78-84--162
Gregory Pattison, The Heritage GC at Westmoor, 81-81--162
Steve Hackenberg, Riverdale GC, 80-83--163
Scott Rohrer, Colorado National GC, 86-78--164
Tyler Kimble, South Suburban Family Sports, 81-83--164
Kenny Burnham, Broadlands GC, 81-83--164
Andy Yang, Highlands Ranch GC, 81-84--165
Nick Edwards, Green Valley Ranch GC, 84-81--165
Taylor Osieczanek, Broadlands GC, 81-85--166
Jason Eagan, CommonGround GC, 80-89--169
Jeffrey Johnson, Lone Tree GC, 82-87--169
Kyle Murray, The Heritage GC at Westmoor, 89-82--171
Tyler Davis, Meadows GC, 80-91--171
Chris Nickel, Collindale GC, 85-87--172
Danny Wyrick, Spring Valley GC, 91-84--175
John C Baldree, CommonGround GC, 88-90--178
John Randolph Young, City Park GC, 86-93--179
Bob Chandler, The Heritage GC at Westmoor, 72-NS

COMPLETE RESULTS
Go to CGA Public Links Results Archive