Macdonald Struts His Stuff at CommonGround
Irwin Elite Player finishes strong to win CGA Junior Stroke Play
by Gary Baines - 6/19/2013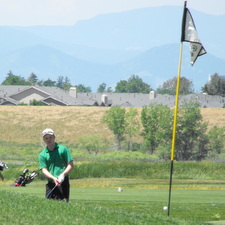 Ross Macdonald lived up to his billing as a proud member of the Hale Irwin Elite Player Program.

And, appropriately enough, the byproduct was a prestigious victory Wednesday at CommonGround Golf Course, home of the Elite Player Program.

Macdonald plays out of the Country Club at Castle Pines, but he considers CommonGround his second golf home due to his Irwin Elite Player membership. Because of that, he was a little more familiar with CommonGround than your average competitor in this week's CGA Junior Stroke Play Championship.

And the 16-year-old from Castle Rock used that knowledge to his advantage in winning the tournament on Wednesday.

"Whenever I'm not at a tournament -- or at my other home course -- I try to come out here," Macdonald said of CommonGround. "It's tough to get out here a lot, but I try my best because I love the course and (the Irwin Program) is great honor.

"I would say I've played about 15 rounds out here, and it helped me out because I knew where to put the ball and I was more familiar with the greens. I felt like my putting was a lot better because of that."


Macdonald (pictured above and at left) birdied the 16th and 17th holes and got up and down for par on No. 18 Wednesday to pull away for a four-shot victory in the Junior Stroke Play.

Macdonald fired an even-par 71 and posted a 6-under 207 total for three days.

Claiming the title "means a lot because I know the names who have won it before are huge and they've gone on to have a lot of success in college and professional golf," said Macdonald, referring to former champions such as Colorado Golf Hall of Famer Brandt Jobe, along with Scott Petersen, Leif Olson and Wyndham Clark. "I'm really happy and I think it's really good for me to win this tournament."

Ethan Freeman of Glenmoor Country Club, a two-time 3A state high school champion, made a run at Macdonald on Wednesday despite starting the round nine out of the lead. With a birdie-eagle-birdie start to the back nine -- he hit an 8-iron second shot to 15 feet on the par-5 11th -- the University of Colorado-bound Freeman matched his best tournament score ever with a 5-under-par 66. But he played his final six holes in 1 over to end his hopes for the win.


"I was hitting my irons pretty good today," said Freeman (pictured at left). "I like playing in the wind. I was hitting (approach shots) 5, 10, 15 feet and the putter was was on today which was nice because I hadn't putted well the last two days."

Freeman estimated he needed only 26 or 27 putts on Wednesday.

"The course was playing hard today, but I felt like the game kind of came together," said the Kent Denver High School graduate. "It was probably one of my better rounds. ... It was a lot easier today knowing I had to keep going low."
Freeman tied for second place with Chris Korte of Lone Tree Golf Club, who recently qualified for the Callaway Junior World Golf Championships. Korte (pictured below) came back from three consecutive bogeys in the middle of the back nine to birdie the
17th hole and shoot a 72 on Wednesday.

Glenn Workman of Desert Hawk at Pueblo West, the 2012 CJGA Tournament of Champions winner, placed fourth on Wednesday with a 213 total. Defending champion Jimmy Makloski of Pueblo Country Club finished fifth at 215 after closing with a 69.

Macdonald, a junior-to-be at Valor Christian High School, finished second in this event last year -- ending up a stroke behind Makloski -- but the experience served him well.

"It made me want it more than ever," he said. "Coming in here and having a little experience with that gave me a better opportunity."

Macdonald didn't know exactly how he stood after needing to sink a 7-foot putt for a bogey on the 15th hole, so he asked rules official Rich Langston for an update.

"He said, 'Do you really want to know?' and I said yes," said Macdonald, who was then told about Freeman's stellar round a few groups ahead.

That lit a fire under Macdonald, who responded by sinking a 15-foot birdie putt on No. 16 and a 25-footer on No. 17.

"I was thinking, 'I need to step it up and do something pretty good,'" Macdonald said. "'You're not going to get away with this one with some erratic shots.

"The birdies kind of took a little pressure off me and took some weight off my shoulders so I could kind of relax and enjoy the last hole."

And in the end, Macdonald won going away for what he called his "biggest accomplishment in golf. It's a great honor."

CGA Junior Stroke Play Championship
At Par-71 CommonGround GC in Aurora

Ross Macdonald, CC at Castle Pines 68-68-71--207
Ethan Freeman, Glenmoor CC 75-70-66--211
Chris Korte, Lone Tree GC 68-71-72--211
Glenn Workman, Desert Hawk at Pueblo West 69-73-71--213
Jimmy Makloski, Pueblo CC 76-70-69--215
Kyler Dunkle, The Club at Pradera 72-70-74--216
Cole Cunningham, Valley CC 70-76-70--216
Jake Staiano, Glenmoor CC 73-72-71--216
Colin Prater, Broadmoor GC 75-72-70--217
Jack Pedersen, Omni Interlocken 69-73-76--218
Spencer Painton, Green Valley Ranch GC 71-71-76--218
Jacob Allenback, Elmwood GC 68-74-78--220
Grant Dinkel, Flatirons Golf Course 76-73-71--220
Chase Federico, Elmwood GC 71-75-75--221
Jack Adolfson, Fox Hill CC 76-75-71--222
Ethan Yamada, Omni Interlocken Resort GC 74-74-74--222
Andrew Howe, Fox Hill Country Club 66-76-80--222
Aj Ott, Ptarmigan CC 78-75-69--222
Kyle Peterson, Hiwan GC 74-72-76--222
Coby Welch, Links Golf Club 70-71-81--222
Eli Schoenbeck, Desert Hawk GC 72-79-72--223
Todd Millard, Twin Peaks Golf Course 74-73-77--224
Li Chen, Legacy Ridge GC 69-75-80--224
Andrew Romano, Colorado GC 75-78-72--225
Tyler Bricker, Collindale Golf Club 79-70-76--225
Taylor Rodriguez, Walking Stick Golf Course 70-80-75--225
Donny Kinnaman, Lincoln Park Golf Course 80-69-77--226
Jake Kelley, Pinehurst CC 72-73-81--226
Clayton Crawford, Maroon Creek Club 76-75-76--227
Jack Lazzeri, Columbine Country Club 72-80-75--227
Max Urman, Meridian Golf Club 78-75-76--229
Randy Urso, CommonGround GC 75-78-77--230
Keegan Sheard, Applewood Golf Club 77-74-79--230
Matt Bell, Harmony Club 72-77-81--230
Tyler Zhang, Lone Tree Mens Golf Club 79-74-77--230
Quade Mitchell, Highlands Ranch GC 74-75-82--231
Alex Liss, The Olde Course at Loveland 76-76-79--231
Hayden Nicholaides, South Suburban GC 76-77-80--233
Kobe Padilla, Commonground Golf Course 75-78-80--233
Erik Young, Commonground Golf Course 74-78-82--234

FAILED TO QUALIFY FOR FINAL ROUND
Benjamin Moore, Glenmoor CC 78-76--154
Jesse Beetham, Aspen G & TC 73-81--154
Evan Buchalski, Olde Course at Loveland 79-75--154
Grant Rogers, Omni Interlocken 70-84--154
Cameron Connor, Boulder CC 75-79--154
Cole Edwards, Cherry Creek Country Club 77-78--155
Trevor Glen, Thorncreek Golf Club 76-79--155
Justin Goldsberry, South Suburban Golf Course 77-78--155
Jackson Solem, Fox Hill Country Club 77-79--156
Josh McLaughlin, The Olde Course at Loveland 79-78--157
Matthew Vacek, Indian Peaks Golf Club 75-82--157
Cole Folwell, Boulder Country Club 75-82--157
Neil Tillman, West Woods GC 77-80--157
Trey Lambrecht, Northeastern 18 78-80--158
Mark Hillary, Cherry Hills Country Club 80-78--158
Sam Marley, South Suburban Golf Course 80-79--159
Alec Poorman, Flatirons Golf Course 77-83--160
Jack Cavanagh, Broadlands Golf Club 83-77--160
Troy Dangler, Tiara Rado Golf Course 83-77--160
Maxwell Pederson, Country Club at Castle Pines 82-79--161
Jack Cummings, Omni Interlocken Resort 75-86--161
Hunter Lee, Highlands Ranch GC 82-79--161
Cole Bundy, Ptarmigan Country Club 82-79--161
Jackson Crist, Lone Tree Mens Golf Club 75-86--161
Austin Rowe, Columbine Country Club 86-76--162
Samuel Toillion, Ute Creek Golf Course 83-79--162
Nick Leibold, Columbine Country Club 75-87--162
Bretton Krantz, Ptarmigan Country Club 85-78--163
Jackson Vacek, Harmony Club 81-83--164
Gary Schlatter Jr., Glenmoor Country Club 79-85--164
Kevin Wohlfarth, Heritage at Westmoor 82-83--165
Kevin Shafer, Meridian Golf Club 82-83--165
Ian Coberly, Riverview Golf Course 83-82--165
Charlie Schneider, Links Golf Club 81-84--165
Jeremiah Driggers, Country Club at Castle Pines 82-84--166
Behrod Keshtavar, Indian Peaks Golf Club 84-83--167
Davis Handler, Glenmoor Country Club 83-85--168
Braden Bentley, Pueblo Country Club 81-89--170
Cole Anderson, Garden of the Gods 87-85--172
Dalton Anderson, Bella Rosa Golf Course 90-85--175
Timothy Scherman, Colorado Golf Club 94-94--188
Thomas Stevens, Lake Arbor Golf Club 89-103--192
Pierce Aichinger, Bear Creek GC 68-DQ

Go to CGA Junior Stroke Play Results Archive