Humerickhouse Cruises to 3-Peat
With lefty's 12-shot rout, only DeWitt has won more CGA Mid-Amateurs
by Gary Baines - 9/30/2012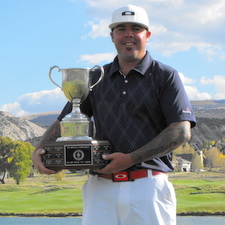 The "hardware" given out for winning the CGA Mid-Amateur Championship is supposed to be a "traveling trophy." But in recent years, it's mainly just resided wherever Keith Humerickhouse calls his home course.

And that will continue after the clinic the 36-year-old player from Gypsum Creek Golf Course put on over the weekend.

Humerickhouse became just the second player in history to capture three consecutive CGA Mid-Amateur Championships as he lapped the field on Sunday at Eagle Ranch Golf Course in Eagle, his new hometown.

The left-hander won by a dozen shots, marking the largest victory margin in the event since Rick DeWitt posted a 14-stroke win in 1991.

In addition, with an 11-under-par 205 total, Humerickhouse broke the 54-hole scoring record for the Mid-Amateur, a mark of 206 held by DeWitt (in 2000) and Humerickhouse (in 2010).

Not coincidentally, Humerickhouse and DeWitt are now the only players to have won the CGA Mid-Amateur more than twice. DeWitt captured the title in the 25-and-older event seven times from 1991 through 2002, including four straight at the end of that span. But Humerickhouse is making up ground.

"I want to keep that trophy here forever -- for as long as I can," he said. "I've got a good start. It feels awesome. I love this tournament. I love CGA state tournaments regardless, but this one I feel it's my niche. I feel comfortable in this tournament. I feel like I can compete with the guys in my age group."

And, in the case of this year's championship, he can compete quite a bit better than those guys.

Humerickhouse completed his three-peat on Sunday with a bogey-free round of 4-under-par 68.

In three rounds, the former golf professional played only two holes in over par -- with a double bogey and a bogey -- while he carded 14 birdies.

No other player in the field finished under par for 54 holes.


Chris Wilson (pictured at left) of Eisenhower Golf Club, an assistant coach for the Air Force Academy golf team who had played just three rounds in September prior to the Mid-Am, claimed second place at 1-over-par 217. His 12-foot birdie putt on the final hole gave him a 73 on Sunday.

Bryan Rusin, who shared the lead after the first round, tied for third place at 218 with fellow CommonGround Golf Course player Charles Santaularia. Both closed with 71s on Sunday.

As it turned out, there was the Humerickhouse Flight, and the one everyone else played in.

Asked when he realized he was playing for second place, Wilson said, "Almost when I showed up on the first tee. I didn't have 11 under -- what Keith finished -- in my tank.

"It's legit. He's a player, no doubt."

Ironically, Humerickhouse accomplished Sunday what he told someone he'd do prior to the 2009 CGA Mid-Amateur, his first amateur tournament after being reinstated.

"I can remember going in and saying, 'I'm going to win this thing by 10.'" he said. "That's how cocky and confident I was back then. And I got humbled pretty quick. I ended up finishing third there. It made me realize that these guys (who compete in CGA championships) are good."

Which brings up the point: How rare is a player winning three straight CGA titles?

Before Sunday, it hadn't happened in any of the CGA's non-team championships since 2003, when John Olive won his third straight CGA Senior Match Play.

Though Humerickhouse emphasizes that all three of his consecutive Mid-Am wins are special, this one particularly falls into that category after what he went through earlier this year.

In February, after going to a medical center when his gums were bleeding for two straight days, Humerickhouse found out he had a blood disorder called Immune Thrombocytopenia in which the blood doesn't clot as it should. In Humerickhouse's case, he said his blood platelets were being destroyed by his immune system.

Humerickhouse was put on the drug Prednisone and stayed on it for almost four months. He gained nearly 40 pounds.

"I tried to play golf because I love it, but I was terrible," he said. "Everybody would tell me, 'You'll be all right. You'll come back.' But I felt terrible. It means a lot that I came back and stayed patient because I'm not the most patient guy in the world. I'm feeling better now and we're working on a different medication for me to take. But it's something I think I'm going to have to deal with for the rest of my life."


Still, Sunday's victory has Humerickhouse thinking big. As improbable as it may be, he'd like to surpass DeWitt's victory total of seven in the CGA Mid-Amateur. (Humerickhouse is pictured at left with his caddie, Jeff Shreeve, his girlfriend's father.)
"Just to be in that same category as Rick DeWitt -- and I'm not even there yet -- is pretty special," Humerickhouse said. "He's like the face of Colorado amateur golf (though DeWitt has been a professional now for several years).

"I guess I'm chasing him," Humerickhouse said without prompting. "I'd like to, at the end of it, have my name on (the trophy) more than he does. I love this tournament, I do. It's the one tournament that I feel comfortable -- not competing against college kids, but against guys who actually work for a living."

That last part hits close to home for Humerickhouse, who has been a sole proprietor in the flooring business since leaving the professional golf ranks in 2007.

"I work for a living, and I work my butt off," he said. "I'm a one-man show. There are days when I work all day and I go out and I trunk-slam it and go to the first tee and my back is killing me. But I do it because I love it. I think guys that work hard for a living can relate, and that feels good."

CGA Mid-Amateur Championship
At Par-72 Eagle Ranch GC in Eagle
Keith Humerickhouse, Gypsum Creek GC, 71-66-68--205
Christopher Wilson, Eisenhower GC, 76-68-73--217
Charles Santaularia, Commonground GC, 75-72-71--218
Bryan Rusin, CommonGround GC, 70-77-71--218
Andy Dannewitz, Meadow Hills GC, 73-77-71--221
Danny Riskam, Columbine CC, 78-73-70--221
Mark Zbrzeznj, Eagle Vail GC, 76-70-75--221
Dean Clapp, Meadow Hills GC, 76-72-74--222
Steve Irwin, Lakewood Country Club, 71-78-73--222
Richard Bradsby, Lakewood CC, 76-76-71--223
Gary Driber, Ridge At Castle Pines North, 70-71-82--223
Jon Lindstrom, Heritage at Westmoor, 78-76-70--224
Wes Martin, The Courses at Hyland Hills, 74-77-73--224
Thomas Roos, Spring Valley GC, 76-78-70--224
Ryan Axlund, Commonground GC, 78-76-71--225
Danny Hahn, Commonground GC, 78-78-69--225
Brian Richmeier, Meadow Hills GC, 73-80-72--225
Michael Harrington, Kissing Camels at Ga, 79-74-73--226
Rick Kelly, Commonground GC, 74-75-77--226
Pete Mangold, Cherry Creek CC, 78-80-69--227
Grant Roberts, Eagle Ranch GC, 77-76-74--227
Butch Boucher, Haymaker GC, 75-78-75--228
Paul Erdman, Colorado National GC, 73-74-81--228
Jeff Chaubet, Eagle Ranch GC, 78-75-75--228
Matt Strong, Plum Creek G & CC, 76-75-78--229
Harry Johnson, Eagle Ranch GC, 79-77-74--230
Grant Porter, CommonGround GC, 73-82-75--230
Robin Bradbury, Heritage at Westmoor, 74-80-77--231
Michael Abrams, Indian Peaks GC, 76-82-73--231
Jake Firkins, Gypsum Creek GC, 73-81-77--231
Michael Love, The Club at Pradera, 83-75-74--232
Scott Sullivan, Bookcliff CC, 80-78-74--232
David Delich, Broadmoor GC, 80-78-75--233
Sean Forey, Rolling Hills CC, 79-79-75--233
Tim Kratz, CommonGround GC, 78-75-80--233
David Ramsden-Wood, Denver Athletic Club, 75-79-79--233
Tony Komatz, Eagle Ranch GC, 77-77-81--235
John Luoma, Colorado GC, 77-80-78--235
Greg Michaels, Legacy Ridge GC, 76-79-80--235
Scott Patterson, Eagle Ranch GC, 82-75-80--237
Bruce Hogg, Patty Jewett GC, 77-80-81--238
Joe Frey, Willis Case GC, 79-78-81--238
Michael Knoll, The Club at Crested Butte, 74-83-82--239
Aaron Spear, Broadlands GC, 72-84-84--240
FAILED TO QUALIFY
Lamar Carlile, City Park Associates Club, 77-82--159
Mark Brown, Highlands Ranch GC, 74-85--159
Robert Polk, Colorado GC, 78-82--160
Mitch Perry, CC of the Rockies, 79-81--160
Joe Morrill, Eagle Ranch GC, 81-79--160
Ken Cosper, Ptarmigan CC, 82-79--161
Adam Thoutt, Legacy Ridge GC, 82-79--161
Don Stoner, Indian Tree GC, 82-79--161
Joey Haack, Aspen GC, 77-85--162
Wes Adkins, Highland Meadows GC, 87-75--162
Jared Bickling, Gypsum Creek GC, 79-83--162
Clint Miller, Meadow Hills GC, 82-80--162
Michael Glaesel, Indian Tree GC, 79-83--162
Robert Bedan, Wellshire GC, 77-86--163
Steve Duran, Commonground GC, 81-82--163
Chris Carlson, Highlands Ranch GC, 83-81--164
Steven Coyer, Eagle Springs GC, 84-80--164
Dan Deppen, Broadlands GC, 80-84--164
Chris Sellitto, Fox Hollow GC, 88-76--164
David Ramsey, Lakewood CC, 83-82--165
Michael Davis, Meadow Hills GC, 83-82--165
Greg Turner, Patty Jewett GC, 85-80--165
James Williamson, Colorado National GC, 80-85--165
Joe Distefano, Telluride GC, 81-86--167
Jake Jacobson, Lakewood CC, 85-84--169
Jim LeMar, Meadows GC, 80-89--169
Arnold Hoy, Commonground GC, 80-89--169
Davin Sjoberg, Sandpiper GC, 85-85--170
Steve Hannon, CommonGround GC, 87-86--173
Stephen Holstein, Jr., River Valley Ranch GC, 88-86--174
Ryan Keefe, CommonGround GC, 91-83--174
Shane Houska, Collindale GC, 87-89--176
Craig Kirscht, Buffalo Run Men's Club, 99-85--184
Joe Jenkin, Commonground GC, 98-91--189
Todd Novak, Vail GC, 79-122--201
Henry Cameron Bissell, The Meadows GC, 74-WD
Grant Javernick, Meadow Hills GC, 90-NS
Andy Brooks, CommonGround GC, 85-NC
Brian O'Connor, CommonGround GC, 83-NS

VIEW COMPLETE LEADERBOARD AND SCORECARDS
Go to CGA Mid-Amateur Results Archive