Romano Runs Away with Title
17-year-old equals largest winning margin in CGA Jr. Match Play final
by Gary Baines - 7/20/2012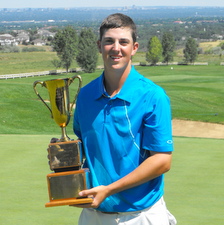 In a CGA Junior Match Play that was full of upsets, Andrew Romano of Colorado Golf Club refused to fall victim to the trend.

The senior-to-be at Rock Canyon High School, seeded second after the stroke-play qualifying, equaled the largest recorded margin of victory in a CGA Junior Match Play final with a 7-and-5 win over Jake Ice of Eaton Country Club on Friday.

The title match was about the only thing that went according to form in a week when Romano was the only top-10 seed who made it to the quarterfinals.

"There are a lot of good kids out here so I thought there would be upsets," Romano said after winning his sixth match of the week. "But I felt like if I just beat my competition, it didn't matter what their seed was."

Friday's scheduled 36-hole title match at Bear Creek Golf Club in west Denver ended on the 13th hole when Romano made a routine par while the 36th-seeded Ice carded a double bogey.

The CGA Junior Match Play dates back to 1951, but title match records are complete only since 1978. And the only final since then that was as lopsided as Friday's was last year's, when John Ahern defeated Ryan Pettegrew 7 and 5. Before 2007, the Junior Match final was an 18-hole affair.

Even if Friday's match had been scheduled for 18 holes, Romano still would have won 6 and 5. After losing the first two holes to Ice and halving the third, Romano won nine of the next 11 holes to take control for good at 7 up.

During that 11-hole stretch, the 17-year-old made five birdies.


"I was just flushing the ball," said Romano (pictured teeing off at left as Ice looks on). "I hit it about 10 feet (from the cup) every time. I lipped out a lot of putts and made a lot of putts as well. And he missed a couple of putts also.

"But when you put that much pressure on someone and they just kind of start tumbling, you let it happen and you just keep on going."

Ice, a 2012 Eaton High School graduate who will play golf for Trinidad State Junior College beginning in the fall, couldn't get any closer than 5 down the rest of the way.

"(Romano) played great," said Ice, who finished third in the 2011 3A state high school tournament as a senior. "And this is the worst two rounds I've had all week. He was putting lights out. I've got to give it to him.

"I have no idea (why I didn't play as well as I did earlier in the week). I started hitting the ball a lot better on the back nine of the second 18. But by then it was too late."

Still, Ice (pictured below) took consolation in placing second in such a prestigious event.


"Honestly I'm really surprised (to be runner-up)," he said. "I shot 80 in the qualifier and I went into the first round of match play expecting to lose. So I'm not happy with (Friday's) result, but I'm happy that I made it this far seeing that I didn't even think I'd get past the first round."

As for Romano, it was his first CGA championship and the biggest moment of his life in golf.

"This is by far my biggest golf accomplishment," said Romano, who placed 15th last season in the 5A state high school championship. "I've won a few other smaller tournaments but this definitely is one of my majors this year. I'm happy to win it."

Romano may not have been the biggest name in the Junior Match Play field, but unlike the other top seeds, he never faltered through the week.

"In match play it all depends on how everyone else does, but I thought if I played my game, no one can beat me," he said.

And now he has a significant title to attach to his name as he heads into his senior year of high school and the thick of the college recruiting season.

"Hopefully this will open some eyes," Romano said.


CGA Junior Match Play Championship
At Bear Creek GC in Denver
36-HOLE FINAL
Andrew Romano, Colorado GC, def. Jake Ice, Eaton CC, 7 and 5
SEMIFINALS
Jake Ice, Eaton CC def. Glenn Workman, Desert Hawk GC 5 and 4
Andrew Romano, Colorado GC def. Drew Vance, Raccoon Creek GC 2 and 1
QUARTERFINALS
Glenn Workman, Desert Hawk GC def. Jake Kelley, Pinehurst CC 3 and 1
Jake Ice, Eaton CC def. Braden Baer, Ranch CC 5 and 3
Andrew Romano, Colorado GC def. Ross Macdonald, The Ridge At Castle Pines North 1 up
Drew Vance, Raccoon Creek GC def. Jack Cummings, Omni Interlocken Resort GC 1 up
ROUND OF 16
Glenn Workman, Desert Hawk GC def. Chris Weinstein, Green Valley Ranch GC 2 and 1
Jake Kelley, Pinehurst CC def. Tyler Harrison, Hollydot GC 2 and 1
Jake Ice, Eaton CC def. Connor Klein, Lone Tree GC & Hotel 3 and 2
Braden Baer, Ranch CC def. Cole Nygren, Colorado National GC 1 up
Andrew Romano, Colorado GC def. Will Fowler, Bear Creek GC 2 and 1
Ross Macdonald, The Ridge At Castle Pines North def. Josh Gardella, Ridge at Castle Pines North 2 and 1
Drew Vance, Raccoon Creek GC def. Spencer Painton, Green Valley Ranch GC 4 and 3
Jack Cummings, Omni Interlocken Resort GC def. Ethan Freeman, Glenmoor CC 19 holes
ROUND OF 32
Glenn Workman, Desert Hawk GC def. Chase Federico, Elmwood GC 6 and 4
Chris Weinstein, Green Valley Ranch GC def. Ryan Smith, Aspen GC 4 and 3
Tyler Harrison, Hollydot GC def. Nathaniel Goddard, Ptarmigan CC 3 and 1
Jake Kelley, Pinehurst CC def. Jake Staiano, Glenmoor CC 4 and 3
Jake Ice, Eaton CC def. Jack Adolfson, The Fox Hill Club 22 holes
Connor Klein, Lone Tree GC & Hotel def. Josh Mclaughlin, Loveland 3 and 2
Cole Nygren, Colorado National GC def. Sean Kato, Highland Hills GC 5 and 4
Braden Baer, Ranch CC def. Kyler Dunkle, The Club at Pradera 3 and 2
Andrew Romano, Colorado GC def. Dylan Wonnacott, Fox Hill Club, The 5 and 3
Will Fowler, Bear Creek GC def. Hayden Nicholaides, South Suburban Family Sports 1 up
Josh Gardella, Ridge at Castle Pines North def. Gary Schlatter Jr., Glenmoor CC 2 up
Ross Macdonald, The Ridge At Castle Pines North def. Ryan Burke, Twin Peaks GC 2 and 1
Drew Vance, Raccoon Creek GC def. Dylan Mitchell, Lakewood CC 1 up
Spencer Painton, Green Valley Ranch GC def. Matthew Vacek, Indian Peaks GC 4 and 3
Ethan Freeman, Glenmoor CC def. Max Urman, Meridian GC 4 and 2
Jack Cummings, Omni Interlocken Resort GC def. Clayton Crawford, Maroon Creek Club 2 and 1
ROUND OF 64
Glenn Workman, Desert Hawk GC (64) def. Jesse Beetham, Aspen G&TC (1), 3 and 2
Chase Federico, Elmwood GC (32) def. James Clements, Broadlands GC (33), 2 and 1
Ryan Smith, Aspen GC (16) def. Tristan Rohrbaugh, Ironbridge GC (49), 20 holes
Chris Weinstein, Green Valley Ranch GC (17) def. Benjamin Moore, Glenmoor CC (48), 1 up
Nathaniel Goddard, Ptarmigan CC (8) def. Ben Schaefer, Columbine CC (57), 3 and 1
Tyler Harrison, Hollydot GC (25) def. Kobe Scott Padilla, Commonground GC (40), 4 and 3
Jake Staiano, Glenmoor CC (9) def. Pierce Aichinger, Bear Creek GC (56), 3 and 1
Jake Edward Kelley, Pinehurst CC (41) def. Colin Prater, Broadmoor GC (24), 3 and 2
Jack Adolfson, The Fox Hill Club (4) def. Austin Rowe, Columbine CC (61), 1 up
Jake Ice, Eaton CC (36) def. Jack Pedersen, Omni Interlocken Resort (29), 2 and 1
Josh Mclaughlin, Loveland (13) def. Quade Wesley Mitchell, Highlands Ranch GC (52), 21 holes
Connor Klein, Lone Tree GC & Hotel (20) def. Kyle Peterson, Hiwan GC (45), 3 and 1
Cole Nygren, Colorado National GC (5) def. Cameron Connor, Boulder CC (60), 5 and 4
Sean Kato, Highland Hills GC (37) def. Chris Beabout, South Suburban GC (28), 1 up
Braden Baer, Ranch CC (12) def. Matt Dalton, The CC at Castle Pines (53), 5 and 3
Kyler Dunkle, The Club at Pradera (21) def. Hunter Lee, Highlands Ranch GC (44), 3 and 2
Andrew Romano, Colorado GC (2) def. Eli Schoenbeck, Desert Hawk GC (63), 3 and 1
Dylan Wonnacott, Fox Hill Club, The (31) def. Davis Kigin, Legacy Ridge GC (34), 6 and 5
Hayden Nicholaides, South Suburban Family Sports (15) def. Tyler Bricker, Ptarmigan CC (50), 2 and 1
Will Fowler, Bear Creek GC (47) def. Trevor Mckune, Pinehurst CC (18), 2 and 1
Josh Gardella, Ridge at Castle Pines North (7) def. Austin Powell, Park Hill GC (58), 7 and 6
Gary Schlatter Jr., Glenmoor CC (39) def. Chris Korte, The Links GC (26), 1 up
Ryan Burke, Twin Peaks GC (55) def. Kevin Wohlfarth, Green Valley Ranch G (10), 2 and 1
Ross Macdonald, The Ridge At Castle Pines North (42) def. Grant Rogers, Omni Interlocken Gol (23), 20 holes
Dylan Mitchell, Lakewood CC (3) def. Billy Ramsey, Lone Tree Mens GC (62), 4 and 3
Drew Vance, Raccoon Creek GC (35) def. Ethan Yamada, Omni Interlocken GC (30), 5 and 4
Matthew Vacek, Indian Peaks GC (51) def. Taylor Rodriguez, Elmwood GC (14), 6 and 5
Spencer Painton, Green Valley Ranch GC (19) def. Peyton Lindbloom, Thorncreek GC (46), 4 and 3
Ethan Freeman, Glenmoor CC (6) def. Grant Vanek, Lakewood CC (59), 8 and 7
Max Urman, Meridian GC (27) def. Andrew Howe, The Fox Hill Club (38), 3 and 2
Jack Cummings, Omni Interlocken Resort GC (11) def. Keegan Sheard, Applewood GC (54), 5 and 3
Clayton Crawford, Maroon Creek Club (43) def. Dallas Perrault, Heritage at Westmoor (22), 2 and 1

STROKE-PLAY QUALIFYING
Advanced to Match Play
Jesse Beetham, Aspen G& TC - 35-35--70
Andrew Romano, Colorado GC - 35-36--71
Dylan Mitchell, Lakewood CC - 36-36--72
Jack Adolfson, The Fox Hill Club - 37-35--72
Cole Nygren, Colorado National GC - 38-35--73
Ethan Freeman, Glenmoor CC - 37-36--73
Josh Gardella, Ridge at Castle Pines North - 34-39--73
Nathaniel Goddard, Ptarmigan CC - 36-37--73
Jake Staiano, Glenmoor CC - 35-39--74
Kevin Wohlfarth, Green Valley Ranch GC - 37-37--74
Jack Cummings, Omni Interlocken Resort GC - 38-37--75
Braden Baer, Ranch CC - 39-37--76
Josh Mclaughlin, Loveland - 37-39--76
Taylor Rodriguez, Elmwood GC - 39-37--76
Hayden Nicholaides, South Suburban Family Sports - 38-38--76
Ryan Smith, Aspen GC - 41-35--76
Chris Weinstein, Green Valley Ranch GC - 37-39--76
Trevor Mckune, Pinehurst CC - 39-37--76
Spencer Painton, Green Valley Ranch GC - 33-44--77
Connor Klein, Lone Tree GC & Hotel - 35-42--77
Kyler Dunkle, The Club at Pradera - 36-41--77
Dallas Perrault, Heritage at Westmoor - 35-42--77
Grant Rogers, Omni Interlocken GC - 38-39--77
Colin Prater, Broadmoor GC - 39-39--78
Tyler Harrison, Hollydot GC - 38-40--78
Chris Korte, The Links GC - 39-39--78
Max Urman, Meridian GC - 38-40--78
Chris Beabout, South Suburban GC - 39-39--78
Jack Pedersen, Omni Interlocken Resort - 41-37--78
Ethan Yamada, Omni Interlocken GC - 34-45--79
Dylan Wonnacott, Fox Hill Club, The - 38-41--79
Chase Federico, Elmwood GC - 42-37--79
James Clements, Broadlands GC - 38-41--79
Davis Kigin, Legacy Ridge GC - 43-36--79
Drew Vance, Raccoon Creek GC - 39-41--80
Jake Ice, Eaton CC - 41-39--80
Sean Kato, Highland Hills GC - 41-39--80
Andrew Howe, The Fox Hill Club - 38-42--80
Gary Schlatter Jr., Glenmoor CC - 42-38--80
Kobe Scott Padilla, Commonground GC - 41-39--80
Jake Edward Kelley, Pinehurst CC - 37-43--80
Ross Macdonald, The Ridge At Castle Pines North - 38-43--81
Clayton Crawford, Maroon Creek Club - 41-40--81
Hunter Lee, Highlands Ranch GC - 39-42--81
Kyle Peterson, Hiwan GC - 40-41--81
Peyton Lindbloom, Thorncreek GC - 39-42--81
Will Fowler, Bear Creek GC - 43-38--81
Benjamin Moore, Glenmoor CC - 41-40--81
Tristan Rohrbaugh, Ironbridge GC - 39-42--81
Tyler Bricker, Ptarmigan CC - 39-43--82
Matthew Vacek, Indian Peaks GC - 40-42--82
Quade Wesley Mitchell, Highlands Ranch GC - 43-39--82
Matt Dalton, The CC at Castle Pines - 40-42--82
Keegan Sheard, Applewood GC - 41-41--82
Ryan Burke, Twin Peaks GC - 42-41--83
Pierce Aichinger, Bear Creek GC - 42-41--83
Ben Schaefer, Columbine CC - 40-43--83
Austin Powell, Park Hill GC - 43-40--83
Grant Vanek, Lakewood CC - 41-42--83
Cameron Connor, Boulder CC - 42-42--84
Austin Rowe, Columbine CC - 41-43--84
Billy Ramsey, Lone Tree Mens GC - 41-43--84
Eli Schoenbeck, Desert Hawk GC - 40-44--84
Glenn Workman, Desert Hawk GC - 43-41--84
Failed to Qualify
Joey Muckler, Meridian GC - 39-46--85
Trevor Glen, Thorncreek GC - 43-42--85
Erik Young, Commonground GC - 43-42--85
Ethan Fisher, South Suburban GC - 40-45--85
Dylan Gregory Swanson, Pueblo CC - 40-45--85
Kyle Murray, Heritage at Westmoor - 39-47--86
Garrett Jones, Westwoods GC - 42-44--86
Jackson Vacek, Harmony Club - 40-46--86
Evan Buchalski, Loveland Mens Golf Assoc - 42-44--86
Samuel Toillion, Ute Creek GC - 43-43--86
Cody Leis, The Club at Pradera - 41-45--86
John Hadfield, South Suburban GC - 45-42--87
Joe Lee, Greeley CC - 41-46--87
Bretton Krantz, Ptarmigan CC - 43-44--87
Ben Robinson, Red Sky GC - 43-45--88
Kevin Klatman, Boulder CC - 42-46--88
Dylan Rakowski, Ironbridge GC - 43-45--88
Marc Gordon, Aspen GC - 44-44--88
Cole Cunningham, Valley CC - 42-47--89
Peter Hassan, Lake Valley GC - 42-47--89
Tyler Smiens, Broadlands GC - 44-45--89
Austin Hardman, Highlands Ranch GC - 45-44--89
Matt Bell, Harmony Club - 43-47--90
Alec Poorman, Flatirons Golf Cour - 48-43--91
Connor Alexander, Castle Pines GC - 43-49--92
Robert Morris Pettit, Ironbridge GC - 50-43--93
Kyle Kleckner, Cherokee Ridge GC - 48-48--96
Payton Devencenty, Green Valley Ranch GC - 51-46--97
Sam Benavram, Saddle Rock GC - 46-55--101
Darren Kasischke, Lakewood CC - 51-51--102
Alex Beaudoin, Pinery CC - NS
Ryan Schmitz, Colorado GC - NS


Go to CGA Junior Match Play Results Archive