Hot Finish Earns Parish CGA Public Links Title
University of Wyoming golfer fires final-round 65 to end up 13 under
by Gary Baines - 6/24/2012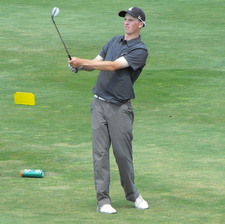 In a tournament that yielded 10 rounds of 65 or better -- including a course-record 63 -- it wasn't surprising that a final-day score in the mid-60s was needed to earn the championship trophy.

University of Wyoming golfer Eric Parish played red-hot golf in triple-digit heat on Sunday to win the CGA Public Links Championship at Highland Meadows Golf Course in Windsor.

Parish (pictured at left), a CGA member from Laramie, Wyo., shot a 6-under-par 65 in the final round to capture the title by two strokes.

Parish's 13-under-par 200 total is believed to tie for the second-lowest in CGA Public Links history, behind only Derek Tolan's 199 in 2008 at Fox Hollow Golf Course.

"It was a good round, especially coming on the last day," Parish said of the 65, which matched the low tournament score of his life. "I putted pretty awesome. I probably hit the ball better the first day, but I putted great today."

Indeed, the left-hander needed only 23 putts on Sunday in rallying from a three-stroke deficit.

The fourth-year junior-to-be on the Wyoming golf team finished two shots ahead of runners-up Steven Kupcho of CommonGround Golf Course (69 Sunday) and David Schroeder of the Broadmoor Golf Club (65). Schroeder also placed second in the CGA Stroke Play Championship last year.

Paul Erdman of Colorado National Golf Club (67 for a 204 total) finished fourth on Sunday.

Parish carded seven birdies in the final round, but it took three of them in a four-hole stretch from holes 14-17 to go ahead for good. A stellar approach shot on the par-4 14th set him up for a 4-foot birdie, then he two-putted from 40 feet for another on the par-5 15th, and he rolled in a 15-footer on 17.

After that, a routine par on No. 18 was enough for a comfortable win.


"I didn't expect (the winning score) to be 13 under," said Kupcho (pictured at left), the 2011 CGA Junior Stroke Play champion. "I didn't see anybody coming in at 6 under (for the day). I figured 5 under was about the best they'd do, but you've got to hand it to them. That's a great round, and better than what I thought would happen."

Kupcho, Schroeder and Parish were all neck-and-neck before Parish went on his late-round tear.

"On the 15th hole, "I said to Matt (Parish's caddie and brother), 'I wish there was a leaderboard.' He said, 'Well, I kind of have an idea (of how things stood).' Right then and there, I figured I had the lead by one. I ended up making birdies on 14, 15 and 17. I had a rough start to the back nine, so it was good to get some birdies coming in."

Kupcho, a sophomore-to-be on the University of Northern Colorado golf team, paid the price for an uncooperative putter. He missed three putts inside of 4 feet on Sunday and six of that length for the week.

"You make half of those and you win it," he said. "That's disappointing, but I've been working on it the last six months and it's getting better.

"It's tough to lose (the tournament), but you have to look on the bright side. I hit the ball about as good as I've hit it in about six months."


Schroeder, meanwhile, played holes 5 through 15 in 6 under par on Sunday, but making up five strokes in the final round proved too much.

As for Parish (pictured at left), a lifelong Wyoming resident who played most of his junior golf in Colorado, it was a victory he won't soon forget.

"It's been a while since I've won a good tournament," he said. "In high school I won a lot, but it's been tough since then. I've been playing good the last year or so, so this feels good.

"This is my biggest win for sure. I played really well. It's hard to say it's the best I've ever played but it's definitely right up there."

CGA Public Links Championship
At Par-71 Highland Meadows GC in Windsor
Eric Parish, CommonGround GC, 67-68-65--200
Steven Kupcho, CommonGround GC, 65-68-69--202
David Schroeder II, Broadmoor GC, 68-69-65--202
Paul Erdman, Colorado National GC, 68-69-67--204
Cameron Harrell, Pine Creek GC, 70-68-67--205
Steve Connell, Riverdale GC, 65-71-69--205
Kirby Pettitt, Harmony Club, 66-69-70--205
Brandon Bingaman, Black Canyon GC, 64-68-74--206
Kory Harrell, Pine Creek GC, 63-72-71--206
Andy Moore, The Olde Course at Loveland, 72-70-64--206
David Oraee, Highland Hills GC, 67-69-70--206
Ben Krueger, Pine Creek GC, 73-68-66--207
Matt Porter, CommonGround GC, 71-64-72--207
Jordan Burgess, Highland Hills GC, 73-70-65--208
Andy Yang, Highlands Ranch GC, 70-72-66--208
Chun-Ji Kim, Highlands Ranch GC, 65-71-72--208
Sean Thomas, Indian Tree GC, 68-71-70--209
Bryan Kruse, Heritage at Westmoor, 68-75-67--210
Jeff Slupe, Pelican Lakes G & CC, 72-69-69--210
Ben Lyons, South Suburban GC, 72-67-72--211
Neil Metz, Flatirons GC, 75-66-70--211
Curtis Garver, Conquistador GC, 71-71-69--211
Jon Lindstrom, Heritage at Westmoor, 74-69-69--212
Stu Allen, Fox Hollow GC, 71-72-70--213
Jonathan Park, Walking Stick GC, 67-74-72--213
Brian Richmeier, Meadow Hills GC, 68-72-73--213
Thomas Roos, Spring Valley GC, 69-70-74--213
Brad Rowe, Ute Creek GC, 70-68-75--213
Nick Tarasiewicz, Patty Jewett GC, 74-71-68--213
Derek Fribbs, Colorado National GC, 74-72-68--214
Tristan Sanders, CommonGround GC, 72-71-71--214
Tyler Winslow, Lake Valley GC, 71-71-73--215
Grant Suggs, Collindale GC, 69-76-70--215
Lanny Cameron, Mariana Butte GC, 73-71-71--215
Blake Basham, Lone Tree GC, 73-71-72--216
Adam Pladson, Aurora Hills GC, 69-77-71--217
Steve Kass, CommonGround GC, 76-70-72--218
Robert Bedan, Wellshire GC, 74-71-74--219
Matt Goodson, Colorado National GC, 76-70-73--219
Clint Miller, Meadow Hills GC, 72-73-75--220
Travis Fore, Highland Meadows Golf Course, 70-70-80--220
Taylor Stamp, Broadmoor GC, 70-76-75--221
Chris Shaw, Collindale GC, 68-77-77--222
Robert Burke, Twin Peaks GC, 72-72-WD
FAILED TO QUALIFY
James Kurtenbach, South Suburban GC, 75-72--147
Casey Knuepfer, Tiara Rado GC, 70-77--147
Lamar Carlile, City Park GC, 73-74--147
Mitch Shinkle, Lake Arbor GC, 73-74--147
Christopher Wilson, Eisenhower GC, 75-72--147
Nick Berry, The Meadows GC, 73-74--147
Cameron Freeman, Collindale GC, 73-74--147
Shane Unfred, Highland Meadows GC, 72-76--148
Danny Hahn, CommonGround GC, 80-69--149
Spencer Stern, Vail GC, 77-72--149
Jeff Berthiaume, Southridge GC, 76-73--149
Zachary Coe, Eagle Ranch GC, 74-75--149
Christopher Good, Lone Tree GC, 78-71--149
Pete Perry, South Suburban GC, 73-77--150
Nicholas Reisch, Thorncreek GC, 76-74--150
Wes Martin, The Courses at Hyland Hills, 74-76--150
Michael Glaesel, Indian Tree GC, 79-71--150
Grant Wozencroft, Highlands Ranch GC, 72-78--150
Wes Adkins, Highland Meadows GC, 72-79--151
Adam Thoutt, Legacy Ridge GC, 72-79--151
Pat Bucci, West Woods GC, 76-77--153
Wlad Colmenares, Legacy Ridge Golf Course, 80-73--153
Eli Schoenbeck, Desert Hawk GC, 75-79--154
Kyle Thurman, Broadlands GC, 77-78--155
Casey Hannen, CommonGround GC, 75-80--155
Levi Fladebo, CommonGround GC, 75-81--156
Grant Javernick, Meadow Hills GC, 74-82--156
Chris Weinstein, Green Valley Ranch GC, 77-79--156
James Pullin, The Olde Course at Loveland, 79-78--157
Stephen Hemphill, Plum Creek G & CC, 80-77--157
Keyven Gibson, Indian Tree GC, 80-78--158
Kent Wilmes, Aurora Hills GC, 76-82--158
Dan Deppen, Broadlands GC, 77-82--159
Aaron Irving, Fox Hollow GC, 79-81--160
Kyle Beard, Meadow Hills GC, 79-82--161
Michael Davis, Meadow Hills GC, 83-81--164
Peyton Lindbloom, Thorncreek Golf Club, 80-85--165
Nathan Johnson, Fort Collins CC, 76-DQ
Andy Dannewitz, Meadow Hills GC, 77-WD
Go to CGA Public Links Results Archive