Jimmy Makloski Joins Dad as 2012 CGA Champ
17-year-old from Pueblo rallies to win CGA Junior Stroke Play
by Gary Baines - 6/20/2012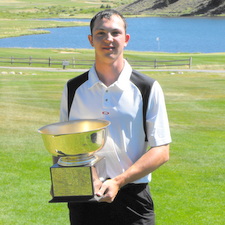 Thanks to a case of "like father, like son," Pueblo Country Club will have two prestigious golf bookends to display in its clubhouse.

It was nice when club member Ray Makloski won the CGA Senior Match Play Championship a month ago, but it was doubly a coup when son Jimmy claimed his own CGA title by winning the Junior Stroke Play Wednesday at Keystone Ranch Golf Course.

"It's unbelievable," said proud father Ray Makloski, who was a spectator in Keystone. "We're going to have both of those trophies on display at the club."

Jimmy (pictured above) rallied on the final day to earn his first CGA championship. The younger Makloski, a senior-to-be at Pueblo's South High School, shot an even-par 72 in windy conditions on Wednesday to overtake the four players ahead of him going into the final round.

Asked about the Makloskis' father-son feat, Jimmy said, "It feels good. I got some jokes from my friends about how my dad was better because I didn't win any CGA championships, so it feels good to win one.

"This has been one of my goals ever since I was little. I always looked up to those kids who won it. To be one of them feels so good."

Makloski finished with a 5-over-par 221 total, one stroke better than 2011 5A state high school champion Gus Lundquist of The Club at Pradera and Ross Macdonald of the Ridge at Castle Pines North.


The University of Louisville-bound Lundquist (pictured at left) double bogeyed the 17th hole -- taking four shots to get down from just off the green about 70 feet from the cup -- and he closed with a 76.

"I just didn't hit it solid," Lundquist said of the pivotal chip. "I just didn't quite catch it right and it came up in a bad spot. Then the wind pushed my (first) putt down there a little further than it should have gone, then I missed that one.

"It's disappointing. I definitely didn't play my best today."

Macdonald, a sophomore-to-be at Valor Christian High School, birdied his last two holes to shoot 74. Playing in the same group as Makloski, Macdonald and his late surge forced Makloski to make a downhill 3-foot par putt on the final hole to come out a stroke ahead.


"The is my first Junior Stroke Play ever, so I couldn't be happier," said the 15-year-old Macdonald (pictured at left). "I'm only a sophomore so I've got more time."

Ethan Freeman of Glenmoor Country Club, a two-time 3A state high school champion, finished fourth at 225 after carding a 78 on Wednesday.

As for Makloski, he used some advice from his old man to eke out the victory. The greens at Keystone Ranch were challenging in several respects, so Ray Makloski stressed that a key would be concentrating on minimizing three-putts.

"He just wanted me to be smart," Jimmy said. "If you're smart and limit your three-putts on these greens you're hanging in there good."

For Makloski, Wednesday marked his third statewide victory of the young junior golf season. The 2011 CJGA Tournament of Champions winner came out on top in a qualifying tournament to earn a spot in the Callaway Junior World Golf Championships, and he also prevailed at the CJGA Haywhacker Championship.

"The last few years the only thing that's held me back is putting," the 17-year-old said. "I've been working on it a lot and it's been coming around. I'm playing pretty good."

CGA Junior Stroke Play Championship
At Par-72 Keystone Ranch GC
Jimmy Makloski, Pueblo CC 77-72-72--221
Gus Lundquist, The Club at Pradera 75-71-76--222
Ross Macdonald, Ridge at Castle Pines North 71-77-74--222
Ethan Freeman, Glenmoor CC 70-77-78--225
Braden Baer, Ranch CC 74-76-77--227
Cole Cunningham, Valley CC 82-75-72--229
Dylan Mitchell, Lakewood CC 81-74-74--229
Cole Nygren, Colorado National GC 74-72-83--229
Jesse Beetham, Aspen GC 78-75-77--230
Benjamin Moore, Glenmoor CC 78-78-75--231
Chris Korte, The Links GC 75-78-79--232
Josh Gardella, Ridge at Castle Pines North 78-75-80--233
Jack Adolfson, Fox Hill CC 81-73-80--234
Kyler Dunkle, The Club at Pradera 77-78-79--234
Josh Mclaughlin, Loveland GC 79-78-77--234
Jake Staiano, Glenmoor CC 74-78-82--234
Hayden Nicholaides, South Suburban Family Sports 77-77-81--235
Jack Stimple, Broadmoor GC 83-75-77--235
Jack Cummings, Omni Interlocken Resort 80-74-81--235
Adam Douglas Griffith, Thorncreek GC 71-80-84--235
Kyle Peterson, Hiwan GC 84-75-77--236
Nicholas Reisch, Thorncreek GC 79-77-81--237
Donny Kinnaman, Lincoln Park GC 84-76-77--237
Dylan Wonnacott, Fox Hill CC 78-76-84--238
Ethan Yamada, Omni Interlocken Resort 76-78-84--238
Peter Hassan, Lake Valley GC 76-81-81--238
Li Chen, Legacy Ridge GC 84-77-78--239
Kevin Klatman, Boulder CC 77-80-82--239
Andrew Vance, Raccoon Creek Men's Club 80-79-81--240
Colin Prater, Broadmoor GC 81-75-85--241
Aj Ott, Ptarmigan CC 83-79-79--241
Will Fowler, Bear Creek GC 77-81-85--243
Pierce Aichinger, Bear Creek GC 81-82-81--244
Austin Johnson, Park Hill GC 83-80-81--244
Sean Kato, Highland Hills GC 81-80-83--244
Quade Mitchell, Highlands Ranch GC 85-75-85--245
Dylan Swanson, Pueblo CC 80-79-86--245
Jack Pedersen, Omni Interlocken Resort 81-83-87--251
Matthew Vacek, Indian Peaks GC 80-84-88--252
Chris Beabout, South Suburban GC 79-82-WD

Go to CGA Junior Stroke Play Results Archive