A Split Decision in Colo. Cup Matches
Pros win open division, but senior and women amateurs prevail
by Gary Baines - 6/7/2012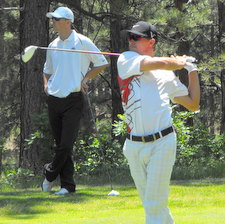 You might not think anyone would circle the dates for the Colorado Cup Matches -- the way former University of Colorado football coach Bill McCartney used to do with the Nebraska game -- but then again, you might be surprised.

Some of the competitors eagerly await the annual matchup of CGA/CWGA amateurs and Colorado PGA professionals.

"This is what I really shoot for," said Dan O'Shaughnessy, head professional at Fitzsimons Golf Course. "I play my season of golf to play in this and the Taylor Cup we play every other year against the Sun Country PGA Section. Those two are my favorites. This is really the reason I play everything else. I always seem to get up for this. I always want to come to the Cup matches. It kind of burns a fire (in me)."

Perhaps that's why O'Shaughnessy went 3-0 in his singles and two four-ball matches, helping the professionals edge the amateurs for the second consecutive year in the open division. Meanwhile, the amateurs won both the women's open and men's senior matchups as the 42nd annual Cup Matches concluded Thursday at The Golf Club at Bear Dance in Larkspur.


The men's open-division professionals (pictured at left) prevailed 12.5-11.5 in the two-day competition as one amateur forfeited his singles match because he overslept on Thursday. It marked the first time since 2004-05 that either the pros or the amateurs have won the open division in back-to-back years.

O'Shaughnessy and Derek Osinski won all three of their matches to lead the professionals. Jon Lindstrom and Brandon Bingaman set the standard for the amateurs with 2-0-1 records. Amateur Sean Thomas lost to Tom Krause 5 and 4 despite making a hole-in-one on the 120-yard 17th hole.

(Pictured at top is amateur Derek Fribbs, foreground, who halved his Thursday singles match with professional Rob Hunt, background.)
The senior amateurs (pictured at left) ended the professionals' six-year win streak with an 18-6 victory as the pros forfeited a total of four matches. Scott Crone went 3-0 for the senior amateurs, while teammates Guy Mertz, Pat Bowe and Thomas Roos also were undefeated. David Arbuckle had a 2-0-1 record to lead the senior professionals, who hadn't lost since 2005.

The CWGA amateurs continued their domination of the women's division, winning for the eighth time in eight tries, this time by an 8-4 margin. Allie Johnston and Melissa Martin went 3-0 for the amateurs, while Sherry Smith led the professionals with a 2-0-1 record.

Johnston thinks enough of the Cup Matches that she played Wednesday and Thursday despite being sick enough to go to the doctor on Tuesday and having to compete while on antibiotics. (She is pictured below along with her teammates.)


"It's so much fun; I love this tournament," said Johnston, who will start her college career at Texas-San Antonio this fall. "It's one of my favorites. You see everybody and have fun. The professionals are hilarious and the amateurs are just so friendly. It's just the most fun tournament of the year pretty much."

To be sure, there are some bragging rights involved between the professionals and the amateurs, but mainly for the purposes of good-natured ribbing.

"I mean, we're not here to lose," said Crone, who played his four-ball matches with brother Kelly on Wednesday. "We try to be competitive, so this is kind of nice.

"But this is about total camaraderie. It's just a two-day thing for having fun. I think it's great for the game."

O'Shaughnessy, who has played in seven Colorado Cups, will second that notion.

"We play to meet people," he said. "I met some great people who were first-timers on the amateur side. We just try to show them a good time; that's what Colorado golf is all about. That's what I think is important to me and a lot of the guys.

"Every year I get to meet the new college kids who are here. Then you kind of watch them to see what they do over the next five-six years as they chase their dream."

But just for the competitive record, it's worth noting that in the all-time Colorado Cup series, the open-division professionals lead 29-11 with two ties. The men's senior amateurs are up 15-13 with two ties, while the women amateurs are undefeated in eight matchups.

Colorado Cup Matches
At The Golf Club at Bear Dance in Larkspur
MEN'S OPEN DIVISION
FINAL SCORE: Colo. PGA Professionals 12.5, CGA Amateurs 11.5
Thursday's Singles: CPGA 6.5, CGA 5.5
Jon Lindstrom (a) def. Caine Fitzgerald 2&1
Rob Hunt (p) halve Derek Fribbs
James Kurtenbach (a) def. Mike Northern 2&1
David Schroeder (p) def. Kevin Bolles 4&3
Chris Johnson (p) def. Drew Trujillo 5&4
Barry Milstead (p) def. Danny Hahn 1up
Dan O'Shaughnessy (p) def. Andy Moore 3&2
Derek Osinski (p) forfeit over Jordan Burgess
Brad Delman (p) def. Brian Richmeier 2&1
Brandon Bingaman (a) def. Jeff Hanson 3&2
Tom Krause (p) def. Sean Thomas 5&4
Danny Riskam (a) def. Jeff Carlson 1 up
Wednesday's Four-Ball: CPGA 6, CGA 6
Fribbs/Trujillo (a) def. Delman/Hunt 1 up
Lindstrom/Richmeier (a) def. Carlson/Northern 1 up
Hahn/Kurtenbach (a) def. Bolles/Johnson 4 & 3
Fitzgerald/Milstead (p) def. Riskam/Schroeder 2 & 1
Bingaman/Thomas (a) def. Hanson/Krause 2 & 1
O'Shaughnessy/Osinski (p) def. Moore/Burgess 1 up
Carlson/Northern (p) halved Lindstrom/Richmeier
Delman/Hunt (p) def. Fribbs/Trujillo 2 & 1
Bingaman/Thomas (a) halved Hanson/Krause
O'Shaughnessy/Osinski (p) def. Moore/Burgess 1 up
Bolles/Johnson (p) def. Hahn/Kurtenbach 1 up
Riskam/Schroeder (a) def. Fitzgerald/Milstead 2 & 1
MEN'S SENIOR DIVISION
FINAL SCORE: CGA Amateurs 18, Colo. PGA Professionals 6
Thursday's Singles: CGA 9, CPGA 3
Note -- CGA Amateurs won two matches by forfeit
Bruce Hogg (a) def. Gregg Jones 2 & 1
Russ Clark (p) def. Kelly Crone 2&1
Perry Holmes (p) def. Dave Brown 2&1
Thomas Roos (a) def. Bob McNamee 6&4
Scott Sullivan (a) def. Gary Hoffman 5&4
Dave Arbuckle (p) def. Dave Radcliffe 2&1
Guy Mertz (a) def. Scott Walter 2&1
Scott Crone (a) def. Jim Johnson 2&1
Pat Bowe (a) def. Dave Detweiler 5&4
Harry Johnson (a) def. Greg Dillon 2 up
Wednesday's Four-Ball: CGA 9, CPGA 3
Note -- CGA Amateurs won two matches by forfeit
Jones/Arbuckle (p) def. Johnson/Delich 2 up
Sullivan/Radcliffe (a) def. Clark/Holmes 1 up
Crone/Crone (a) def. Walter/Johnson 1 up
Kidney/Roos (a) def. Hoffman/Dillon 3 & 2
Hogg/Bowe (a) def. McNamee/Detweiler 1 up
Johnson/Delich (a) halved Jones/Arbuckle
Kidney/Roos (a) halved Hoffman/Dillon
Crone/Crone (a) def. Walter/Johnson 2 & 1
Clark/Holmes (p) def. Sullivan/Radcliffe 3 & 2
Brown/Mertz (a) def. McNamee/Detweiler 1 up
WOMEN'S DIVISION
FINAL SCORE: CWGA Amateurs 8, Colo. PGA Professionals 4
Thursday's Singles: CWGA 4.5, CPGA 1.5
Deb Hughes (a) def. Kaitlyn Hogan 1 up
Allie Johnston (a) def. Katie Garcia 5&4
Melissa Martin (a) def. Kelly Gillum 1 up
Cathy Matthews-Kane (p) halve Kim Eaton
Sherry Smith (p) def. Janet Moore 3&2
Laurie Steenrod (a) def. Leslie Core-Drevecky 5&4
Wednesday's Four-Ball: CWGA 3.5, CPGA 2.5
Martin/Johnston (a) def. Gillum/Garcia 3 & 2
Eaton/Hughes (a) def. Core-Drevecky/Matthews-Kane 2 up
Hogan/Smith (p) halved Moore/Steenrod
Martin/Johnston (a) def. Gillum/Garcia 2 & 1
Core-Drevecky/Matthews-Kane (p) def. Eaton/Hughes 2 & 1
Hogan/Smith (p) def. Moore/Steenrod 1 up

Go to the Colorado Cup Matches Archive